The Wadhams: Turning A New Green Leaf
---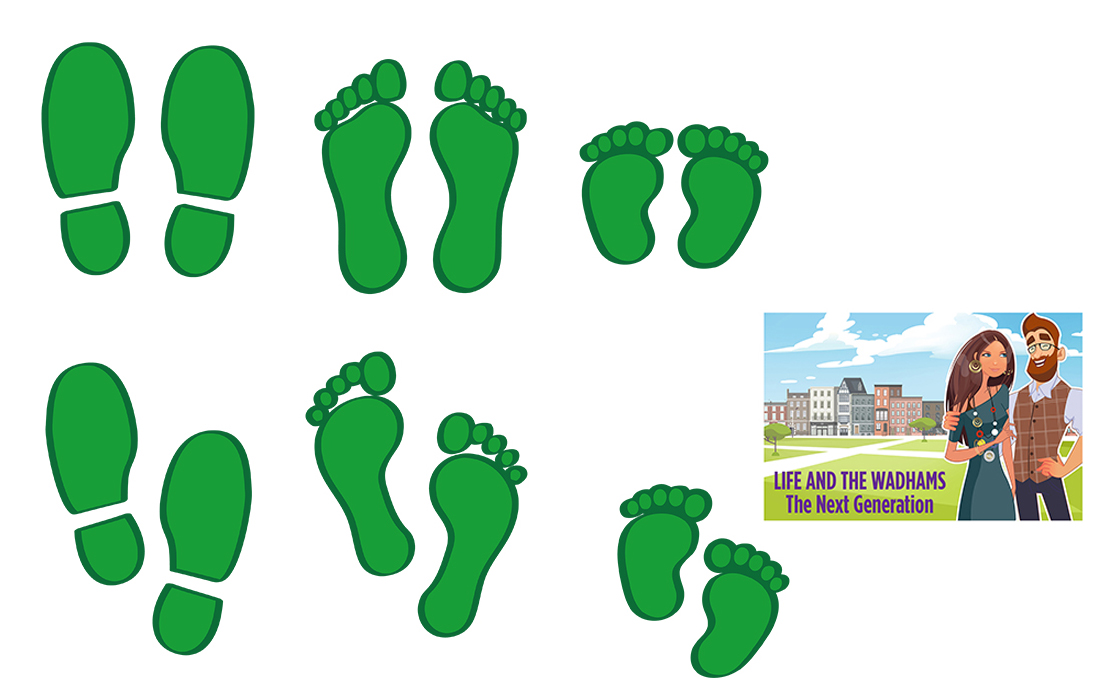 We're delighted to bring you the continuing adventures of Life & The Wadhams, featuring the younger members of the family. Not yet met the Wadhams? Read the background on My Weekly's best-loved family, then come back and enjoy the next generation's adventures as Mike and Polly Wadham's elder grandson, Alex Clark settles into a new life with wife Natalie and baby son William in the flat above the antique shop his grandfather used to own. They've now bought the flat and shop, converting it to a hairdressing and beauty salon run by Natalie.
"Book!" said young William Clark, as clearly and precisely as anyone could hope from a 15-month-old baby who knows what he wants and is not going to let his young parents off the hook till he gets it!
"Oh, Alex! He's just asked for a story!" Natalie said in delight. "Oh, William, you are a clever boy."
She delved into the wicker toy box in the corner of their small sitting-room, and fished out a board book before pulling William on to her knee to settle down for a bit of bedtime bonding.
"Book!" William repeated, grabbing it from her and wriggling out of her grasp to toddle off across the room to where his favourite toy bunny lay abandoned on the carpet.
"Aw, he's going to read it to Floppy," Natalie said happily.
"Book!" William chortled, raising it high – before bringing it down on poor, unsuspecting Floppy's head.
"You monster!" Natalie gasped as William's father burst out laughing. "Alex, don't encourage him in violence."
"Sorry. But your face! You looked so pleased and soppy and then so outraged. Come here, my little baby bruiser."
He scooped William off the floor and threw him into the air before catching him neatly, and handing him over to his mum.
"I think he needs changing again."
Natalie wrinkled her nose.
"Yes, he does. And it's your turn. And you can read him his story, too, tonight and teach him what books are really for.
"I've got a pile of ordering to do for the salon and I'd better get on with it. Can you put his bag together, too, for taking him to your mum's tomorrow? It'll save time in the morning."
"Will do," Alex agreed easily. "That reminds me – Mum said she needs more nappies for him. Her pile's running low."
"I'll stick a box in the car," Natalie said. "He doesn't half get through them."
"It's costing a small fortune." Alex agreed.
"I know, but it's not just the money." Natalie looked faintly worried. "It's all going to landfill, and I'm feeling really bad about it. But I just don't have time to wash and dry cloth nappies on top of running the salon."
"Well, as he's a child genius with a keen interest in books, maybe we'll get him off them soon," Alex teased.
Poor Floppy took another battering as Natalie flung him at her husband, while William ran around the room, trying to evade his father's clutches. It was a typical night of mayhem at the Clarks' home!
---
Things weren't much more peaceful at No. 23 Elderslie Terrace, when Natalie dropped William off in his granny's care the following morning.
Her in-laws Jim and Pinky had a small child of their own – and three-year-old Ruby was in an unco-operative mood as her mum tried to persuade her to eat up her breakfast.
Meanwhile, border terrier Tyson was getting under 13-year-old Matty's feet as he got ready for school, transferring football kit from the dryer to his rucksack with no care for creases.
"You shouldn't use a tumble dryer. It's very bad for the environment," an officious voice declared as the Clarks' next-door neighbour, Amanda, appeared. She walked to school with Matty. "Using one for a year emits more carbon than a tree can absorb in fifty years, you know."
"I didn't know that," Natalie said.
"Well, you of all people should," said Amanda. "All that washing and drying of towels you do for the salon."
"Well, what else am I supposed to do?" Natalie excused herself. "I can't let my clients drip dry."
"Especially in this weather," Pinky added, laughing.
But 12-year-old Amanda just scowled.
"I don't know. But I'll find out. In fact – " her whole expression lightened – "I have to do a project on the environment for school. Everyone else will be doing things about cars and trees – I'll do it on hairdressers. You lot must be so bad for the environment with all the water and chemicals and – "
"We use plant-based products!" Natalie protested.
"But they're all in plastic bottles, aren't they?" Amanda steamrollered on. "And they're not all recyclable. Then there's all the water you're heating, the hairdryers and tongs you keep switched on, the …"
"Come on, we're going to be late!" Matty interrupted her rant.
"OK, OK, I'm coming. But you leave it with me, Natalie. I'll find ways for you to cut your carbon footprint – and I'll get the best marks in the class for my project, too. See if I don't!"
She let herself be dragged out of the door by Matty, leaving a startled silence behind.
"Right little Greta Thunberg, isn't she?" Jim Clark had appeared in the kitchen to hear the tail end of Amanda's diatribe. "Don't worry about it, Natalie. We all have to live, and we all do our best."
"Thanks, Jim." Natalie smiled. "I try to do my best, but maybe Amanda has a point. What if my best isn't good enough? What if I can do something now to make a better future for these two? William and Ruby are going to have to grow up living with our choices. Maybe I should be doing more …"
---
A week later, Amanda ran into the salon, just as Natalie and Iris were tidying up for the day.
"Can we do some TikTok?" she asked breathlessly. "I've been so busy with my project I haven't posted any how-to beauty videos for a week."
Natalie looked at Iris, who shrugged.
"I don't have to be anywhere. You can do my nails if you like."
"Brilliant!" Amanda crowed. "Can you do a Christmas design? I'll video you and then speed it all up for my followers. They'll love it."
She busied herself setting up her smartphone on a small tripod, talking all the while.
"Of course I really need a better phone for this. I'm going to ask Dad and Papa for a new one for Christmas. I did want those new trainers that everyone else is getting, but I think I'd like a phone more. But maybe I can get them both if I wangle it right. Granny will be asking what I want soon …
"Right, that's me ready to go if you want to start on Iris's nails, Natalie."
"How is your project going?" Iris asked as Natalie picked up a bottle of red nail polish. Natalie had filled her in on everything that had been going on.
"Really good!" Amanda's eyes shone. "I've got tons of ideas for you, Natalie. Like, you can swap towels for single use, biodegradable towels that will cut out the need for laundry without adding to landfill. And you can use glass bottles instead of plastic ones.
"Oh, and did you know you can use paper instead of foil for dyeing clients' hair? And shampoo once instead of twice to cut down on product use.
"And the water doesn't have to be hot –you could use lukewarm water, you know."
"You have been doing your homework." Natalie laughed while applying polish with a steady hand to Iris's nails. "But I have done, too, you know.
"Did you know there is an organisation that helps hairdressing and beauty salons be more green? They provide recycling bins for foil and biodegradable products like cotton wool, and even hair! I'm thinking of signing up."
"Wow!" Amanda was impressed. "Tell me about the site and I'll be able to include that in my project. If you sign up to it, I'll probably get extra points for actually influencing someone to make a difference. Brilliant!"
"I will tell you all about it," Natalie agreed. "And I'll look into the things you're telling me about.
"I can't do everything at once, Amanda – we're a new business and going fully green could cost me more money than I can pass on to my customers. But I promise I will do my best – if you do the same."
"I recycle everything," Amanda protested. "I'm so green I'm practically Princess Fiona."
"Do you really need a new phone?" Natalie asked gently. "That one seems to be doing its job OK."
"Or new trainers?" Iris added. "Production of trainers accounts for a lot of greenhouse gas emission, you know. The ones you've got on look perfectly OK to me."
"Maybe ask for one or the other?" Natalie suggested, laughing at Amanda's suddenly crestfallen expression. "If you promise to do that, I'll promise to do one thing more – which I've been meaning to do for ages anyway.
"I'm going to switch to buying compostable disposable nappies for William – I've found a site online that does them. They're not cheap … but we all have to make sacrifices to save planet earth, right?"
"It's a deal," Amanda said. Adult-like, she stuck out her hand to shake Natalie's, then Iris's, but the younger woman shook her head, laughing.
"You'll have to wait 20 minutes till my varnish dry – unless you let us use the UV nail dryer? It works on LED light," she added with a twinkle.
"Why have you got out green polish, Natalie?" Amanda asked with interest once the red polish on Iris's nails had dried.
Because these ten little Santas are going green, just like the Grinch!" Natalie explained. "You can use them to start spreading the green message to your TikTok followers, too."
Another tick for your project … thanks to TikTok." Iris grinned.
Join us next month for more adventures from the Wadhams clan.