18 Christmas hampers to gift this festive season
---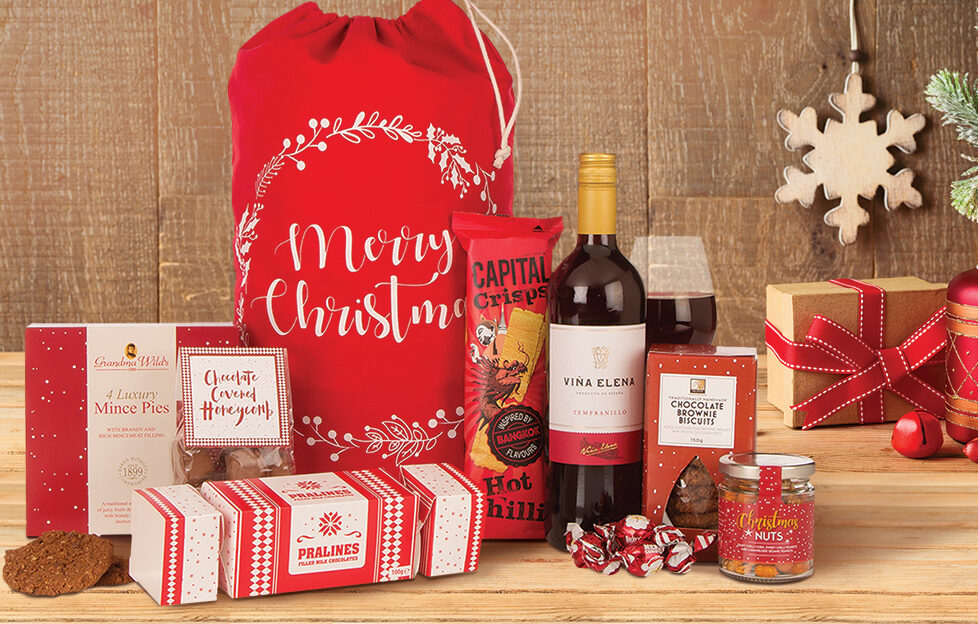 Find some gift inspiration, for those tricky to buy for, with today's hamper selection. Pictured: Love From Santa Hamper.
Excellent gifts for those tricky to buy for, browse a selection of popular Christmas hampers, all available to order (whilst stock lasts!) straight to that someone special's door.
1. Magic of Christmas
A great, rather chic, choice for friends and family, our first hamper will help get the celebrations off to a great start this festive season.
Enjoy a selection including sparkling Prosecco, chocolate orange brownie biscuits and indulgent caramel macchiato popcorn with Scotch whisky.
2. The Jolly Snowflake Gift Box
Neatly presented in a stylish jute bag, The Jolly Snowflake Gift Box features an enviable selection of Christmas treats.
Highlights include luxury mince pies, Milk Chocolate Buttons and a delicious Clotted Cream Fudge Bar!
3. Lavishly Low Sugar Hamper
Bringing together a fabulous selection of low sugar luxuries, our next hamper is presented in a tasteful grey willow tray.
Cookies, chocolate, cake, flavoured sparkling water and a tasty raspberry jam all sit waiting to enjoyed.
4. Gorgeously Gluten & Wheat Free Hamper
A thoughtful gift filled to the brim with tasty treats, the Gorgeously Gluten & Wheat Free Hamper contains an assortment of flavours.
Hamper highlights to look out for include Marshmallows Coated in Milk Chocolate, Green Pea & Chia Seed Crackers and Buttermilk Irish Cream Fudge!
5. Love From Santa Hamper
Arriving in a red sack, send festive best wishes to someone special with our next hamper idea.
Serving up indulgent treats including mince pies, chocolate-covered honeycomb and Christmas nuts, the Love From Santa hamper arrives complete with a bottle of red wine.
6. Season's Greetings Basket
A wonderful hamper full of tasty options to enjoy this season, the Season's Greetings Hamper is next.
All the essentials including mince pies, Christmas pudding and flavoured peanuts arrive in a tasteful basket.
7. Festive Fizz
Carefully packed into a 'Season's Greetings' sack, a crisp bottle of Prosecco takes centre stage with Festive Fizz.
Accompanying treats include Mince Pie Shortie Biscuits, Mature Cheddar Mini Bites (for sharing!) and a Milk Chocolate Bauble.
8. Silent Night Basket
Catering to sweet and savoury tastes, the Silent Night Basket makes quite the festive first impression.
Whether arranged as a treat for someone special or as a 'Thank You' to colleagues or clients, your chosen recipient will have plenty to try.
New York Delhi Hot Toffee VIP Nuts, Joe & Seph's Double Chocolate Gourmet Popcorn and Light & Chocolatey Viennese Whirls all feature in hamper guaranteed to impress this winter.
9. Starry Starry Night Basket
Sleek, contemporary, containing a host of festive fancies, the Starry Starry Night basket is filled with scrumptious artisan produce.
Neatly stowed treats include vanilla fudge, a bottle of Cabernet Sauvignon and All Butter Shortbread Fingers!
10. A Touch of Class Carton
Arriving in a festive carton, gift a little luxury this Christmas with the A Touch of Class Carton.
Adding a little 'wow ' factor to Christmas celebrations, irresistible treats include a mix of the sweet and savoury.
Catching our eye, highlights include a bottle of Prosecco, Sour Cherry & Dark Chocolate Shortbread Rounds, Cranberry & Pumpkin Seed Savoury Biscuits and Luxury Solid Chocolate Domes from The Cambridge Confectionery Company.
11. Alcohol Free Feast
A carefully chosen selection of alcohol-free treats, the Alcohol Free Feast Hamper arrives in a lovely kubu basket.
Luxury Cranberry & Spice Oaties, Coles Salted Caramel Steamed Pudding and Spanish Pimiento Stuffed Manzanilla Olives feature in a hamper bursting with different flavours.
12. Marvellously Vegan Hamper
A lovely vegan treat for someone special, our next hamper will leave a lasting impression this winter.
Delectable treats featured include Truffle and Rosemary Potato Crisps, Veganettone Organic Chocolate Christmas Cake, Mint Choccy Truffles and a bottle of Proudly Vegan Chilean wine.
13. Chocolate Collection
A must-consider gift for chocoholic in your life, this delicious collection brings together a host of treats.
Ticking all the chocolate boxes, they'll enjoy a Milk Chocolate Tree Slab Lolly, a Halfpenny Chocolate Coin, Caramel Macchiato Chocolate Spoons, a Dark Chocolate Orange Fudge Bar and more!
14. Ladies Indulgence
A lovely treat to yourself or gift to loved ones, introduce a little indulgence this winter with this next beautiful hamper idea.
All the ingredients for a perfect girl's night in, indulgent treats include champagne truffles, prosecco popcorn and chocolate-covered marshmallows!
15. Prosecco & Chocolates
Arrange for a sparkling bottle of Prosecco accompanied by Milk Chocolate Prosecco and Raspberry flavoured truffles to arrive at your recipient's door in time for the big day.
Stylishly presented in a gold gift bag, this is a delightful treat to consider this Christmas.
16. Boy's Night In
A thoughtful gift for the man in your life, the Boy's Night In hamper has Christmas covered. They will enjoy a host of nibbles including White Chocolate Popcorn, Pork Scratchings and nuts.
Fear not! Incomplete without them, the hamper arrives with two bottles of beer (one a dark ale, the other a crisp option with citrus overtones).
17. Christmas To A Tea
Living up to its name, our next hamper arrives with everything you need to enjoy a memorable afternoon tea. Teabags, Bucks Fizz Marmalade, Choc Chip & Cranberry Cookies, and more all arrive in a lovely basket.
18. The Mistletoe
A gift guaranteed to impress, The Mistletoe is a rather stylish and very delicious option to gift this season.
Treats nestled in a grey basket include luxury mince pies, Eggnog Gourmet Popcorn and Gold Crown Christmas Pudding.
Find the right Christmas Hamper for you