Vegan Mini Pizzas – Perfect For A Party Buffet
---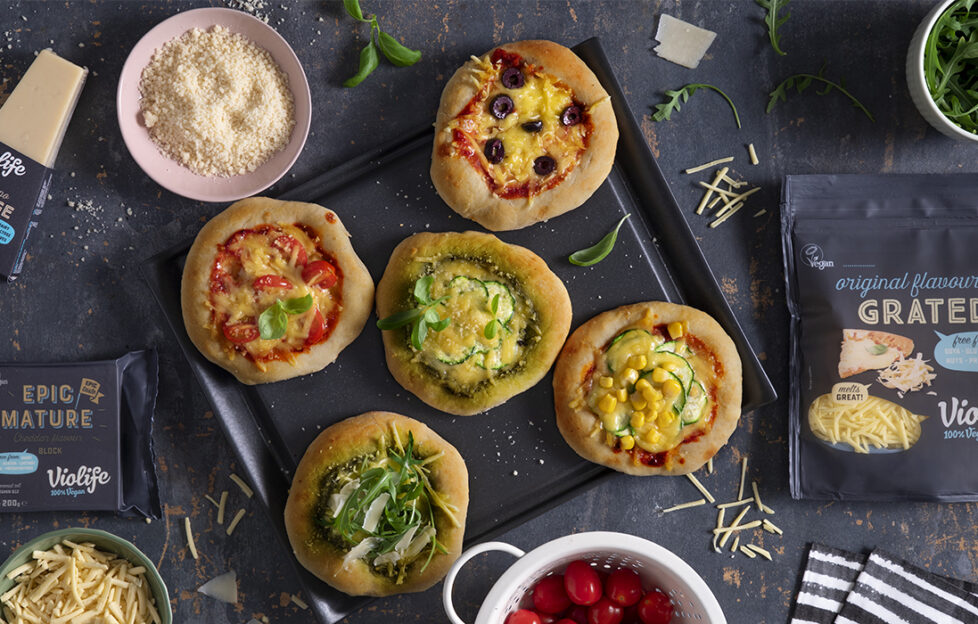 Rustle up these delicious party bites that everyone will enjoy! Violife products are the next generation of vegan cheese, with great taste, texture and meltability.
Preparation Time: 40min+1-2hrs rising
Cooking Time: 10-12min
Makes: 10 mini pizzas
In a large bowl combine the yeast, sugar and water and stir well. Set aside for about 10min to allow the yeast to activate.
Add the flour, salt and olive oil and stir with a wooden spoon. When a dough begins to form, turn the dough out onto a floured surface and knead for 5-10min. Make a ball with the dough and transfer to a greased bowl. Cover with cling film and set aside to rise for 1-2hrs.
Sprinkle the workbench with a generous amount of flour. Use a rolling pin to roll out your dough and use a circular cookie cutter of roughly 10cm diameter to make mini pizza dough circles.
Top with a spoonful of tomato sauce or pesto. Add your choice of Violife, mix it up and be playful with your combinations! Then add your favorite toppings to each mini pizza.
Place on a lined baking tray and place in a preheated oven at 200°C for 10-12min until the dough is golden and the Violife has melted. Enjoy!
Pick up My Weekly magazine every week, and My Weekly Special every month, for an exciting selection of new recipes – often healthy, always delicious! Subscribe for a great saving on the shop price.