Pineapple Trifle – Perfect For Christmas
---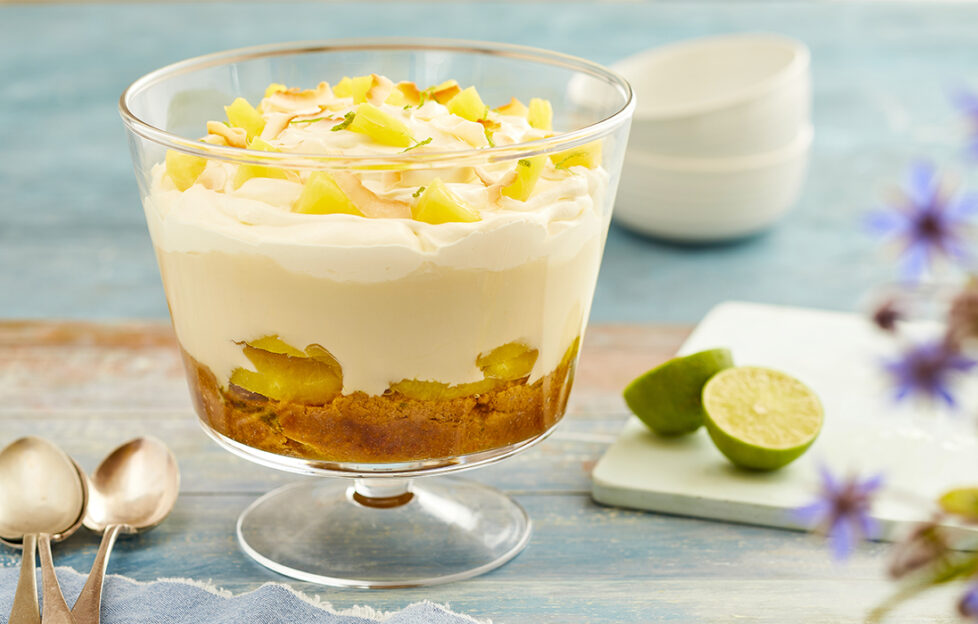 Ring the changes for your family get-together with delicious Caribbean flavours of coconut, lime, ginger and pineapple!
Preparation Time: 30min, plus chilling
Serves: 8-10
Start with the coconut custard, which needs time to cool. Put the coconut milk in a saucepan and heat gently, stirring, until completely smooth and amalgamated. Take off the heat.
Put the egg yolks, sugar and cornflour in a bowl and beat together thoroughly. Carefully pour the warm coconut milk onto the yolk mixture, stirring all the time. Then pour the whole lot back into the pan and put back over a medium heat. Heat the custard, stirring often so it doesn't stick to the base of the pan, until it's steaming hot, just beginning to bubble and noticeably thickened.
Pour into a clean bowl or jug, cover the surface directly with a piece of baking parchment to stop a skin from forming, and leave to cool completely. Once cool, put in the fridge.
Use the slices of ginger cake to line the base of a 2-2.5 litre trifle bowl.
Drain both cans of pineapple, keeping 6tbsp juice. Mix this pineapple juice with the lime juice and grated zest. Trickle this over the ginger cake.
Set aside 2 pineapple slices for decoration, putting them in the fridge in a covered container. Arrange the remaining pineapple over the ginger cake.
If you want to use coconut flavouring, add a few drops to the coconut custard now. Spread the cooled custard over the pineapple. Chill the trifle at this stage for an hour or up to 24 hours.
When ready to serve, whip the cream until it holds soft peaks and spoon onto the custard. Cut the remaining pineapple slices into small pieces and arrange on top of the cream. Top with coconut flakes and curls of lime zest and serve.
Pick up My Weekly magazine for pages of delicious, easy recipes every week! Subscribe for a great saving on the shop price.