Horlicks Baked Alaska Dessert
---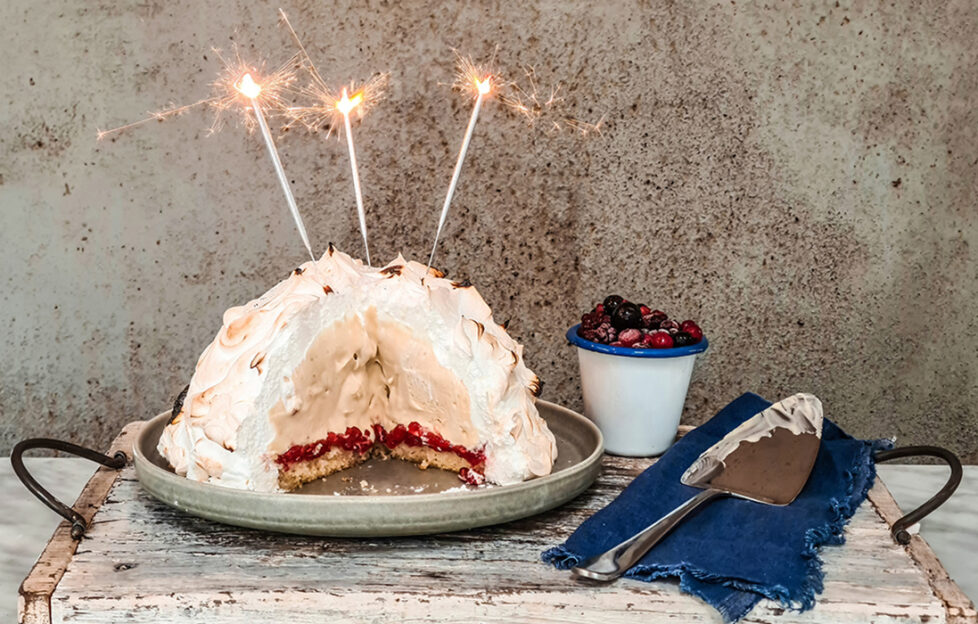 Using a food processor, this is less tricky than you might think. For a real show-stopping centrepiece, serve at the table with indoor sparklers!
Preparation Time : 1 hour
Cooking Time: 8min
Servings: 8
Make the ice cream the day before. You will only need around half of the ice cream for this recipe, so save the rest to enjoy another time!
Whisk together the cream, condensed milk and Horlicks Instant until soft peaks form. Place into a suitable container and freeze overnight.
Take a 500ml Pyrex bowl and use the rim as a template to cut a disc of Victoria sponge. Set aside.
Line the bowl with cling film so that it overlaps the edges. Firmly press the ice cream into it to fill the bowl and put back into the freezer.
Place the disc of sponge cake onto a parchment lined oven tray. Top the sponge with a layer of raspberry jam and preheat the oven to 190ºC/170ºC fan/ gas 5.
In a food processor, whisk the egg whites with ¼ of the caster sugar until soft peaks form. Turn the processor to full speed and add the rest of the sugar slowly until thick and glossy.
Remove the ice cream from the freezer and gently remove from the bowl by pulling the cling film. Place the ice cream dome onto the sponge and remove the cling film.
Fully cover the ice cream with the meringue, making sure there are no gaps where you can see the ice cream!
Place in the oven for 8min until the meringue is crispy and brown at the edges. Serve immediately, cut into thick wedges.