Cheese Straws – A Buffet Classic
---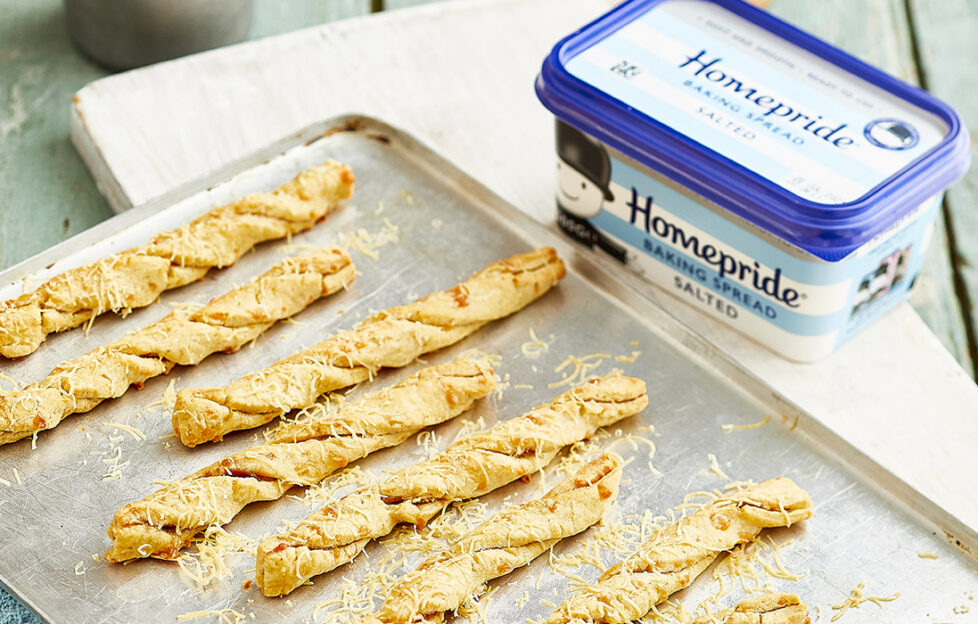 Get in the nostalgic party mood by rustling up some quick and easy pastry cheese straws, with Parma ham for extra bite.
Preparation Time: 30min, plus 30min chilling.
Cooking Time: 15min
Makes 20
In a large bowl beat the spread. Then beat in the cheese and add the flour, baking powder and cayenne pepper and mix. Add the egg yolk and 1 tbsp cold water and mix together to form a smooth dough, adding a little extra water if needed. Shape into a flat disc, wrap in cling film and chill in the fridge for 30min.
Preheat the oven to 190°C/fan 170°C/gas 5. Divide the dough into 2, then roll each piece into a rectangle 15cm x 30cm. Brush one with a little beaten egg white and place the Parma ham slices on top in a single even layer. Brush again with egg white and place the second rectangle on top. Roll lightly to seal.
Cut into 20 x 15cm strips, twisting each strip a few times before placing on a baking sheet lined with baking parchment. Brush the strips with egg white, sprinkle over the Parmesan and then bake in the oven for 15min or until golden.
Leave to cool for a few min before transferring to a wire rack to cool completely.
In our beautiful bumper Christmas issue out tomorrow are 9 fabulously cheese-y festive recipes, both sweet and savoury! In supermarkets and newsagents December 14-28, priced £2.80 (normal weekly price £1.60)