Vegetarian Wellington with Beetroot, Squash, Lentils & Chestnuts
---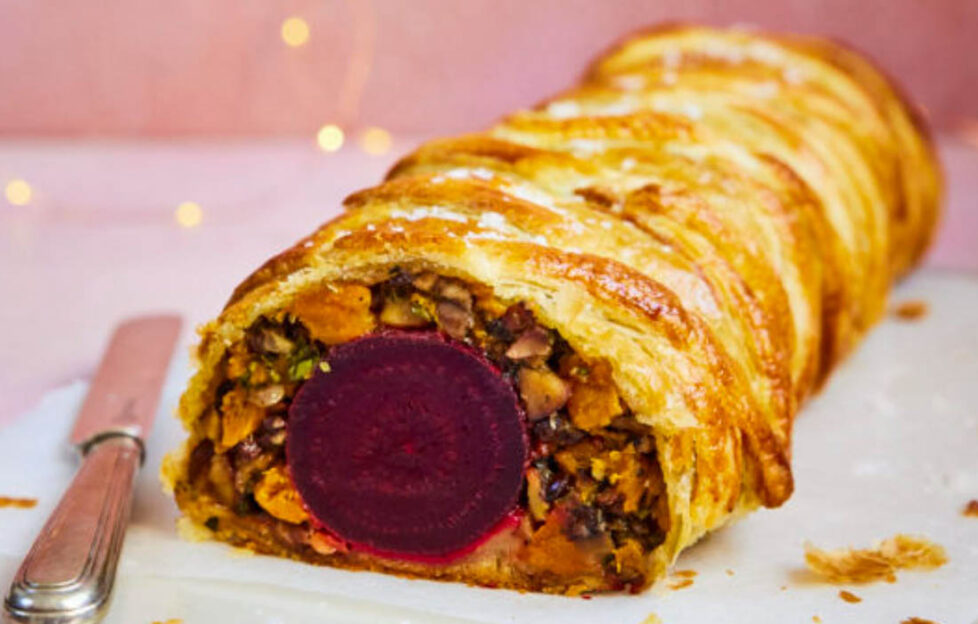 A fantastic centrepiece for a vegetarian Christmas table. It includes beetroot, butternut squash, lentils and chestnuts all wrapped in wonderfully crisp pastry – no one will miss the meat.
Preparation Time: 1 hour + cooling
Cooking Time: 45min
Serves: 6-8 
Preheat oven to 180ºC. Place the diced butternut squash on a baking tray and drizzle with oil, Maldon salt and cracked black pepper. Roast for 20min until soft and cooked through.
In a large frying pan heat 1tbsp oil. Add the diced onion and fry gently for 5min until softened. Add the crushed garlic and cook for a further 2min. Next add the chopped chestnut mushrooms and continue to cook for 5-8min until the mushrooms are beginning to caramelise.
Add the chopped sage and thyme leaves, followed by the cooked puy lentils and double cream. Cook for 3 min, mixing well. Remove from the heat and add the crumbled cooked chestnuts, Maldon salt, cracked black pepper and the cooked butternut squash. Set aside and allow to cool.
On a lightly floured surface roll out the puff pastry block until it is a roughly 30 x 40cm rectangle and 1cm thick. Carefully lift the rolled pastry onto a baking sheet lined with parchment paper. Next, spoon on the cooled filling and spread out evenly, leaving a 2cm border along the top and 1cm round the rest of the edges.
Drain the cooked beetroot of any excess liquid. Choose beetroot that are similar in size and place them in a row down the middle.
Take one of the long sides and lift it up and over the beetroot to enclose them. Pinch the pastry together at the seams and rest the whole wellington seam side down. Pinch the pastry at either end and trim off any excess.
Use the excess pastry to create long strips and decorate the top of the wellington with a lattice pattern (optional). Brush the entire thing with the beaten egg.
Place the wellington into the fridge for a minimum of 30min (but the longer, the better).
When ready to bake, place your chilled wellington into the preheated oven. Bake for 40-45min until the pastry is golden and crisp. Remove from the oven and allow to rest for 10min before slicing and serving.