Fully Grown
---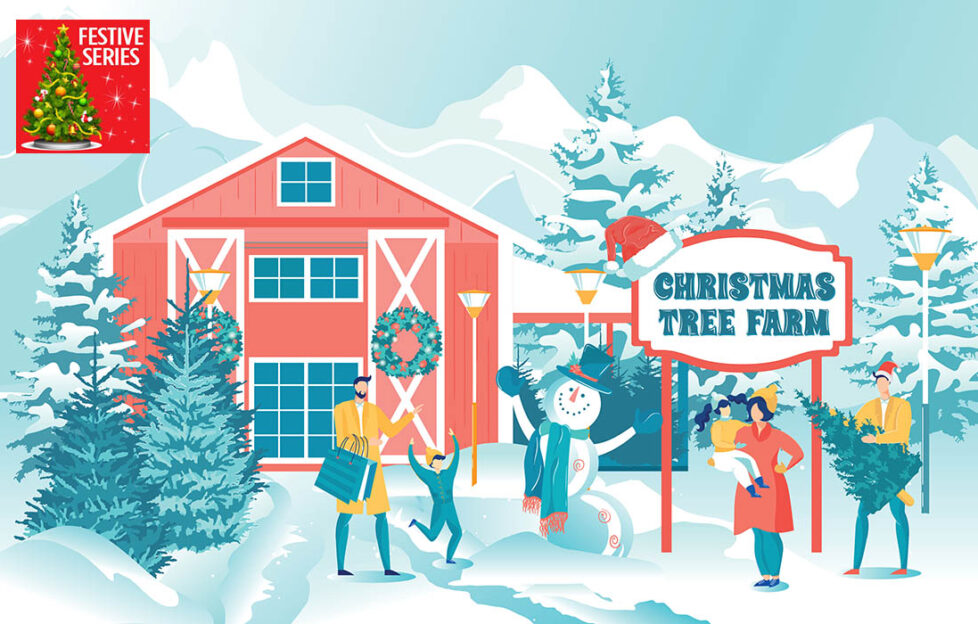 Illustration: Shutterstock
WRITTEN BY TESS NILAND KIMBER
Would Becca's wish come true for Christmas to work its magic to bring her husband and his brother together again?
"I want that biggest one!" shouted the little boy, jumping up and down.
Wearing a thick navy coat and matching gloves, he looked snug and reminded Becca of their son Kit when he was that age. Hard to think Kit was ten now and almost didn't believe in Santa. Thankfully his younger sister Mia was still as enthralled as this little boy. But it wasn't their son's questioning comments that was robbing this Christmas of its magic…
It was super cold today, and she shivered. Normally she didn't notice as she worked outdoors all year round.
"Do you mean that one?" Becca said, pointing to the large Nordmann fir.
"Yes, pleeease!" the child beamed.
Becca sought confirmation from his father, who nodded with a smile to melt the ground frost, then she signalled to labourer Andy Vaughan to cut down the fully-grown tree.
Hearing the chainsaw, the little boy put his hands over his ears and laughed with delight just as she had when she was a child and her father had owned this very same Christmas tree plantation.
Robin Tree Farm had been in the Fletcher family for more than thirty years. When her father retired, Becca had moved seamlessly from assistant to manager. Dad still owned the farm, but she ran it. Her work encompassed every aspect – planting, harvesting, accounting, marketing.
"You're a born farmer," her husband Ross often said, wrapping his arms around her as she pored over seed catalogues, looking for new tree varieties to withstand the harsh Cumbrian winters.
"I love the job almost as much as I love Christmas so it's perfect," she'd smile.
Now as she watched the tree fall in a majestic sweep, the little boy cheered, and Becca smiled. Normally she loved Christmas – the excitement, the unbearable wait for the day to arrive.
But that was before Ross and Jason fell out…
---
"A family Christmas – that's all I want," said Nancy, Becca's mother-in-law, the day she came home from hospital.
Unbeknownst to Nancy, frail in her borrowed wheelchair, Becca and Ross had exchanged troubled glances over her head. A ribbon of grey ran along Nancy's parting. Normally immaculate, she'd missed her regular hairdresser visits while recovering from heart surgery. A family Christmas. Much as Becca would love it, it was a wish she probably couldn't grant this darling woman.
---
"No way!" Ross said that evening when Becca suggested inviting Jason and his family over for Christmas.
The children and Nancy, who was staying with them while she recuperated, were all tucked up in bed. Ross was unwinding after a long day at the estate agency he ran in town. Usually it was their favourite time to chat when they were curled up together on the sofa.
"But you're brothers…"
"Not any more. He severed that tie when he treated Mum the way he did." Ross's normally warm brown eyes had glowered in anger.
The atmosphere in the room crackled echoing the log fire in the grate.
But you know Jason finds dealing with illness hard.
"Maybe, but once – just once – he bothered to show up at the hospital when Mum was ill. She could've… well, you know…" he gazed into the fire, a haunted look in his dark eyes.
It was true. Jason, Ross's golden-haired younger brother, had avoided visiting Nancy last month when she'd had a faulty heart valve replaced. The one afternoon he'd visited, he'd stayed barely ten minutes. Always gregarious, Jason had turned almost mute before muttering, "Best go, Ma. Need petrol…"
Nancy had smiled weakly, surrounded by tubes and mysterious bleeping machines.
Ross had been incensed by Jason's rapid departure and had followed him out of the ward. What was said, Becca could only surmise.
The brothers had always had a volatile relationship. One minute they were living in each other's pockets, the next they'd be arguing over something as innocuous as the footie results. Normally, they'd make up as quickly as they fell out, but this time was different.
This time Ross wasn't budging.
"Jason can neglect me but not Mum. She deserves better."
Becca understood how Ross felt. A single mum, Nancy had worked tirelessly to give the boys a good start in life. As a result, Ross and his mother were super close. But she also saw Jason's side. A great brute of a man, he was as squeamish as he was brave in every other way.
"He never came near the delivery suite when I had our Liam," his wife Elly had sighed. "Sat in the car park for the full ten hours' labour."
It was a family joke but, over Nancy's heart op, Ross was unforgiving.
"A grown man, not visiting his mother when she's seriously ill… he's ridiculous."
Whatever Ross had said to Jason that day in the hospital it had driven him away. They hadn't seen or even heard from him for weeks.
Nancy, no doubt used to Jason's queasiness and still very weak, hadn't seemed to notice. Of course, once she was better, she'd contacted Jason, but Becca had worked hard to hide this latest rift from her. Nancy needed to concentrate on her own health. She loved her sons and would hate to think they were seriously estranged.
However, Nancy was on the mend now and gaining strength every day, and all she could talk about was the great family Christmas they were all going to enjoy at Robin Tree Farm.
At breakfast, Nancy said, "I must ask Jason when they're arriving on Christmas Day, but my mobile's charging in the bedroom."
Becca gulped. As if she didn't have enough worries. Snow had fallen overnight and although Ross had salted the driveway through the ten-acre farm, she was concerned the weather would force customers to stay at home, two weeks before the magical day.
"It's snowed," said Kit, scooping porridge into his mouth. "Let's build a snowman."
"No – I want a snowball fight instead," insisted Mia.
Nancy smiled at the children as she ate her toast.
"Don't worry about your phone – I'll text Elly in a minute," Becca said, wiping a milk moustache from Mia's mouth.
However, inside she was quaking. There was no point checking – with Ross and Jason not speaking, she hadn't dared invite his brother and family yet. Poor Nancy. Now she was getting better and so deserved a good Christmas.
Anxious for a distraction, Becca said to Mia, "How about we dress the tree later? Daddy's bringing the fairy lights down from the loft this evening."
"Yay!" her young daughter said.
"And I'll decorate the cake today," Nancy smiled. "Jason loves marzipan."
At the mention of her bother-in-law's name, Becca chewed her lip. If she invited Jason, Elly and Liam, she'd make Nancy's Christmas, but then she'd almost certainly upset Ross.
Suddenly, she was seized with a sense of determination. If Nancy wanted a family Christmas then that's what she should have. Ross and Jason would just have to make up. The question was – how?
---
It must have been fate. Just as Becca was leaving for the tree clearing, her mobile had buzzed. It was Jason, calling to ask what the children wanted for Christmas. He might be estranged from his brother, but he clearly wasn't taking it out on Mia and Kit. She was touched and told him what the children had written on their wish lists to Santa.
"Is that Jason?" Nancy asked, emerging from the kitchen. "Don't forget to ask when they're arriving."
Becca froze. What could she do?
"Er…"
"Go on," Nancy smiled, tying an apron around her waist.
"Um… Jason, when are you…?" And under Nancy's steady gaze she added,
"… coming to us on Christmas Day?"
"Will Ross want me there?" Jason asked, quietly.
"Err… yes, of course," she gulped.
While Nancy looked delighted Becca felt despair. What on earth would Ross say when she told him?
Luckily the snow didn't deter customers as much as Becca feared. Although she employed extra staff for Christmas, Ross helped at the farm over the busy December weekends.
"You're quiet?" he said, sliding a Nordic Spruce through the netting machine.
A row of trees leaned against the large shed they used as a shop and office. Decorated with holly wreaths and fairy lights, they kept an endless supply of hot coffee and mince pies in here for workers and customers.
Becca glanced at him. Should she tell him now that Jason was coming for Christmas?
"Um… I'd a call today…" she began, but before she could say any more the door opened.
"Ah! Thought I'd find you here." It was Father Aaron. "I need another tree. Vicarage looks bare this year."
"Of course," Becca smiled.
They always supplied the church with a Fraser Fir – a super variety with softer needles and a wonderful individual fragrance.
While Ross sourced another tree for the vicar, Becca sighed over Father Aaron's interruption. Now she'd have to find another opportunity to tell Ross about Jason coming for Christmas.
---
During the week, Becca tried several times to tell Ross that Jason, Elly and Liam were coming for Christmas, but always failed.
Nancy was so excited – counting down the hours to Christmas Day just like the children.
"One more sleep!" Mia sang.
Despite her worries, Becca smiled. She thought Christmas was exciting, whatever your age. Robin Tree farmhouse was looking fantastic with decorated trees in the hallway and lounge. Nancy's cake had been immaculately iced and the vegetables were prepared. The turkey was in the fridge and best of all, more snow was forecast.
"This'll be a Christmas to remember," Nancy smiled, relaxing in the armchair with a sweet sherry.
Oh, it certainly will, Becca thought. Ross still didn't know his brother was arriving tomorrow…
---
Christmas morning Becca woke early.
A sweep of snow had fallen overnight, dressing the landscape in white glitter. The sun, weak and pale, pushed through gossamer clouds.
"He's been! Santa's left presents and the mince pie, milk and carrot have gone!" Mia burst into their bedroom.
"Santa's not real," Kit grumbled, flopping onto their bed.
"He is so!" his sister insisted.
"Happy Christmas, everyone," Ross smiled, climbing out of bed.
They joined Nancy in the lounge.
"Merry Christmas!" she greeted as the children knelt by the pile of presents.
Becca kissed her mother-in-law. "Sorry it's so early – half past six!"
"Later than last year," Ross smiled, wrapping his arms around her.
"You two boys were just the same when you were their age," Nancy smiled.
At the indirect mention of his brother, Becca felt Ross freeze.
"Look – I must…" she said, turning to him, but before she could say anything more, Kit interrupted.
Can we open something? Pleeease!
"OK – but just one each, and then we'll get dressed," Ross said, making a show of choosing a special parcel for each child.
Becca tried to concentrate but all she could think was that – unbeknown to her husband – Jason, Elly and Liam were arriving at eleven.
Would Ross be annoyed and spoil Christmas? Or would the season of goodwill spread its magic and he'd welcome his brother with open arms?
If only all Christmas wishes came true…
---
"Here you are, darling," Ross said, handing her an oblong gift.
Becca smiled at Nancy. It was obvious what it was as he wasn't inventive with gifts. Vouchers, jumpers or, like this year –
"Slippers! Oh, thank you. How did you guess I needed them?"
He laughed, "Well, you had a voucher for your birthday…"
The slippers were soft, white and furry. She tried them on. "Oh, there's something hard inside…"
"What is it, Mummy?" asked Mia.
She tipped up the slipper and a small gold box fell out. "What's this?" she frowned, puzzled.
"Open it," he smiled.
"Earrings! Oh Ross, thank you." She kissed him. "But I don't think I'll wear them at the tree clearing."
Everyone's laughter was interrupted by the doorbell.
"That'll be your parents," Ross said.
"I'll go." She flicked an anxious glance at the clock.
It was almost eleven o'clock. It must be Jason… In all the excitement she'd forgotten their Christmas was in jeopardy. Desperate to reach the front door, Becca hurried after Ross, "Happy – oh, it's you." Immediately Ross's smile disappeared at the sight of his brother.
Jason was soon joined by Elly and Liam, bearing gifts and a hamper.
"Happy Christmas," Becca tried to cover up Ross' displeasure. "Come in."
By now Nancy and the children had joined them in the hall. The next few minutes passed in a blur of greetings, hugs and noise. To Ross's credit he welcomed Elly and Liam and offered drinks.
"I'll help," Becca said, following him out to the kitchen.
Once they were alone, Ross said, "He's got a cheek – turning up, uninvited."
I… em… I invited them.
"You what?"
Briefly, she explained everything.
"We sleep in the same bed – couldn't you have told me then?"
She smiled. "You're crashed as soon as your head touches the pillow. Be nice, Ross. It's Christmas and Jason is keen to make up."
Ross grunted before carrying the drinks through to the lounge.
---
The morning disappeared in a haze of present opening, finding batteries and catching up with news. Nancy beamed and soon Becca's parents arrived, laden with even more gifts.
It was so busy and noisy, only Becca was aware of the coolness between the brothers. Occasionally she caught Ross's eye and glared at him, but it didn't improve matters. Scared that Nancy would notice, she announced, "Right – lunch is ready. Ross, you can open the wine and Jason, you're on gravy duty. You always make the best gravy."
Once in the kitchen, she shut the door.
"Now listen you two. It's Christmas. Nancy's had a difficult time and she doesn't need her sons fighting."
"It's his fault," said Ross, pointing at Jason and reminding Becca of Mia and Kit when they argued.
"It's not! You started it – having a go in the hospital," Jason frowned.
"Enough!" Becca held up her hand. "You're fully grown men – why don't you act like it? OK – I understand you were upset, Ross, but you know Jason's squeamish. It doesn't mean he loves Nancy any less – he just hates hospitals."
Both men begrudgingly had to agree with her.
"And I know you love the bones of each other, really."
Ross looked away before his eyes flicked to Jason, who did the same.
"For goodness sake you're like a couple of kids. Now shake hands and let's make this the best Christmas ever – for your mother's sake at least."
Tentatively, Ross held out his hand and Jason took it before breaking into a broad grin. "Sorry, mate," he said.
Ross pulled him into a bear hug. "Yeah, me too. Happy Christmas, hey!"
Laughing, Becca filled the serving bowls with vegetables.
As she carried them through to the dining room where the family were seated, Jason and Ross chatted as if they'd never shared a cross word.
As Becca served Nancy with some wine, the older lady said, "Good to see the boys getting on again."
Becca frowned then said, "You knew?"
"Of course I knew. Why did you think I asked you to phone Jason? They've been like that their entire lives, ever since they were little. One-minute, they were the best of pals, and the next… well, less so. Sometimes I think my grandchildren are more grown up than my sons."
Becca laughed as she glanced around the table, full to bursting with family. How lucky they were to have all the family gathered. Perhaps, Christmas wishes really did come true, after all.
---
Our My Weekly Favourites series of lovely festive fiction from our archives continues on Mondays and Thursdays. Look out for the next one.
Don't forget – you can find brand new, uplifting short stories every week in My Weekly magazine! Subscribe now for a great money-saving deal, or enjoy one of our Little Escapes short story collections.