The Crafters' Club
---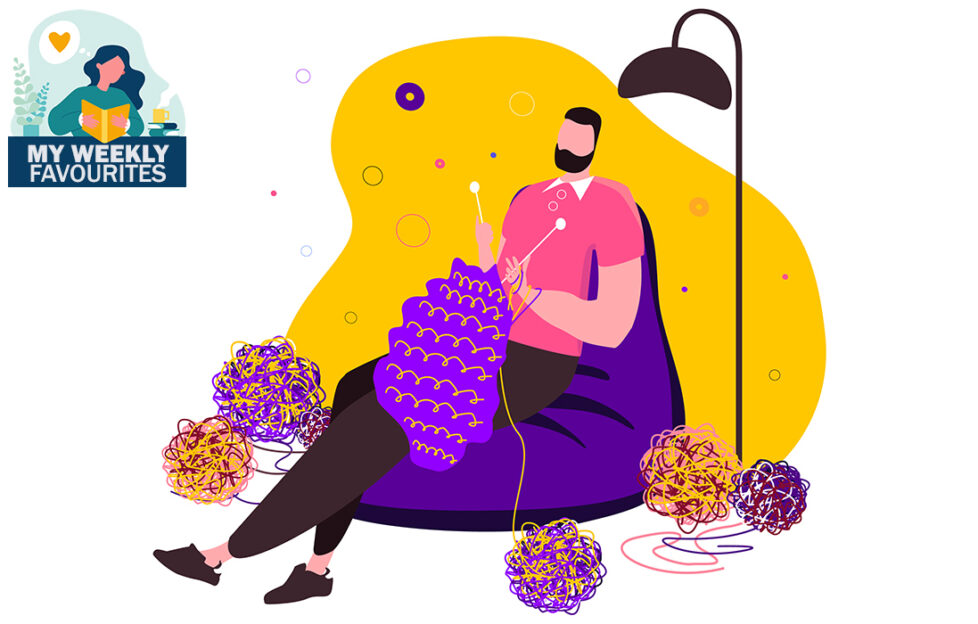 Noel joined the group while his sports injury healed, but he got more than just a scarf for his efforts…
Noel had allowed Joanna to believe it was all her idea, that he was being dragged along to this crafters club of her friend's to alleviate a little of the boredom that sustaining an injury in the middle of rugby season had thrust on him.
The truth was, he wouldn't have come within ten yards of her latest obsession, bad knee or not, if she hadn't mentioned that one of the members was the lovely, if shy, golden-haired Hannah.
Having glimpsed her around the village but never at the local pub, he'd been trying to work out how to meet her for some time.
Joanna had revealed that she was helping one of the girls at this crafters club to get over social shyness, and perhaps he could help with that, too!
Even so, as he entered the cosy cottage of the club's creator in his sister's wake, he was having second thoughts.
Not because of the surroundings – Fran's home with its period touches and warm conservatory looking onto a neatly bordered garden filled with flowers reflected its owner's personality, and the gentle welcome of the hostess herself enough to put any stranger at ease.
It was just that he had no artistic flair in his chunky fingers, and he'd never been the best at small talk.
That this was more of a social club rather than a place to practice crafts became immediately apparent when he was led into the conservatory and confronted by a small circle of people, surprisingly diverse.
"You're out of touch, love," Joanna had said when he'd commented on her latest fad being a bit old-fashioned.
"Knitting's all the rage again now, and no wonder. Not only is it relaxing – well, if you get it right – but just look at the kind of stuff you can make."
She'd waved a sheaf of patterns at him.
"Shawls, cardis, scarves and skirts, and just as many men's tops and accessories as women's! Come along to Willow Cottage with me, give it a try. You'll go stir crazy, otherwise.
"And you never know, you might even enjoy doing something totally different to sport."
---
Totally different wasn't an understatement, Noel thought nervously now as he noted the various crafting projects, including woolly garments on dangerous-looking needles draped over armchairs or protruding from laps.
"Don't worry," whispered Joanna into his ear. "It'll be a lot less painful than you're imagining."
Noel swallowed. Fran introduced him as "Joanna's rugger brother she's bullied into coming tonight, in case he dies of boredom. He's busted his knee, you see."
As it turned out, that and the curious gazes all shifting his way at that moment was actually the worst part of the evening.
The Willow Cottage Crafters Club felt more like a family gathering, with the same sort of mismatched members and conversation that somehow stitches together to become a comfy, familiar blanket.
"Well done for braving the gathering," Richard greeted him with a grin as Noel awkwardly took the seat beside him. "It's good to see another sports enthusiast here," he added.
"Excuse me!" Joanna protested. "Didn't I just come second in the Heyworth golf tournament? I could have won too, if not for that missed putt on the seventeenth."
"Ah, the agony of a misjudged putt!"
Richard's chuckle had Joanna playfully swatting his shoulder as she passed by to sit with the last of the three other women in the group, Fran's sweet if slightly ditzy neighbour Sandra.
She and Richard were the eldest here, and Noel remembered Joanna telling him that they partnered each other at a local ballroom dancing class after losing their respective "other halves" two years before.
Sandra had later persuaded retired teacher Richard to join this craft club, hoping that the atmosphere and calming act of creation would help with the depression he'd been suffering from.
Judging by his manner today, it appeared to be working. And by the look of that sketch on his knees, had revealed Richard to be a competent artist.
"So, what are you making?"
Noel looked up to find Fran before him, a funny smile on her face as she gestured to the mauve ball of wool in his lap.
"Oh… it's supposed to be a scarf. Jo started me off then showed me how to do the basics. Not that I'm much good."
Fran's smile was now sympathetic.
"It's pretty easy once you get used to it. There's just two types of stitches – knit and purl – and now and again, you might knit two together."
She gave a soft laugh when he blinked at her.
"Just take your time, nobody judges here.
"But if you do get into any difficulties, Hannah's the one to ask for help. She's the best knitter I've ever met. Her creations are sublime."
Noel watched a blush rise in Hannah's cheeks as she disclaimed Fran's compliment. Catching him looking her way, she sent him a shy smile.
His hostess stepping between them at that moment with a tray of refreshments meant that he could do no more than smile back.
---
Unobtrusively, she observed the crafters club new recruit. He was attractive, this sporty brother of Joanna's.
She knew him vaguely, of course, being Jo's friend, but had always put him down as a type that his being here and his manner so far tonight belied.
Now it seemed Noel had layers, like a particularly yummy tiered cake…
She found herself wondering what it would be like to go out with him. Not that she'd do anything about it. The inner shyness that had plagued her since childhood was not easily overcome despite her latest efforts.
Better stop fantasising, she told herself sternly, and focus on your pattern! Where was I? Ah, yes… Knit one, purl one…
---
The days lengthened and still Noel visited Willow Cottage for Crafters Club gatherings, despite his knee having mended.
He'd found to his surprise that he was actually enjoying the whole crafting thing, as well as meeting up with these diverse individuals who'd quickly become his friends.
The scarf he was knitting would no doubt take him all year, but at least he was giving it a go.
Besides, the quietly observant Hannah always seemed to spot when he'd dropped a stitch,and deftly corrected it.
Joanna, too, seemed pleased that he still accompanied her.
He wondered with a smile which one of them would last the longest.
Jo had a habit of taking up a new hobby, going at it gung-ho then haring off in pursuit of the next latest craze.
She was good at this knitting – she was making tweed beanie hats for all the family for Christmas – but if she got much beyond those, it would be a first!
Fran was now interrupting the current flow of talk about Strictly Come Dancing, Sandra's personal obsession, by handing round chocolate fudge cake with white chocolate curls.
Noel grinned at her in anticipation, which made her flush as she handed him a slightly larger slice.
Fran's baking was another reason he kept coming here every week.
"Speaking of dancing," said Richard, "It's my birthday next week, and I wondered if anyone would be interested in going to a retro disco night at The Boar's Head?"
Joanna and Sandra agreed immediately, but Fran and Hannah were much more reluctant until Richard's charming pleas finally persuaded them.
Noel's "Count me in" came naturally. It would be interesting to be with the Crafters Club members in a completely different environment.
---
She admired Noel's attempt at concentration after he'd dropped that latest stitch, the way his tongue poked out at the corner of his mouth where just moments ago, he'd licked away chocolate fudge icing.
The more time she spent in his company, the more she knew how much she liked him.
Only a couple of days ago, she'd bumped into Joanna in town and learned Noel might be interested in someone at the club. Could that possibly be true – and was there any chance for her?
She thought she'd seen him look a little longer at her once or twice, but what if that was just fantasy, no more than a reflection of her own foolish hopes?
Sighing, she bent her gaze from Noel to the half-finished shawl in her lap… Knit one, purl one…
---
The Boar's Head had transformed their back room into a retro disco hall for the evening's entertainment, complete with glitter ball, which Sandra adored.
It was a great atmosphere. The music was lively, imbuing everyone with a feeling of youthful freedom, helped along by a punch bowl that totally lived up to its name.
At first, Noel used his knee as an excuse to keep off the dance floor.
But the sight of birthday boy Richard jiving with impressive abandon, coupled with the mood, meant that he soon abandoned his pride and joined in with the others.
Richard and Sandra were a perfect couple on the dance floor, as they were at Willow Cottage.
He tried, without success, to match Sandra's practised steps before Joanna thrust him into the less co-ordinated arms of Fran and Hannah, and he whirled around with them cuddled up against him.
It was then that he admitted to himself why he had warmed so much to the Crafters Club, and one member in particular…
---
She looked surprised when she opened the door to him next morning.
"Oh, Noel. Did you forget something last time you were here?"
"Not exactly." Noel swallowed, suddenly uncertain. "May I come in, or would you rather go for a walk?"
"No, please, come in." Still a little hesitant in her manner, Fran led him through to the kitchen. "Sorry, I'm not quite myself this morning."
Noel frowned. "Didn't you enjoy last night?"
"Oh, yes, it was fun, but it takes a lot out of me to go out in public like that."
"So Joanna said."
His expression was so kind, Fran felt emboldened to explain, "I've always been painfully shy, especially in social situations.
"My therapist gave me a great tool to get me through, though – ask questions first, project an air of confidence and you'll fool yourself as well as everyone else into thinking you have no issues at all.
"Plus Joanna's been a great friend, helping me set up the Crafters Club as a safer way of socialising in an environment where I'm completely comfortable."
"Well, it works," laughed Noel. "I never guessed. But your shyness only makes you more attractive to me, you know.
Come out with me, Fran, just the two of us. We'll go wherever you want."
Fran blinked.
"What did you just say?"
He laughed again, this time shakily.
"I'm asking you out, though obviously not very well!"
She turned to face him, hope catching in her throat.
"But I thought it was Hannah you were interested in," she murmured.
"So did I, at first," Noel admitted, taking her hand. "But that was before I really knew either of you.
"Last night, on that dance floor, I finally realised the true reason why I've kept coming back here every week.
"Will you come out with me, Fran? We can get to know each other properly and I'll show you there's no need to be shy, at least, not with me…"
---
Fran couldn't believe he liked her! But it was true. Now he was drawing her into his arms and it was as delicious as she had been dreaming it would be to be there.
He was right – with him, she could just be herself. And it was all thanks to the Willow Cottage Crafters Club!
At his gentle prompting, she lifted her face to his and… ah, finally… knit two together…
Our My Weekly Favourites series of lovely feel-good fiction from our archives continues on Mondays and Thursdays. Look out for the next one.
Don't forget – you can find brand new, uplifting short stories every week in My Weekly magazine! Subscribe now for a great money-saving deal, or enjoy one of our Little Escapes short story collections.