The Fabric Of Life
---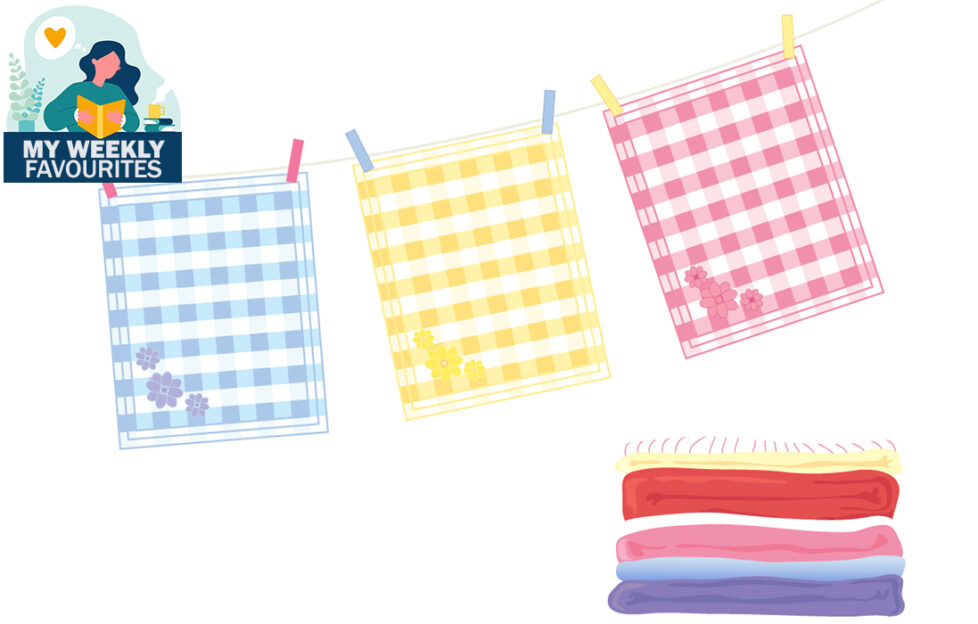 Illustration: Shutterstock
Most of us have a cupboard full of memories, but Ann's is an archive…
Do you remember this?" Ann asked. She held up a white tea towel edged in red. It was old, worn and almost threadbare.
Sarah shook her head and smiled at her mum. "Any reason why I should?"
"You would have been eight. It was your junior school Christmas play. You were shepherd number two."
Sarah took the old tea towel from her mum and ran her hands over it, feeling the thin cotton between her fingers.
"And you've kept it all these years?"
"I keep everything, you should know that by now." Ann smiled. "Your dad always used to tell me I should throw stuff away but somehow I hadn't the heart to get rid of it."
"But it's just a tea towel, Mum," Sarah said reasonably.
"Ah, you see, that's where you're wrong. It's not just a tea towel. It's a piece of history, this, a piece of the jigsaw that makes up our family life."
Sarah watched as her mum disappeared again into the large walk-in cupboard under the stairs and was surprised to see her emerge with a pile of old tea towels.
Ann picked up another that was frayed around the edges.
"I used to wrap up fruit cakes in this one. It's bigger than the rest, the perfect size for wrapping cakes. Christmas cakes, Simnel cakes, birthday cakes, they all got covered in this one."
Curious now, Sarah lifted the next piece of fabric from the pile.
"This is the one we used to take to the caravan, isn't it, Mum? We had some good holidays in the old Cavalier. What happened to it, in the end?"
"I sold it when you were tiny," Ann replied. "I needed the money – it wasn't easy as a single mum… Oh now, this one." She sighed, holding up a faded towel printed with a picture of a castle. "We spent our honeymoon here – in the village next to the castle. I wanted something to remember it all by."
"I still can't believe you've kept these old towels all of these years," Sarah said, but Ann wasn't listening. She was still thinking about her honeymoon with a man she thought she knew.
"I hardly used this one, in the end," Ann said gently. "Not after I found out about your dad."
Ann dealt swiftly with the next three tea towels. They were identical, all red, each with a border of tiny white flowers.
"Wedding presents, these were. Far too good to use so I kept them for best. They came in a pack of six, I recall."
"Where are the other three?" Sarah asked, surprised that her mum hadn't kept those when she seemed to have hoarded absolutely everything else.
"Your dad took them when he left," Ann explained. "It seemed fair to split everything equally."
Gently Ann unfolded the next tea towel on the pile. It looked suddenly familiar to Sarah.
"I remember this one!" Sarah cried. "I bought it for you one Mother's Day. I saved up my pocket money and I went all the way into town on my own, on the bus, to Jackson's department store. You said it was the most special gift you'd ever received."
"And it still is," Ann said, giving her daughter a peck on the cheek.
Gently she ran her hand across a sombre navy cloth.
"This one was a gift for our first wedding anniversary. We threw a party in the house. She was there. I didn't know her. I found out afterwards – but by then I was pregnant with you."
"None of it was your fault, Mum," Sarah said. She reached out and touched her mum's hand.
"Now this one's… got a lot to answer for!" Ann laughed.
It was bright pink and red with frilly cartoon flowers on it.
"I bought this one on the market when I first moved into this house," she explained. "It's more than twenty-five years old. I was heavily pregnant by then. I'd pegged everything, including this tea towel, out on the line in the garden and was standing just there at the window, having a cuppa…"
Sarah had heard the story before, more times than she could count, but she enjoyed watching her mum's face light up each time she told it.
"Anyway, next thing I knew, the breeze had turned much stronger, the washing was flapping on the line and…"
"Your tea towel flew over the fence and landed in my garden."
It was John, walking into the kitchen. He'd also heard Ann's story many times before.
In fact it was a story he enjoyed telling too, even now after all their years together. He smiled at his wife and stepdaughter and the pile of old cloths sitting on the table.
"What are you two up to with all these tea towels? Airing dirty laundry?" He smiled at his own joke, his steel grey eyes twinkling with mischief.
"Airing a few memories, more like," Sarah replied.
Ann laughed and turned back to the cupboard. Something caught her eye.
"Oh, look! I've found my old tea cosies. Now, the stories I could tell you about these…"
Our My Weekly Favourites series of lovely feel-good fiction from our archives continues on Mondays and Thursdays. Look out for the next one.
Don't forget – you can find brand new, uplifting short stories every week in My Weekly magazine! Subscribe now for a great money-saving deal, or enjoy one of our Little Escapes short story collections.