Spinach & Ricotta Ravioli – From Dr Megan Rossi's New Book
---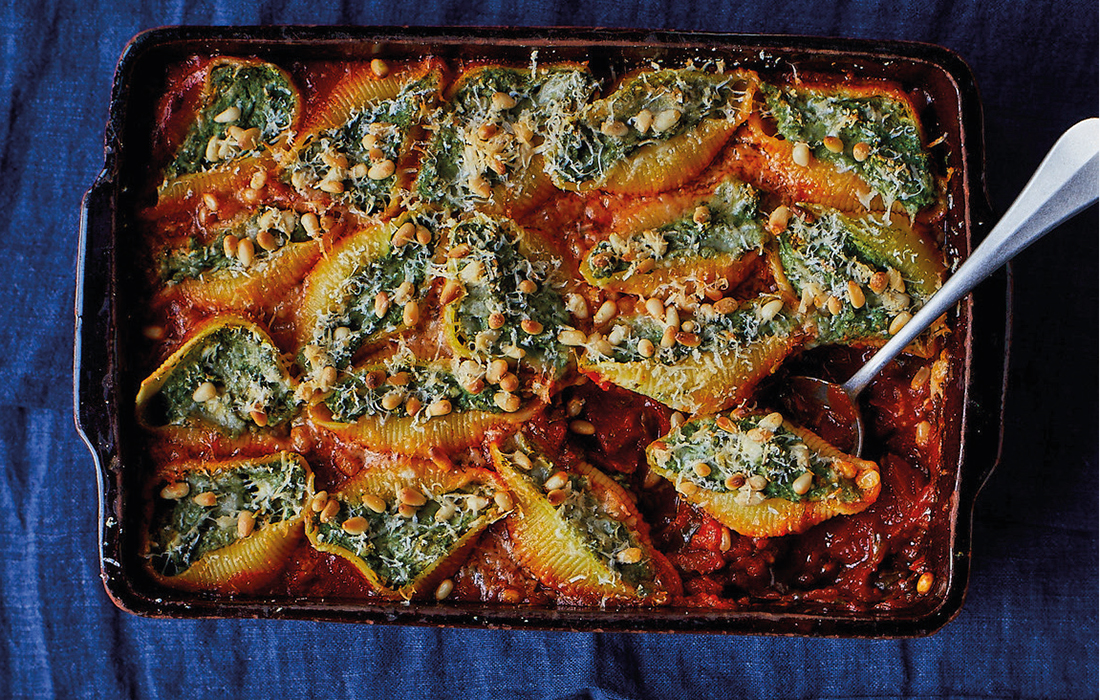 Coming from an Italian family, homemade ravioli has always been part of our celebrations. But after moving to London and realising I didn't have the time or skill, it was either forgo a favourite or conjure up an easier, quicker alternative… and so these delicious stuffed pasta shells were born. I've ensured they contain over a third of your daily fibre needs and prebiotics too.
Preparation Time: 15min
Cooking Time: 30min
Serves: 4
5.5 Plant Points  
Heat the olive oil in a saucepan and add the garlic. Cook for a couple of min until aromatic. Add the sundried tomatoes, chopped tomatoes, 200ml water, basil, passata and some seasoning. Cook on a low heat for around 20min with the lid off.
In the meantime, make the pasta filling by heating a large saucepan and adding a splash of water and the spinach. Pop a lid on and let the spinach wilt for 2min. Then transfer to a sieve and squeeze out the excess water before putting into a food processor.
Add the beans and peas, and blitz until roughly smooth (approx 2min). Stir in the ricotta and feta.
Preheat the oven to 200°C/180°C fan/gas mark 6.
Lightly oil an ovenproof dish (approx 25cm x 30cm). Pour in the tomato sauce and spread out in an even layer.
Rinse the saucepan and fill with water. Bring to the boil and cook the pasta shells for 2min less than the pack instructions, so they're just cooked and holding their shape. Drain the shells and, once they're cool enough to handle, stuff them with the filling and put into the tomato sauce. Repeat until you've filled all the shells.
Scatter the pine nuts and grated Parmesan over the top and pop into the hot oven. Bake for around 20min until golden brown.
Tip: Short on time? Use your favourite ready-made tomato and basil pasta sauce.
Storage: Keeps in the fridge for 3 days. The uncooked filling can keep in the freezer for up to 1 month. Defrost overnight in fridge, then stuff your shells and bake until piping hot.
The Diversity Diet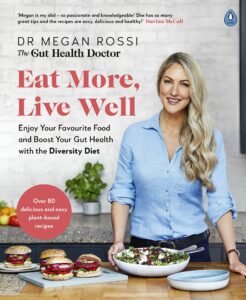 This science-backed approach to healthy eating is all about enjoying delicious food. The aim is to eat 30 different plants each week. Dr Megan shares her 5 key principles:
Mostly plants
Diversity all the way
Go for whole, not refined
Inclusion not Exclusion – focus on what you're adding in, not cutting out. It's a science backed way to transform your relationship with food.
Taste, pause and enjoy – embrace these, and good health and digestion tend to take care of themselves. It's about how you eat too.
Eat More, Live Well is a guide to understanding plant-based eating, with 80+ diverse recipes, cooking tips and 3 menu plans to help you feel fuller for longer, reduce your risk of disease, help you live more sustainably and enjoy food that makes you and your gut happy.
Find more recipes in My Weekly magazine every week – often healthy, always delicious!