Fancy That! The Year Of The Tiger!
---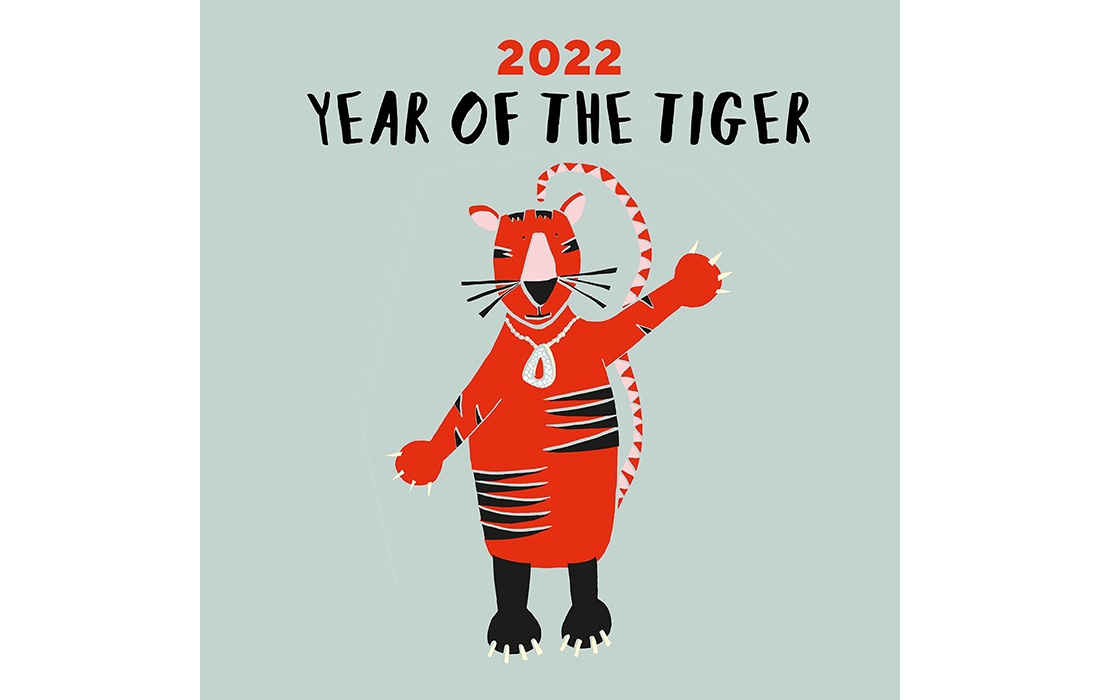 It's the Lunar New Year, with 2022 marking the Year of The Tiger in the Chinese Zodiac.
Be aware, if you're a tiger or know one… they are brave, independent and sometimes known to be arrogant!
Here at My Weekly, we thought there is no better way to bring in the Chinese New Year than get the lowdown on this year's star of the Chinese zodiac – The Tiger! Check out our fun guide to all things stripy and 'roarsome'! If you're not a tiger then see it matches up to someone you know!
What is the Chinese Zodiac?
The Zodiac is made up of 12 animals and when you are born depicts which animal you are.
The Chinese believe that all areas of your life are influenced from personality to career, love life and even destiny. According to legend, the gods called all the animals to a celebration but only 12 accepted. The gods then dedicated a year from the calendar to thank them. The order represents the race to celebration, with the rat coming first,  hitching a ride with the Ox. The pig came last, after oversleeping!
The Chinese Zodiac is complex with each animal having different traits depending on when you were born.
Author of The Chinese Zodiac, A Seriously Silly Guide, Anita Mangan says its all down to complex positions of where things align and that this inspired her to write and illustrate a book about it.
I've always been intrigued by zodiacs and am fascinated by how the Chinese Zodiac attributes certain personality traits based on the positions of the moon, the sun and Jupiter. My aim was to create a simple, fun and colourful look at The Chinese Zodiac, satisfying our enjoyment of reading up about our own personalities, traits, love life, hobbies, health and work, and seeing with which celebrities we share our animal signs. The animals, said to have originated from the legend of the great race, were particularly appealing to me as I love to draw them. Anita Mangan
---
Which Tiger Are You? 
Tiger Tiger, is water, wood, metal, fire or earth your thing? That depends on when you graced the earth with your presence.
31 JAN 1938 – 18 FEB 1939…………….. EARTH TIGER
17 FEB 1950 – 5 FEB 1951………………..METAL TIGER
5 FEB 1962 – 24 JAN 1963………………WATER TIGER
23 JAN 1974 – 10 FEB 1975……………..WOOD TIGER
9 FEB 1986 – 28 JAN 1987…………………..FIRE TIGER
28 JAN 1998 – 15 FEB 1999……………. EARTH TIGER
14 FEB 2010 – 2 FEB 2011……………….METAL TIGER
1 FEB 2022 – 21 JAN 2023……………..WATER TIGER
WOOD TIGER…A LAUGH A MINUTE
Of all the tigers you are friendly and good-natured, if a little needy. You always acknowledge others when on your morning constitution, but they need to watch out as the next minute you are likely to pounce out on them from behind a tree, always the joker. You are Tigger-like with your bouncy lust for life, but are also easily distracted and want instant results, so a thousand piece jigsaw is not for you.
FIRE TIGER…THE FIRST ON THE DANCE FLOOR
You are eccentric and intelligent, a natural born leader. You are a great conversationalist, so are always on the guest list for functions and often the centre of attention. Be careful not to let this go to your head as, whilst you're good at getting  yourself out of tight spots, a big head can be problematic, especially when buying a hat.
EARTH TIGER…EASILY BORED
You are the ultimate high achiever, always the teacher's pet. Your active mind and tender heart are a winning combination, but you can become restless and often don't do your share of household chores. You think you are clever, but everyone knows that you hide in the toilet (you are just too important to deal with such mundane stuff).
METAL TIGER…LIVING THE HIGH LIFE
Ultimate power is your main focus in all aspects of your life and your will power is legendary – they won't catch you with your paw in the biscuit barrel. You have your sights set much further. Your cup is most definitely full, in fact it brims over with positivity and Champagne, as you have a taste for the finer things in life.
WATER TIGER…FIRST OFF THE BLOCKS
Cautious, calm and a quick learner, you are destined to be behind the wheel. You never complain but you also don't compromise. You have good judgment, work ethic and energy.
Celebrity Tigers
Are you in good company with these celebrity tigers past and present?  Here are our top 6 high profile celebrity tigers:
Queen Elizabeth II 
Marilyn Monroe
Usain Bolt
Victoria Beckham
Stevie Wonder
Harper Lee
If you want to know more about the Chinese Zodiac or even find out what animal you are, then grab a copy of this light hearted read.  Extracted from The Chinese Zodiac: A seriously silly guide by Anita Mangan (Portico).  RRP £9.99 – out now, and available from Amazon.
---
Don't miss our weekly 'starry insights' with Russell Grant in My Weekly out now! Are you a Leo with a fiery year ahead with lots of energy? Or a generous Capricorn who may be attracting the wrong kind?
It's written in the stars so don't miss a week! Packed with feel good reading, recipes, top fiction, travel and stories about you. Subscribe and save for an even easier read.