A Psychologist Shares Tips On Talking About Mental Health  
---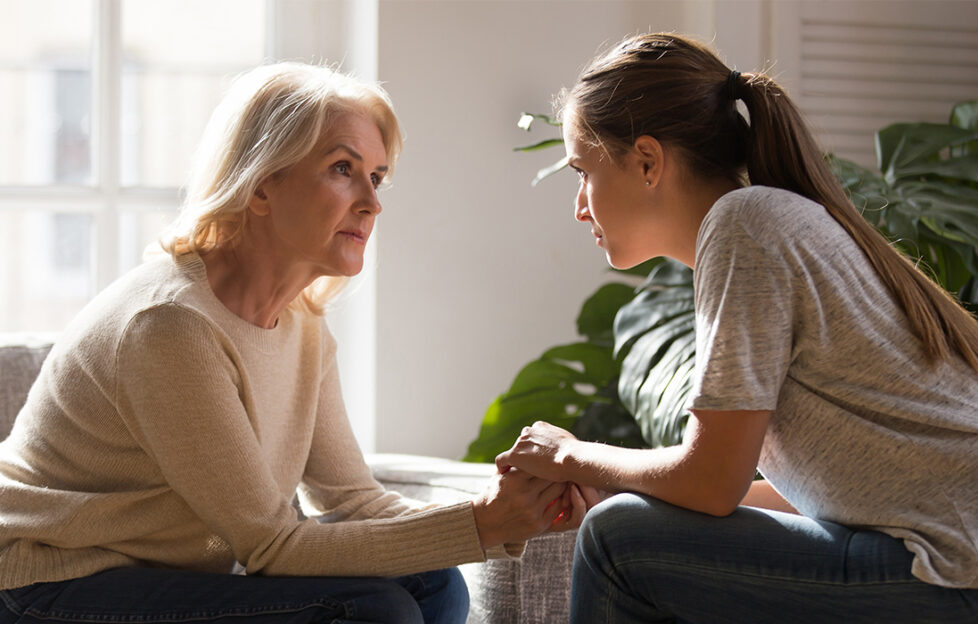 Pic: Shutterstock
Did you mark Time To Talk Day this week? The initiative run by Mind and Rethink Mental Illness aims to help everyone to become more comfortable talking about mental health.
Now psychologist Dr Cecilia Radecka, from digital health provider Livi, is offering advice on how to talk to friends, family and doctors about mental health.
Opening up about mental health isn't always easy, but looking for help is the first step towards getting and staying well. Time to Talk Day aims to support communities up and down the country to speak up about mental health.
To shake the stigma around opening up, Dr Cecilia shares some tips on how to talk about your mental health with family and friends.
"Whether you're concerned about burdening your loved ones or about other people's judgement, it can be difficult to talk about your feelings," she says.
"It's important to remember that the people closest to you are often the most valuable source of support. We sometimes underestimate how much our loved ones can help."
Talking to friends and family
Be as honest and open as you can
Explaining how you're feeling can allow others to understand what you're experiencing. If you think describing your condition or how you're feeling might be overwhelming, show them an article from a book or website.
Think about what you want from the conversation
Explaining to your family or friends what you want from the discussion can help them understand the best way to help you – this may be simply listening, offering emotional support or helping you access practical help.
Don't expect too much from the initial conversation
Although mental health problems are very common, sometimes they can be difficult to understand. You may discover that the person you're speaking to has had similar experiences or knows someone who has, which can help you feel less alone. Give them time to process what you've said, and plan to come back to the conversation at some point.
Conversation starters
Some useful ways to start a conversation with friends or family could include:
'I've been struggling with my feelings lately.'
'I'm not feeling like myself. Do you mind listening to what I'm going through?'
'I know we don't talk much, but I'm having a tough time. Can I give you a call?'
How to talk about your mental health with a doctor
"Doctors are there to help and can advise you on treatments and support available. They're also familiar with mental health conditions, so there's no need to feel embarrassed or ashamed. In the UK, for example, 40% of doctor appointments are now mental health-related."
Write down what you want to say
Make a list of the things you want to talk about before the appointment. This might include questions to ask or words or phrases that represent how you feel. That way, if your mind goes blank during your appointment, you'll have notes to refer to.
Don't be afraid to ask for more information
A doctor should discuss different treatment options with you, whether it's talking therapies or medication. Always ask for more information if you need it.
Be transparent about how you're feeling
This is your opportunity to give the doctor as much information as you're comfortable with. If the doctor feels that your job is affecting your mental health or you'd benefit from some time off, they may sign you off work. A doctor can make an assessment based on your symptoms and provide you with a note advising you of the length of time to take off.
"Conversations can make a difference"
Dr Harriet Bradley, Medical Director at Livi, said, "Many people struggle to talk about their mental health, but opening up is the first step to getting help. The pressures of the last two years have taken an enormous toll on people and health services are facing a significant challenge.
"An increasing number of our consultations are related to mental health. Later this month we will launch an online talking therapy service designed to help patients manage their mental health and provide faster access to treatment."
Mark Winstanley, Chief Executive of Rethink Mental Illness, said, "It's an old cliché that it's good to talk. But it's clear that many people struggling with their mental health have found it difficult to have that first conversation.
"The isolation many of us have experienced during the pandemic can be tough on our mental health. This Time to Talk Day we're encouraging people to reconnect with others and start conversations which can really make a difference."
How Livi patients open up about their mental health
Beth Smith (21) from West Sussex has been diagnosed with borderline personality disorder. She believes talking more openly about mental health is important. 
Beth said, "I talk to my boyfriend more than anybody because he gets it. I have family members who have mental health problems too.
"I think talking about it can help reduce the stigma. You never know, you could be talking to someone about mental health, who you think is fine, but in reality they are also struggling.
"They might feel that they can't reach out and talk about it, but you are opening the conversation with them – you are not alone, there are other people who are struggling."
William Sinclair Manson (61) from West Sussex lives with bipolar disorder. He also believes that talking about mental health is crucial.  
William said, "My advice to someone who is struggling with their mental health is to go see your GP straight away.
"I did it years ago and although back then mental health was getting brushed under the carpet, it did help. Unless you are brave enough to say to somebody 'I need help' you'll keep suffering alone.
"Talk to somebody – even if you don't want to go to your doctor first, speak to your friends or family. They can help you."
Find more comforting health and wellbeing advice in My Weekly magazine every week – your feelgood read. £1.60 from newsagents and supermarkets, or subscribe for a big saving on the shop price.
Charity helplines for mental health support
Mind – 0300 123 3393
The Samaritans – 116 123
Cruse Bereavement Care – 0808 808 1677