Q & A With The Gifts author Liz Hyder
---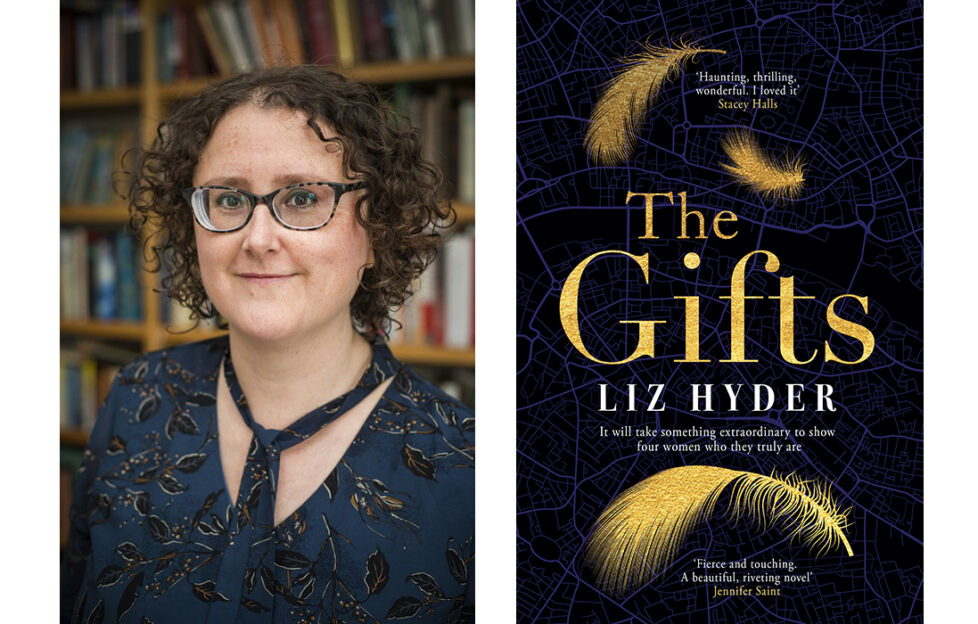 Author Liz Hyder Pic: Ashleigh Cadet
Liz Hyder burst onto the literary scene a couple of years ago with her acclaimed YA novel Bearmouth, and this February sees the release of The Gifts, her luminous debut adult novel. We catch up with the author now to hear more about her book. Plus, pick up our latest issue of My Weekly for an exclusive short story by Liz – and you can win a copy of The Gifts in this fabulous book giveaway!
The Gifts, out February 24, 2022
For fans of The Mermaid and Mrs Hancock and The Doll Factory, The Gifts is a haunting Victorian-esque epic novel that tells of the pitfalls of ambition and the beauty and struggles of womanhood.
Set against the backdrop of nineteenth century London, it's a gripping tale told through five different perspectives. It explores science, nature and religion, enlightenment, the role of women in society and the dark danger of ambition. In a society that dictates how women should live, what happens when they start to break out of the mould?
The Gifts is out from Feb 24 (Manilla Press, HB £14.99, eBook £4.79 and audio) and can be pre-ordered now from Amazon.
---
Q & A with Liz Hyder
What inspired the idea behind The Gifts? Can you tell us a bit about the story?
A few different things inspired the story: a map in a restaurant; a female botanist, originally from Jamaica, who lived in Shropshire in the 19th century; and an idea I had of a woman growing wings in the woods on a bright, blustery autumn day. I knew they belonged together, so it became a case of working out how! The adventure novelist John Buchan famously used to start with three different things, then try and create a story from them, so I thought I'd attempt to do the same.
I've always been fascinated by the sort of women that history books are rarely written about, the ones who might nudge the door of opportunity open or unlock it for someone else but are unable to get through it themselves. You find them all over the place if you look, a snippet in a museum perhaps, an overheard conversation on a train or a bus. I thought in The Gifts I would give voice to a fictional quartet of them, inspired by real figures but very much their own characters. Set in London and Shropshire in the autumn of 1840, my female cast features an artist, a botanist, a storyteller, and an aspiring young journalist, whose stories become interwoven with that of an ambitious young surgeon desperate for fame and fortune. When one of the four women grows wings and rumours of a "fallen angel" cause a stir in the capital, a chain of events is set in motion for a tale of obsession and danger that draws on themes of enlightenment, women's role in society, and our relationship with nature.
What drew you to that particular period of history?
I read a lot of Victorian writers when I was growing up. Someone gave me Oliver Twist as a birthday present when I was nine which I think was a bit early! But I loved it. I read a lot of Dickens and Gaskell particularly as a teenager, the Brontës too of course, and HG Wells. I re-read a lot of Wells' writing recently and was fascinated to see how much of it seems so prescient.
The Victorian era is such a long one and is packed full of so much change – social, technological, and political. It's an extraordinary period of history and one that I think still resonates today.
The Gifts is an ambitious novel which explores many different topics from medicine to religion – which parts of the research process did you particularly enjoy?
Oh, all of it! I'm basically a nosy parker, like most writers, and I love finding out new things, so all of it was fascinating. Everything from the sewers and rivers that flowed underground right below the heart of the capital to what people ate and when, what they might wear, where they'd go for entertainment, what their rooms might have looked like, it's endlessly intriguing. I'm very fond of a wander around a museum too. I particularly liked the Postal Museum in London and The Judge's Lodging in Presteigne, just over the border in Wales, but my favourite place was Dennis Severs's House in Spitalfields in East London. It's not a museum but a sort of living art-installation. Severs was an American artist, a complete Anglophile, and created a sort of immersive still-life that you wander around. It's one of the oddest, most brilliantly atmospheric places you'll ever go. The idea is that you've just missed the people who live there, so the candles are burning, there's a smell of freshly cooked food, it feels utterly real like you've just travelled in time, even though the whole thing is a construction from one man's wild imagination. The "house" motto is "You either see it or you don't" and I can't recommend it highly enough!
Generally, with research, I throw myself into it, immersing myself as much as I can and then I get to a point when I'm reading something and I find an error in it, usually something tiny, like a date that's a bit out or something that isn't entirely accurate – that's when I know I've probably done enough research! I'm great at cramming, but the only downside to that is that it slips out of my head afterwards, it's why I take so many notes! The novelist Andrew Miller once said that when he knows what everyone's wearing underneath, he's done with his research and I have some sympathy with that.
After publishing your highly successful YA novel, Bearmouth, what made you decide to move to adult fiction?
It wasn't particularly conscious to be honest, certainly not at first. It was more that Bearmouth was set in a very male world, that of a working coal-mine, and I wanted to write something that was its polar opposite, a story absolutely centred around women. But as the idea developed, it became very clear that the story I wanted to tell was very much one for adults, not for younger people.
Your book is written from five different perspectives – who was one of your favourite characters to write about and why?
That's a hard question! I liked writing all of them to be honest. Mary was huge amounts of fun to play with, she's my aspiring journalist and a determined young woman from a somewhat unconventional background. She's a real survivor and has got tremendous energy to her. The Gifts is very dark in places, but Mary always brings light.
Are you working on another book? Any hints as to what it might be about?
Yes! My next novel is set in the Victorian period too, but at the very tail-end of the century when technological developments really shift up a gear. Motorised transport, electric trams, the very first moving images and the rise of the bicycle – how could I resist? It's a whirlwind adventure set in 1896 on the cusp of the advent of film and right in the heart of the overlap between the early days of the moving image and the golden age of Victorian magic. It's heavily inspired by real-life illusionists and film-pioneers and has, at its heart, a budding young girl with hidden talents, a determined female filmmaker, and some rather dashing young magicians. It features monstrous egos, greed and rivalry, tales of double-dealing and fantastical tricks, love and friendship, and, I hope, sheds a little spotlight on one of the most exciting periods in British cultural history.
What books have you read recently and enjoyed?
I loved Moonlight and the Pearler's Daughter by Lizzie Pook, which is out in early March. Cecily by Annie Garthwaite is fantastic, and The Leviathan by Rosie Andrews is a brilliant read. I thought Mrs England was amazing too, Stacey Halls is one of my absolute favourites. I also read some great non-fiction of late too. Inside the Neolithic Mind by David Lewis-Williams and David Pearce is fascinating, all about the minds of our ancestors and how similar they probably were to ours, touching on things like hallucinations and visions. And I loved Talking to Strangers by Malcolm Gladwell too.
What do you enjoy doing when you're not busy writing?
I'm normally thinking about writing even when I'm not physically doing it. It's basically a 24-7 thing that sits in my head and taps me on the shoulder, sometimes with new ideas or ways to sort out a knotty plot issue or even a bit of dialogue or an image that can be slipped in somewhere. I go walking a lot, partly because that helps me pace out ideas but also because it's a great distraction. I'm nowhere near as good on plants as Etta, my botanist character in The Gifts, but I feel she taught me a lot! I'm okay on birds though, so I keep my eyes peeled for anything exciting. I'm lucky in that where I live, in South Shropshire, there's fantastic countryside and lots of hills so it keeps me fit and the scenery changes all the time too, from heathland and riverside to forests and rocky peaks. As well as walking, I read a lot, of course, and I love live music and theatre so I try to catch gigs and shows when I can. Whenever I'm in a city, I always gravitate towards the galleries too. I was lucky enough to see the extraordinary Paula Rego exhibition at Tate Britain and I'm hoping to see the Francis Bacon exhibition next time I'm in the capital too.
I'm a big fan of the cinema so I try and catch up on the classics as well as newer films. I think some of our greatest writers are to be found on television right now though, people like Sally Wainwright, Michaela Coel, and the great Russell T Davies. Recently, I thought The Responder starring Martin Freeman was one of the best written TV shows I've seen in a long time. Tense, utterly compelling, and morally ambiguous. I can't wait to see what Tony Schumacher, the writer, does next.
If you could travel back in time, what period would you pick and where would you go? Why?
It's so hard to choose! I would really love to be amongst the crowds when the first moving pictures were shown in this country in early 1896. There's so much myth and speculation around it and it would be incredible to see it for myself. There aren't that many technologies that have truly changed the way we see both ourselves and the world around us and, whilst photography was hugely important, it very much drew on the world of art that had been around for centuries. Moving images was a whole different ballgame really. There's something so powerful about it, a level of immortality really, when you think of Chaplin and Buster Keaton, they're still alive in a way. It was speculated about at the time, a sort of mild moral panic about the powers of conferring immortality on real people – as you'd expect! – but I'd love to see it for myself, witness the reactions of those around me first-hand and be able to talk to some of those pioneers, many of whom have been largely forgotten, particularly Robert W Paul and his actress wife Ellen. Whilst I was in London for that, I'd also go and see the brilliant David Devant at the Egyptian Hall. A fantastic magician, he pioneered a less formal approach to performance and many of his illusions still sound utterly impossible even today. I'd love to meet his wife Marion after the show and hear her stories!
---