Meet Stepping Up Author Sarah Turner
---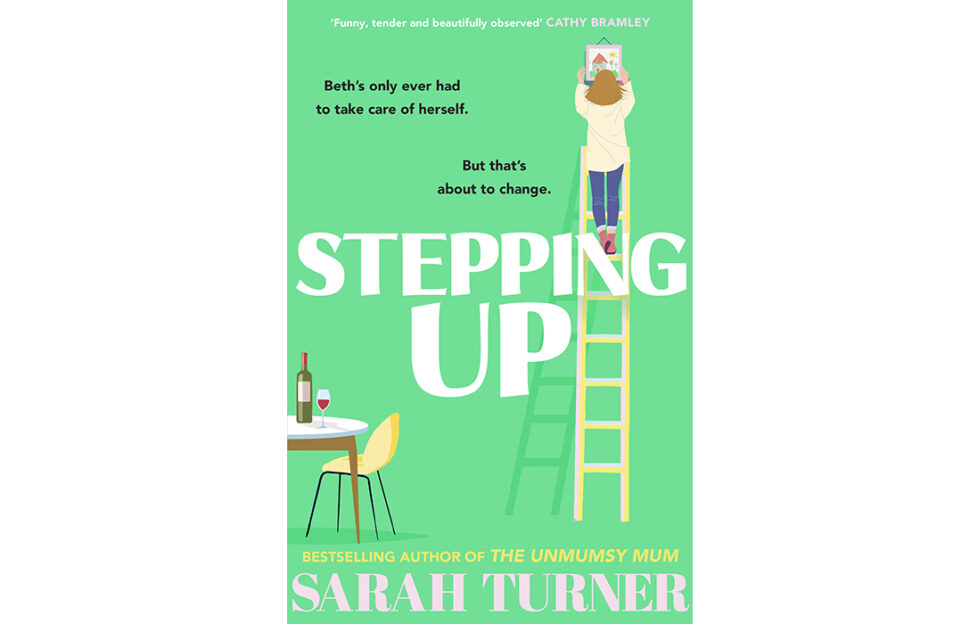 After releasing 3 bestselling Unmumsy Mum books, Sarah is now launching her debut fiction novel, Stepping Up (out March 17). Find out how Sarah started on her writing career and what prompted her idea for her latest title. And look out for Sarah's exclusive short story, Meal For One, inside our latest issue of My Weekly, out now!
Your writing career started out with a blog back in 2013 – what inspired you to start writing The Unmumsy Mum?
I really struggled after my first son was born. I felt as though everyone around me was sailing through motherhood and, if I'm honest, I had started to wonder whether I was cut out for the job. It was a spur of the moment decision on a Friday evening to start writing those thoughts down and though I had no idea at the time, that decision completely changed my life. Each time I wrote a blog post I felt a bit lighter which inspired me to keep writing and eventually those posts became the foundation of my first book.
After three bestselling Unmumsy Mum books, you've now released your debut novel, Stepping Up – what inspired you to turn your hand to fiction?
Writing novels was always my dream as a child but I didn't imagine I would ever actually do it – I just didn't have the confidence. Spending five years working on non-fiction titles gave me the boost I needed to take the plunge and I'm so glad I did. It has been a steep learning curve but I have been so lucky to have wonderful editors who have supported me every step of the way.
Tell us a bit about your new book and how you came up with the idea…
Stepping Up tells the story of loveable but hopeless Beth who, at 31, has never quite managed to stick at anything. When her big sister is involved in an accident, Beth's world changes overnight and she finds herself guardian to her teenage niece and toddler nephew. The story follows Beth's journey as she tries to navigate a brand-new world, with a little help from friends old and new.
The idea first came to me following a discussion about will writing and more specifically guardianship. I kept trying to imagine what it would be like to unexpectedly take on that level of responsibility and before long, the character of Beth started taking shape in my mind.
What do you hope readers will love about Stepping Up?
I hope readers will find it to be an uplifting tale of love and loss and the power of hope to brighten even the darkest days.
Beth is such a great character and we see her change and grow as she adapts to suddenly being thrust into parenthood – in what ways do you think motherhood has changed you as a person?
I first became a mum ten years ago and a decade of parenthood has taught me so much! I don't think it has changed who I am, as such, but it has definitely changed how I view the world. My boys have taught me to re-evaluate what's important in life and ultimately my family's health and happiness means more to me than anything else, which is a nice place to be. That said, my patience is significantly thinner than it ever was before having kids…
Are you working on another fiction novel? Can you tell us anything about it? 
I have just started writing novel two which is very exciting. I'm not able to give too much away at this stage but I can tell you it involves a big family get-together and some skeletons in closets.
What does a typical day look like for you?
Mornings are always chaotic, attempting to get three children fed and dressed before we leave for school and nursery runs. I then spend the day writing, alongside other work (emails, admin and so on) before the chaos starts again after school. You can always tell when I'm approaching a deadline as I can be found glued to my laptop late at night, after everyone else is in bed.
Where do you do your writing?
I work three days a week out of a co-working space in Exeter and I absolutely love it. Walking to and from work and having that separation between work and home has hugely benefited both my mental health and writing productivity. My co-workers are great company too (and often, there are biscuits!).
What books have you enjoyed lately?  
I've read so many amazing books recently but stand out reads for me have been Never Greener by Ruth Jones, The Night She Disappeared by Lisa Jewell and Where the Crawdads Sing by Delia Owens.
Sarah reads from Stepping Up…
---
Stepping Up by Sarah Turner is out March 17, 2022 (Bantam Press, HB £14.99, eBook £9.99). You can pre-order it now from Amazon.