Diary of A Modern Gran | The Virus Strikes
---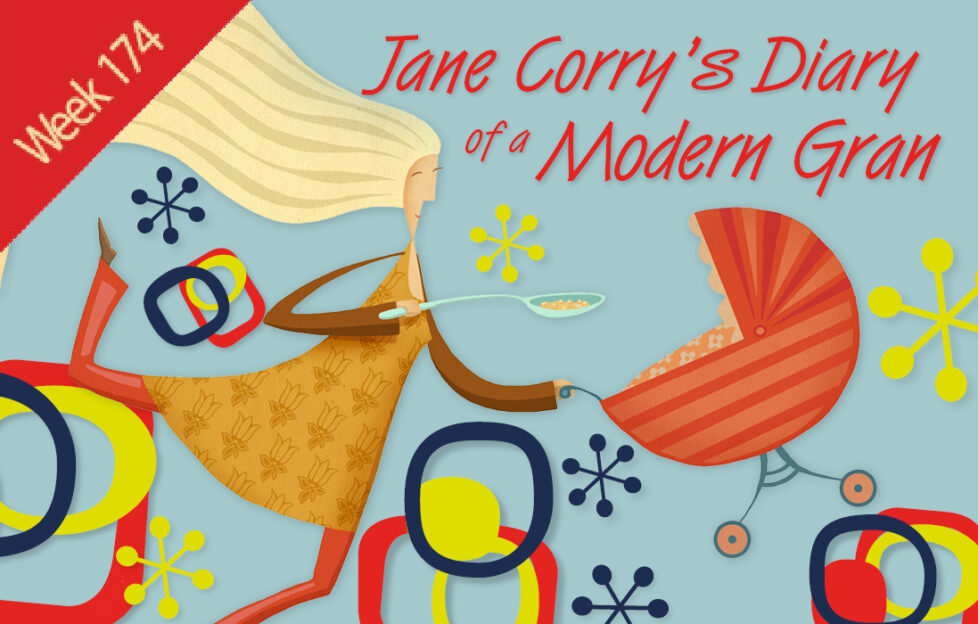 It's something we've been dreading since the virus started two years ago.
Yet it comes when I'm least expecting it.
I'm cooking tea for the children while my daughter is having a little nap upstairs. She's been feeling a bit poorly since coming back from work yesterday but her flow tests have been negative.  I don't feel worried because we've all had these alarms before and they've come to nothing.
Then my mobile rings. It's my daughter upstairs. 'Mum,' she says, in that plaintive voice she used to use as a little girl if one of her brothers had upset her or she'd lost her favourite doll.
'I've just done another test and it's positive.'
I freeze. It's the kind of frozen where you don't believe something and yet you do, if you know what I mean. And yes – I know 'everyone' seems to be getting the virus now but the thing about my daughter is that she has low immunity due to her arthritic medication. (You'd never know she has arthritis to look at her because of this 'miracle' drug. In fact, she runs long distances regularly! She's also been vaccinated.)
'It's all right,' I say, trying to sound reassuring. Yet at the same time, my mind is racing. Isn't there meant to be a pill you can get to reduce the effects of Covid if you have it? Doesn't it have to be taken within a certain time?
Of course it would have to be the weekend, wouldn't it?
Her consultant isn't around so it will need to wait until Monday. And what if the whole family gets it?
My son-in-law (who's brilliant at this sort of thing) is already on the case. He immediately tests the children and himself and kindly tells me that I need to go in case I catch anything. I'm not worried about myself but my husband, as some of you know, has just finished chemo treatment so he is vulnerable too.
However, I am torn! I want to be with my daughter and her little family!  I cycle home, stunned, and tell my husband. He's much more even-keeled than I am.
I do a test (negative).
Then – because I need to DO something
– I go round to the supermarket and stock up on their favourite treats before dropping them off at their front door. 'I don't actually feel too bad,' says my daughter which is a relief.  But the next day, she doesn't feel great.
I go into investigative journalist mode, talking to doctor friends and checking the internet to see what might help. Answers range from rest; lots of fluid; paracetamol; and inhalers (thyme oil was one suggestion).  But the most important thing appears to be not fussing. In other words, I have to tone it down. It's clearly getting on my daughter's nerves. Yet it's not easy.  My chest is tight with worry and I'm saying my daily prayers double-time.
Meanwhile, I try to concentrate on practicalities such as school runs and helping my son-in-law with childcare. Poor little Rose and George. It's confusing for them, although Rose I have to say, seems to be taking it more in her stride. Maybe it's because she was older when the virus struck.
George is convinced that 'the bug' is alive and buzzing around in Mummy's room.
'We can't go in,' he announces to me, 'because we might let the bug out.'
My poor daughter is desolate not being able to see her husband and little ones. But my son-in-law comes up with the clever idea of having a family dinner together on Zoom. The children have also written several 'get well' notes which they push under the door. I stand at the front door and call up 'I love you' through her bedroom window. Our family What's App is buzzing with 'get well soon' messages.
Meanwhile, I've stopped writing during George's non pre-school days so I can look after him. (Instead, I write in the evening just as I did when my own children were small.)
George and I have a great time, even though my daughter is always on my mind.
On Monday we went to a phonic play group which did wonders for my grasp of this new-fangled spelling lark.
Then we went to soft play but we had to leave early because I was too scared.
'I'm perfectly safe,' declares George when I drag him away from a vertical slide which gives me vertigo just to look at it.
Today, as I write, my daughter is beginning to feel a little better. Phew! When we talk on the phone, she tells me that she is actually sitting outside in their pretty little courtyard garden. 'I'd forgotten how wonderful it is to breathe fresh air,' she says.
'Is there anything I can buy you as a treat on my way back from the school run?' I ask.
'Well there is just something,' she says with a nostalgic tone to her voice. 'I know it's a bit early. But I'd really love a Dairy Milk Easter egg.'
I'm already out of the door on my way to the shops….
What do you do for your grown up children and grandkids? Perhaps you buy them their favourite chocolate or you may even do their ironing as a treat. Share your stories with us at moderngran@dctmedia.co.uk.
---
Ask Modern Gran
"My daughter-in-law recently told me that I needed to 'dress down' when I collected the children from school. She said that some of the other parents thought I looked too 'glam'. She also told me to dress 'according to my age.'  I feel rather hurt. I've always looked after my appearance and I like wearing high heels and skirts that show off my legs. I don't see why I should stop now." Sheila, Yorkshire.
Jane Corry says:
'Your daughter-in-law certainly speaks her mind, doesn't she? My first thought was that I'm with you! Why should we change the way we dress just because we're grandparents? If anything, it's even more important. I have to say that I do wonder if 'the other parents' are really objecting or if it's your daughter who feels her nose is being put out of joint in some way.  I'm afraid to say that I know what I'd do. Carry on wearing exactly what I want! Mind you, if you're embarrassing the children, that might be a different matter. Children don't like to be different. The other day, I turned up for the school run wearing some rather bright lipstick and my grandson asked if I'd hurt my mouth. When we got back to the car, I realised I must have smudged it right across my chin by mistake…'
Do you have a problem? You can share it with us by emailing moderngran@dctmedia.co.uk.
---
Games To Play With Your Grandchildren
The 'Yes and No' game
George taught me this one!
'I ask you a question,' he pipes up from the back of the car, 'and you have to answer without saying yes or no.'
'Great,' I say. This can't be too difficult. But it is!
We start off quite well. 'Do you like ice cream?' he asks.
'A lot,' I say.
'Can you whistle,' he says.
'Sort of,' I reply.
'Am I better at whistling than you?'
'Yes,' I say.
'You're out!' he says triumphantly.
Have a go! It's good fun. If you've got any good games to suggest, please share them with us at moderngran@dctmedia.co.uk.
---
Thank You
Thank you to Rose from Hertfordshire who emailed to say that she identified with my habit of keeping answerphone messages. 'Your story brought tears to my eyes. I got some old videos back last year and we started to try to get them onto a disc. The first one we did, had my dad on it. The joy at hearing his voice once again, was indescribable. So I know how you feel, listening to your memories.'
Thanks also to Maureen who got in touch to say that her five-year-old grandson has just started telling jokes.  They didn't make much sense until last week, he suddenly piped up from the back of the car.
'Granny. What bank do fish use?'

I replied that I didn't know.

'The River Bank,' he said.

I thought that was really good.

So do we, Maureen. It certainly made us chuckle!
---
Grandparent Of The Week – Betty
Betty has two grandsons, James, 18 and Joseph, 16. Betty used to work in publishing and has encouraged countless writers on their way (including me!)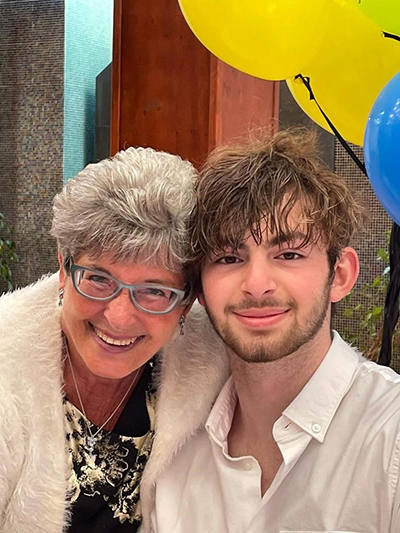 How often do you see your grandchildren?
Not as much as I used to. When they were little, we took them to lots of different places like the east end of London which was my husband's old stomping ground. We also went to exhibitions and sometimes on holiday. Now James is at university reading engineering and Joseph is at school. So there's less free time. However, Joseph came down to see us last weekend which was lovely!
What do they call you?
Booba.  It comes from 'grandma' in Yiddish.
Are they taller than you?
Yes! I'm 4 foot 10 inches and James is 6 foot 5 inches! My son (their father) is tall too. I come up to his waist!
What do you love about being a grandma?
The cuddles. They also make a fuss of me which is very nice.
Books are important to you. Do you tell them stories? 
Yes! When they were smaller, I used to tell them about the kinds of things their father got up to when he was little. They loved them! In fact, they always kept saying 'Tell us more!'
Some grandparents say that they see their own children in a different light when they become parents. Is that true? 
I was struck by how knowledgeable my son became! He'd say, 'Don't hold the baby like that! You're doing it all wrong. Let me do it!'
---
LOVE READING?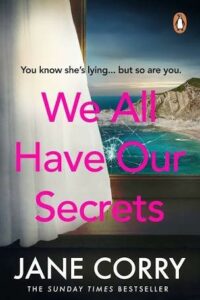 Jane Corry is a Sunday Times best-selling author. Her new book is about a woman who goes home to live with her father – but is confronted by a stranger!
You can pre-order "WE ALL HAVE OUR SECRETS" now on linktr.ee/janecorry or place an order at your local bookshop.