Lost At Sea: The Art of Beachcombing
---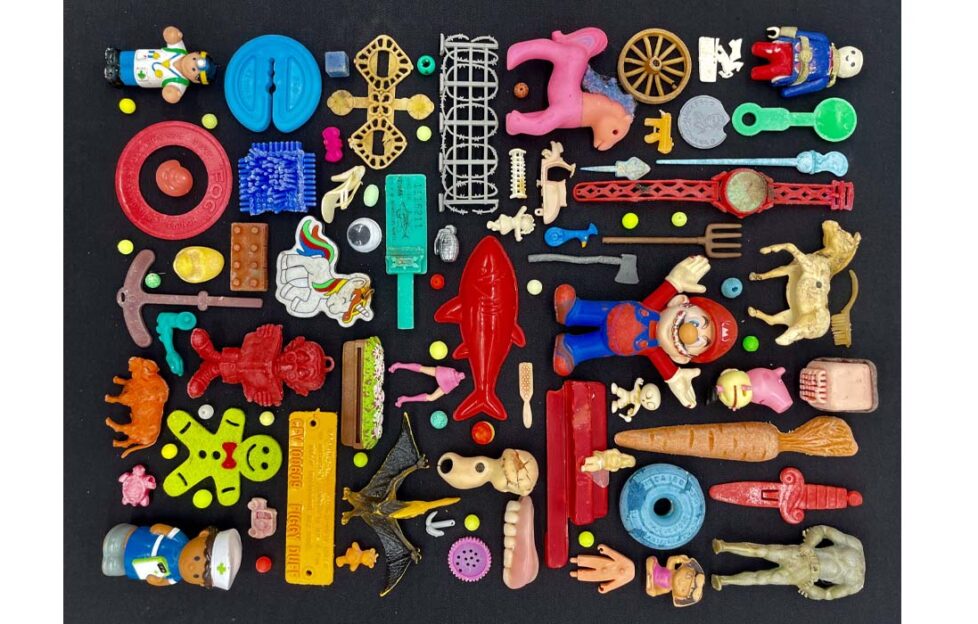 Photo: Tracey Williams
Every wondered what treasures are washed up on our shores every day? Or spotted a toothbrush out of place in the sand? We take a look at the idea of beachcombing and how we can do our bit to clean up our coastlines…
Finding beautiful shells and interesting pieces of driftwood scattered in the sand are one of the joys of taking a walk along the beach. For one beachcomber, her finds are a little more unique. Discovering washed up childhood toys and Lego pieces has inspired Tracey Williams, from Cornwall, to catalogue and share her finds.
 A combination of nostalgia, inquisitiveness and important environmental themes are intertwined in the art of beachcombing.  So much more than just litter picking on the beach, we take a shoreline stroll with Tracey to discover more about beachcombing and her best finds yet…
When Tracey picked up a piece of Lego off the Cornish coast she could never have dreamt it would lead to her publishing her own book, Adrift and creating a strong following on social media on LegoLostAtSea.
Yet Tracey's shoreline social posts of washed up objects, have captivated many, inspired individuals and groups alike and even seen her collaborating with scientists, yet  it all started with her Dad's garden fork.
Childhood Magic
For Tracey, beachcombing has always been part of her life, the shoreline a special place of interest and family fascination. "I've been a beachcomber all my life. On family holidays in Cornwall in the 60s with our cousins, we'd regularly scour the beaches for treasure, searching for shells and sea glass or mermaids' jewels as my mother used to call them. Then about 40 years ago my parents moved to an old house on the clifftops in South Devon and we'd comb the beaches there too. I was always fascinated by what turned up. Old fishing floats and driftwood sculpted by the waves. My father would tell us: 'the sea will provide' – then one day he broke his garden fork and the next day we found a replacement on the beach. It was as if it had appeared by magic," says Tracey.
Lego Treasure
Fast forward to 1997 when Tracey's children were still quite young and an unusual event happened off the coast of Cornwall – Lego started appearing on the beach.  The cargo ship Tokia Express was on its way from Rotterdam to New York, when 20 miles off the Cornish coast, a rogue wave hit the vessel. It's cargo of 62 containers, containing nearly five million bits of Lego tumbled into the sea – Lego that was ironically sea themed.
It was the smaller pieces we discovered first," remembers Tracey. "Tiny flippers and flowers, little life jackets and cutlasses, dragons and the occasional octopus, the holy grail of Lego hunting. We stored it all in buckets in our garden shed, which was anchored to the clifftops by pegs and guy ropes to stop it blowing away in a gale.
Years later and the Lego is still appearing on the Cornish coastline. "At the time it was assumed roughly half the Lego sank and half floated," says Tracey.  "Now we're starting to find the Lego that originally sank. It's been drifting along the seabed for decades, finally making its way ashore. Fishermen find Lego from the spill in their nets too. But there are so many pieces we haven't yet found, such as the magic wands, witches' hats, black bats and Lego sharks – there were over 50,000 Lego sharks in the container that fell overboard but as far as we know none has been found."
Nostalgic Find
Lego aside, Tracey has discovered many other finds that have evoked a sense of nostalgia, with childhood toys such as Polly Pocket from the 1980s washing up on the shores. "Every now and again you'll pick up a bit of plastic from the beach – part of a toy – and it will stir up old childhood memories. Dolls' shoes from the 60s, broken Sindy or Action Man figures, ancient cereal packet toys, tiny farmyard animals and wild west figures – and you'll think – wait – we had those – where are they now? A case in point was part of an old plastic View-Master 'stereoscope' toy I found. The minute I picked it up I was whisked back in time to my childhood and I could remember the cardboard discs of pictures that used to go inside – and I thought – what happened to mine? Where is it?"
With such sentimental finds, it would be nice to think that the original owners could be found. For Tracey the sense of reuniting the owner with their something special is an added and yet rare bonus of beachcombing.
Occasionally finds can be quite poignant – memorial plaques that were once attached to benches or railings. It's lovely to be able to reunite them with the families who lost them. Sometimes we find the owners of underwater cameras that wash up. And it's always interesting to trace the stories behind some of the fishing floats and buoys that turn up. Some will have drifted thousands of miles across the Atlantic from Newfoundland or Nova Scotia in Canada or Maine in the USA and bear the names of the vessel or owner who lost them. It's fascinating to find out the tales behind them. It sometimes gives you a glimpse into life on the other side of the Atlantic, in a historic fishing village thousands of miles away.
Sustainable Sands
Scouring the sands can of course reveal some odd finds such as Frankenstein's monster, false teeth, early mobile phones and even a lime green mankini!  But the seriousness of what is making its way into the sea, is never lost on Tracey. "A big problem here in Cornwall and elsewhere are those cheap and cheerful sand toys – flimsy buckets, spades and sand moulds. They're shipped halfway round the world only to break the first time they are used. They're simply not fit for purpose. As soon as the buckets are filled with sand or water they break – the handles can't bear the weight of the contents so snap off and the buckets crash to the ground and shatter and people just leave them behind. Last year we picked up over 400 lost, forgotten and discarded sand toys from just two local beaches. Those cheap styrene foam bodyboards are a menace too. They inevitably break the first time they are used so people just leave them at the beach. They get blown out to sea, dashed on rocks, the covers tear and as soon as you know it the beaches are covered in hundreds of thousands of tiny fragments of polystyrene that cling to the surfaces of caves and get blown through the dunes. They're virtually impossible to pick up."
It's not just the art of collecting, for Tracey and other beachcombers they actively try to recycle what they can.
Good quality clothes, toys etc are passed onto local charities. We give tens of thousands of plastic fragments to artists who use it to raise awareness of marine debris. We pass reusable fishing gear onto local fishermen. We wash and dry the forgotten and discarded towels and pass them onto a local animal hospital. If we find anything with a reward attached, such as an electronic fish tag, we donate the money to a local charity.
They also work closely with environmental groups and scientists, to ensure everyone can learn from their beach work. "We recently teamed up with the University of Plymouth to find out how long Lego bricks could last in the coastal environment," says Tracey. "The scientists calculated they could survive for anywhere between 100 and 1,300 years. Our next scientific project is to map the spread of the Lego – to see how far it has drifted, not only on the surface of the ocean (some even reached Holland) but also along the seabed."
For now Tracey and her followers will continue to scour the shores and reuse, recycle and reunite items, taking photos to capture the moment. Perhaps even an exhibition one day as Tracey says: "It's a really good way of talking about ocean plastic in a way that everyone can identify with."
---
Top 3 Tips to Beach Beautiful
Tracey gives us her top 3 tips to ensuring our seas and oceans are beach beautiful.  Let us know which ones you have tried:
Litter Pick
Check the tide times, grab a bag and pick up what you can.  You don't have to live near a beach to make a difference though – most plastic that ends up in the sea comes from inland so picking up litter in your local area stops it finding its way into storm drains, rivers and eventually the ocean.
Think Before You Flush!
Don't flush plastic down the loo – you wouldn't believe how much ends up on the beach and in the sea – dental flossers, diabetes finger prickers, razor blade heads, disposable toothbrushes, empty pill packets, even toys. Some of the medical lancets we pick up date back to the 80s – they've been drifting around the seabed for decades.
Choose 'Re-Use'
And avoid single use water bottles or beach toys that break the first time they are used – opt for something that can be reused over and over again. Picking up plastic from beaches stops it getting swept out to sea. But we need to stop it getting into the marine environment in the first place. There is far too much single use plastic – in recent weeks we have picked up thousands and thousands of plastic bottle fragments that have been swirling around the seabed for years. They get caught up in the kelp or brown seaweed that washes ashore.  I roam the beaches every day and see at first hand the impact plastic has on marine life – seabirds tangled in fishing net, spider crab shells bedecked with angling line and the remnants of clothing, pink sea fans (a type of soft coral) drowning in debris and rockpools full of nurdles, those tiny pellets of plastic that most plastic goods are made from.
---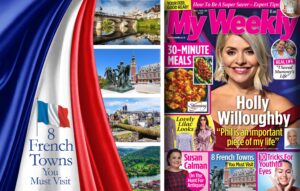 If you fancy beachcombing like Tracey then let us know what you find.  Share your pictures and comments with us on Facebook at @MyWeeklyMagazine or email us .
Happy treasure hunting!
After all that walking, sit back and relax with  a copy of My Weekly! Subscribe and catch every issue!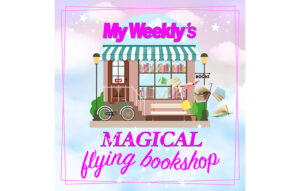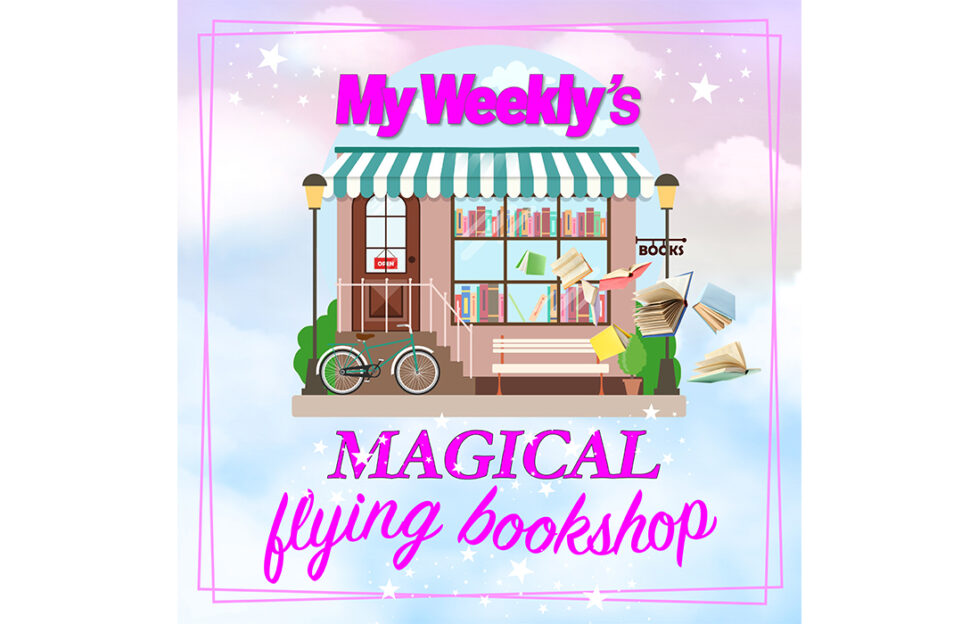 Or tune into our relaxing podcast My Weekly's Magical Flying Bookshop.
In Series 1 you can catch up with all your favourite authors from Anton Du Beke, Ann Cleeves, Sophie Kinsella, Dr. Hilary Jones and many more!
You can find it on any of your usual podcast app's from Spotify to Apple and Google. Click here for more details of how to listen to it, download and subscribe!
---
Adrift: The Curious Tale of the Lego Lost At Sea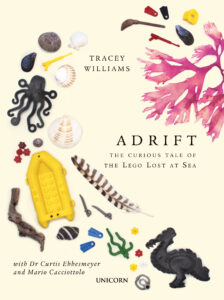 You can read more about Tracey's finds and beachcombing in her new book Adrift. Beautifully presented and with thought provoking narrative, it's the perfect coffee table read.
"It's a story of plastic in the ocean and an accident that should never have happened," says Tracey. "But searching for it all those years ago with my children opened my eyes to the amount of plastic in the sand and sea generally and I think it's been the same for many others too. The Lego spill tells the story of plastic in the ocean in a way that is easy to understand. I hope the book captures the magic of beachcombing while cataloguing some of the weird and not so wonderful objects that turn up."
Adrift: The Curious Tale of the Lego Lost At Sea by Tracey Williams, Unicorn, HB, £20. Out now, and available from Amazon.