The Wadhams: Love Tokens
---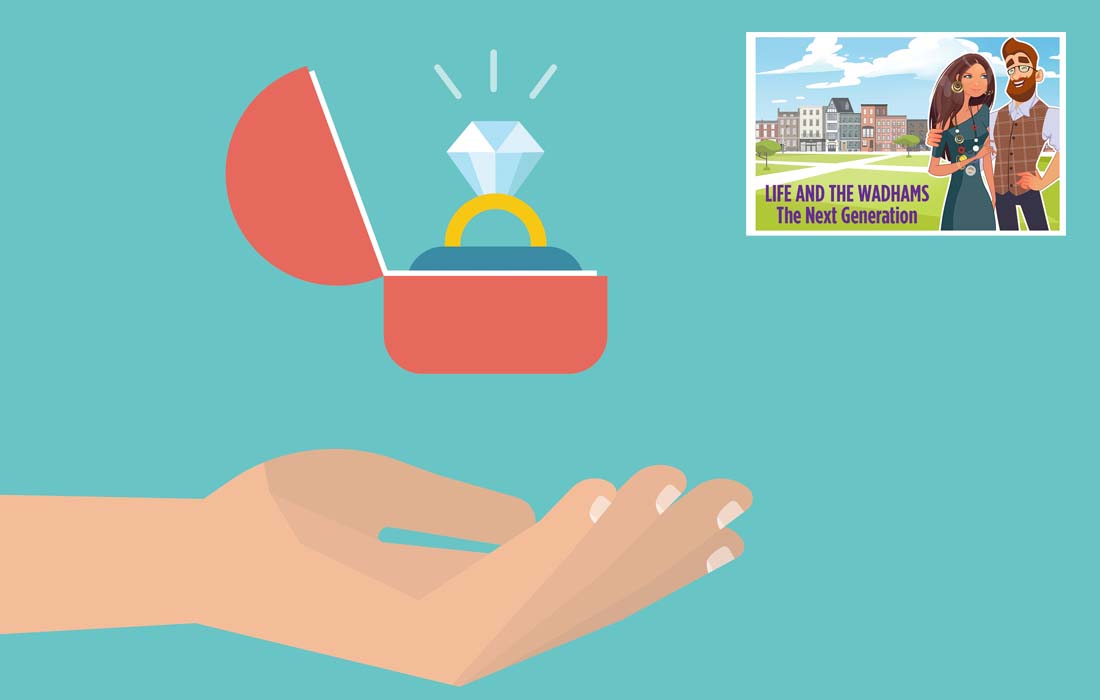 Illustration: Shutterstock
We're delighted to bring you the continuing adventures of Life & The Wadhams, featuring the younger members of the family. Not yet met the Wadhams? Read the background on My Weekly's best-loved family, then come back and enjoy the next generation's adventures as Mike and Polly Wadham's elder grandson, Alex Clark settles into a new life with wife Natalie and toddler son William in the flat above the antique shop his grandfather used to own. They've now bought the flat and shop, converting it to a hairdressing and beauty salon run by Natalie.
Jim Clark always enjoyed working at the garage with his son Alex – the two men shared a passion for machinery, a placid outlook on life, and a love of home and family that didn't preclude them relishing an escape from the mayhem of it all sometimes!
But today, Alex's usual cheerful grin was missing, and his customary whistle silent as went about the business of replacing tyres, draining oil tanks and tightening nuts and bolts under various bonnets.
Jim wondered what was wrong, but was too wise to ask – Alex would tell him in his own time, or not. Either way, he would be there for him, a sympathetic bulwark against all life could throw at his elder son.
It couldn't be anything too serious – he and his young wife Natalie had looked perfectly happy on Saturday night, at the Wadhams family dinner. Although …
Jim cast his mind back, remembering …
---
It was supposed to have been a normal weekend dinner with the assembled household and the addition of Alex, Natalie and little William. Jim's father and mother-in-law, Mike and Polly Wadham were joining them, as usual, too.
Then Pinky's brother Drew had phoned to ask if he and his partner Annabel could come along.
"Drew sounded a bit – cagey," Pinky confided to Jim when she put her phone down. "Like he was hiding something."
"Probably the cut-price on the bottle of wine he'll bring." Jim grinned. Drew's legendary tightness was a standing joke in the family.
But they discovered they'd misjudged him when, at the end of dinner he announced that he'd asked Annabel to marry him and she'd agreed, urging her to slip on the ring that proclaimed their love to the world.
"We were going to wait until Valentine's Day to make it official," Drew grinned as the women exclaimed over the stunning three-stone diamond ring that must have cost the vet at least six month's salary. "But I wanted to have the family together to tell you all at once."
"Oh, Drew! How wonderful!" His mum Polly couldn't hold back her tears of joy as she embraced her son and prospective daughter-in-law. "You deserve all happiness. Oh, wait till we tell Jonathan – he'll need to come home for the wedding. When are you thinking about?"
As she and Drew discussed wedding plans and the best time to contact the oldest Wadham sibling at his home in Singapore, Pinky and Natalie continued to exclaim over Annabel's ring.
"What a beauty! I've never seen such lovely stones," Natalie said as Annabel slipped it off her finger to let her try it on. She flashed her hand at Alex. "What do you think, Alex? Isn't it gorgeous."
"Lovely," Alex grunted.
---
Jim had thought nothing of it – what man is interested in engagement rings? But now, looking back, he recalled that Alex had got quieter, and that he and Natalie had left soon afterwards.
She hadn't been wearing her own ring. That's what Alex had noticed when Natalie tried on Annabel's engagement ring. The plain gold band he'd so proudly slipped on her finger on their wedding day was there, but the little blue sapphire engagement ring they'd chosen together from a small jeweller's shop in Nha Trang was conspicuous by its absence.
Come to think of it, he hadn't seen her wearing it for ages.
Had she lost it and was afraid to tell him? Alex almost laughed out loud at the absurdity of that idea. If that was the case, he'd have been the first to know, and under orders to turn their flat and car upside down until it was found.
Alex thought about Uncle Drew, and the ring he'd bought for his fiancée. He wished he could have bought Natalie a ring like that. Maybe then she'd wear it proudly at all times.
Wouldn't it be brilliant to surprise her on Valentine's Day with a ring worthy of her, a ring that proclaimed his love for her in capital letters to the world?
But as he finally confided morosely to his dad as the two shared their lunchtime sandwiches, he'd be lucky to afford the usual bunch of roses and chocolates.
Jim tried to be sympathetic, but he was at a loss to understand where his son was coming from.
"Natalie knows you love her – you're married with a baby son, for goodness sake. You're equal partners who support each other to the hilt – you might as well say she should buy you a Rolex watch to prove her love for you.
"When me and your mum got engaged, she didn't even want a ring – she wanted every penny to go to our future, and I bet Natalie feels the same. You're being plain daft, son. Take her out for a romantic meal, chuck her some roses and she'll be happy."
Alex grinned, cheering up a little in spite of himself.
"We're going out tonight with Keisha and Robbie. Natalie refused to go out on Valentine's night – says the restaurants just rip you off and we're better spending our money on other things."
"There are you, then! I knew she had more sense than you." Jim wolfed down the last of his sandwich. "Come on, back to work, or neither of us will have money for food, let alone jewellery."
---
The rip-off of Valentine's day prices were very much the subject of discussion that night in the small Italian restaurant as Alex, Natalie, Robbie and Keisha relaxed into their second bottle of wine, free from their small children and the stresses of a busy day.
"Shouldn't on a school night," Keisha joked.
"Me neither, but …" Natalie reached out her hand for the bottle. There was a glint of blue sapphire. Natalie was wearing her ring!
Keisha noticed it straightaway.
"I've never seen you wearing an engagement ring before," she said. "Is it new?"
"No." Natalie looked down at the small stone sparkling in the candlelight. "Alex bought it for me when we got engaged in Vietnam. But I can't risk wearing it at work – I might scratch someone's ear with it, plus all the products I work with could dislodge the stone easily, so I never wear it during the day. It's far too precious to risk damaging.
"I'm so in the habit of not wearing it, I forget to put it back on," she confessed. "It was seeing Annabel's lovely ring that reminded me I should be wearing mine, too, when I can. It's far too pretty to languish in its box – and it means so much to me." Her eyes sparkled as brightly as the ring as she looked lovingly at Alex. "It's a symbol of all I ever wanted, which was to be married to Alex."
"You couple of softies!" Keisha laughed as Alex reached for Natalie's hand.
Her own husband grinned. "You can speak. You might not have wanted an engagement ring from me, but you did demand we get matching tattoos!"
"No, really?" Natalie was intrigued. "I've never noticed your tattoo, Keisha. Where is it? What does it say?"
"That would be telling," Keisha grinned.
"Alex, maybe we should get matching tattoos!" The wine was obviously going to her head. Though Alex had several on his arm and back, she'd always refused to mark her perfect skin with permanent ink.
"I'll take you for one tomorrow," Alex promised, knowing fine well his young wife would have changed her mind about a tattoo in the cold, sober light of day.
Besides, he'd have better things to do.
Roses? Chocolates? They were old hat. He might not be able to afford a Kim Kardashian-style rock for Natalie's fingers, but his finances would surely stretch to a slim gold chain on which she could hang her engagement ring when she wasn't wearing it …
And Natalie proved her delight in Alex's unexpected, oh-so-romantic gift when (William tucked safely in bed) she wore it with her ring – and nothing else – on Valentine's night!
Join us next month for more adventures from the Wadhams clan. Jonathan, Polly's older son makes an announcement, prompting feelings of nostalgia for the family…
---
Find a wide variety of book reviews by Karen at karensbookbag.co.uk and follow her on Instagram and Twitter