Haddock With Fennel, Lemon & Black Olives
---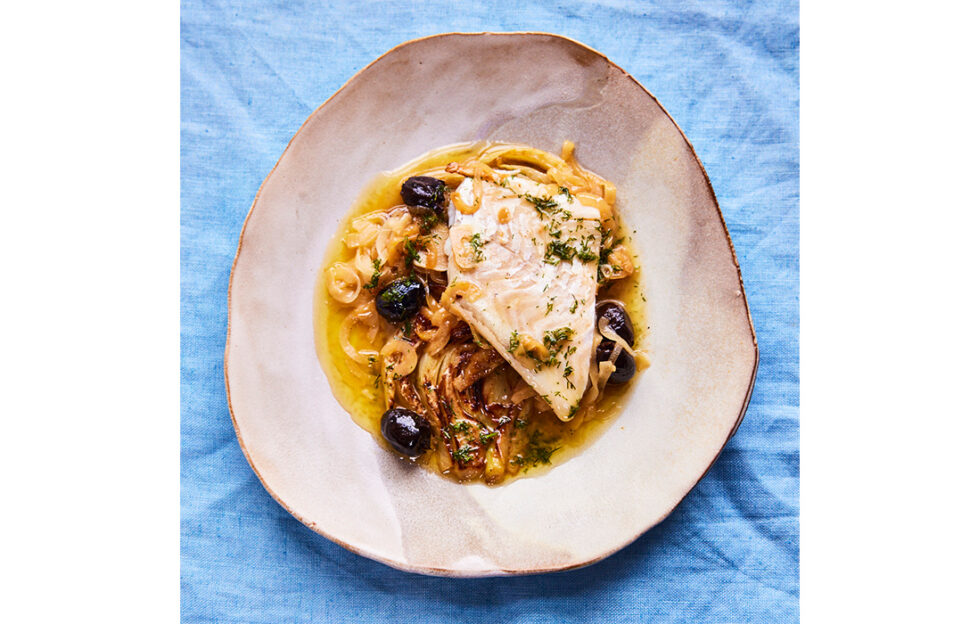 Photography by David Loftus
Chefs and fishers from 12 countries are uniting to support sustainable seafood in the MSC's Ocean Cookbook 2022. Here's a taster – a delicious Scottish haddock dish by Cornish restaurateur and UK MSC Ambassador Mitch Tonks.
This simple, elegant dish is utterly delicious and highly adaptable. If you can't get certified haddock, you can enjoy it with any other MSC white fish such as hoki or ling.
Preparation Time: 15min
Cooking Time: 25min
Serves: 2
Preheat the oven to 200ºC (180ºC fan). Heat a frying pan which can be covered and put in the oven. Add some olive oil and gently fry the fennel until it starts to turn golden.
Add the Pernod (optional), boil for 1min, then add the wine, onion and garlic. Allow the alcohol to boil off for 1min then cover and turn to a simmer. Keep cooking until the fennel is tender. Add a little water if you need to help it along.
When the fennel is soft and giving, place the fish on top, skin side up. Add the olives, cover and place in the preheated oven for 6-8min until the haddock is just cooked.
Using a fish slice, lift the fish out – with the fennel underneath – and plate up. Using a spoon, gently peel off the skin off the haddock.
Place the pan back on the stove top and add the butter. Bring to a boil until the sauce is buttery and thickened. Add the dill and lemon juice to taste.
Spoon the sauce over the fish and fennel and serve, with some boiled new potatoes or frites if you wish.
The Ocean Cookbook 2022 from the Marine Stewardship Council (MSC), responsible for the world's leading sustainable seafood ecolabel, is a global collaboration between 12 award-winning chefs and the 12 sustainable fishermen from around the world who caught the species. They are all united in the belief that sustainable fishing is a must if we are to protect our oceans.