How To Make A Bird Feeder
---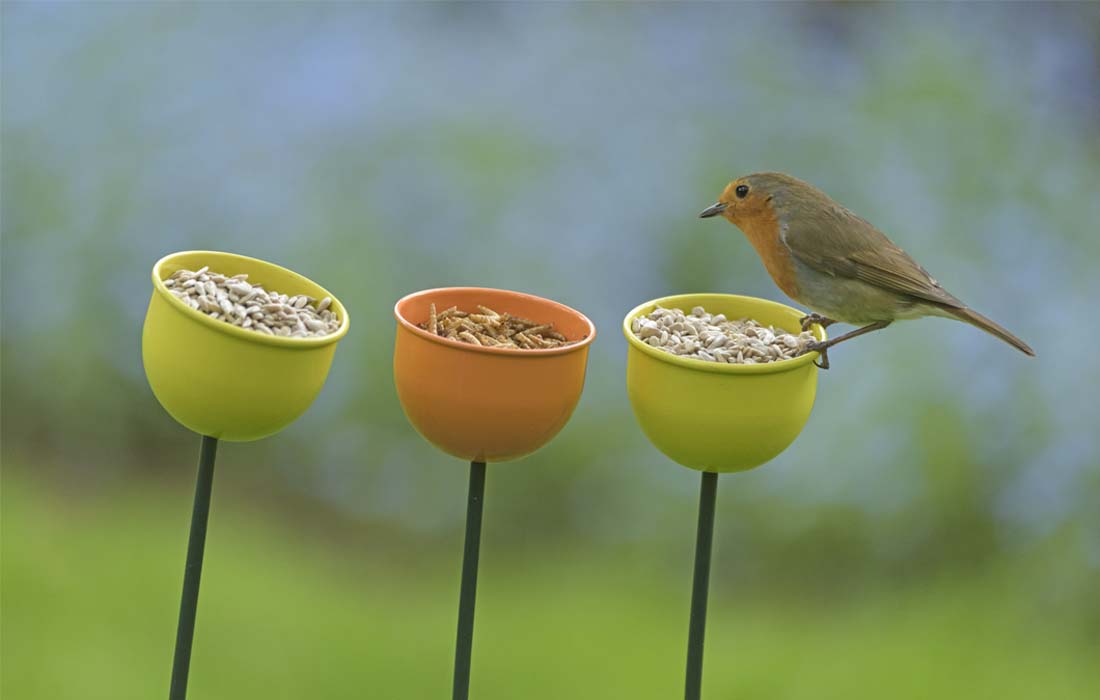 Chris Gomersall - RSPB Images
Are you passionate about nurturing wildlife in your garden and fancy a bit of DIY? Then you'll love our guide to making a bird feeder…
Winter time is always tricky for birds and wildlife, especially when you add snow and storms into the mix. Leaving out food for our feathered friends can help says the RSPB.
"Winter is the hardest season for birds to find enough food from natural sources – nuts and berries have been picked off shrubs and hedgerows, and when the ground is frozen, birds can't get to worms.  They also need more calories in cold weather to be able to stay warm – robins for instance, can use up to 10% of their body weight on a cold night. Leaving out food for them can really be a life-saver."
What Type of Feeder?
When it comes to bird feeders there is lots of choice from buying purpose-made feeders to making your own creations, you could even pop a little grated cheese on the fence post where you know your garden robin likes to perch!
According to the RSPB safety of the birds is the most important part.
Position your feeder close to cover like a climbing plant or shrub so the birds don't feel too exposed,  but keep it away from places that could also hide predators such as cats.  Different birds prefer different places to eat – some like feeders, other prefer bird tables and some will feed on the ground.  And remember to put out some clean water too as birds need to drink!  Food which is high in calories is best, giving birds the energy they need to stay warm. So fat balls, peanuts and seeds are ideal for this.  Some of our own leftover food works well too – dried fruit, apples and pears a little past their best, and  grated cheese.
If you're after more tips then check out our My Weekly guide to attracting birds  and what to feed them.  The RSPB also have some extra handy tips for winter and  ways to feed birds.
---
Making Your Bird Feeder
Making your own bird feeders is a great way to help your garden birds. You can start off with something simple like hanging up pine cones smeared in peanut butter. Or even look for household objects to transform. Inexpensive and even fun, making your own bird feeders is a great way to help your garden birds.
---
Teacup Feeder 
The Original Factory Shop are on hand with their helpful ideas, to show you how to make your own bird feeder from things you may have lying around at home.  Try this exciting upcycling project, that allows you to spend time in the garden as well as help our feathered friends thrive. Transforming teatime and everyday home items into new garden treasures is the perfect way to get creative.
You will need:
Teacup and saucer
Strong all-purpose glue
Twine or something to hang the feeder
Masking tape (optional)
Bird Food
To make:
Turn the teacup on its side, with the handle facing upwards.
Glue the teacup to one half of the saucer and allow to dry. Use strips of masking tape to hold in place whilst it dries.
Tie the twine to the handle and hang.
Finally fill with your chosen bird food, such as bird seeds, peanuts or sunflower hearts.
Paint your teacup and saucer for a more decorative impact. Leave to fully dry.
Fill in up with bird food. There are so many different types to choose from. We love RHS Energy Rich Mix For Wild Birds.
Top Tips from the RSPB:
There's lots of fun ways to feed your birds and upcycling is great – it's just important to make sure what you're doing is safe for the birds visiting the feeder:
Smooth – Check there's no sharp edges anywhere and no glue or paint which isn't dry as birds can become stuck in this or it could damage their feathers.
Hygiene – we recommend cleaning your bird feeders every week, so they need to be made from something that's easily cleaned to keep your garden birds safe.
Damage –  with any feeder, you should check them regularly to make sure there's no damage, which could injure the birds.
Materials – avoid using anything that birds can get entangled in, like hanging fat balls inside mesh bags.
 Clean – If you are using reusable feeders, make sure you clean them regularly – we recommend once a week, to ensure they don't spread any diseases.
---
Fridge Raiders
If you are short of time or want to try making one with younger members of the family then get raiding the fridge with these two super simple but effective ideas:
Make an RSPB bird feeder from apples.
Or make a bird kebab!  This ring of fruit such as apples and raison and chunks of cheese is perfect for the birds to perch on and nibble. String together small pieces of cheese, apple and raisins,  and hang them in the garden.
Gather your neighbours or family and make it a group activity. You could display them in your community areas or even volunteer to make some for your local care home or hospital.
Once you've made your bird feeder check out the RSPB's top tips for cleaning your bird feeder and the brilliant benefits of watching the birds in your garden in this great video below.
---
---
Best Buys – Bird Feeders
If you want something a little more ornate then check out these ready-made options that will make any garden feel like home: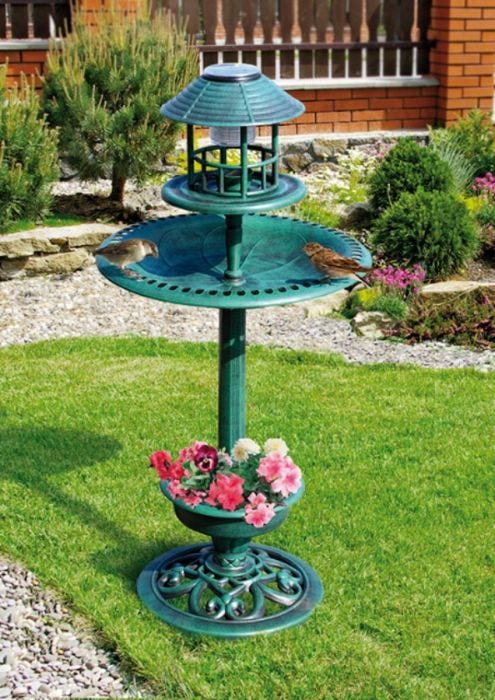 4-in-1 Solar Bird Hotel
£24.99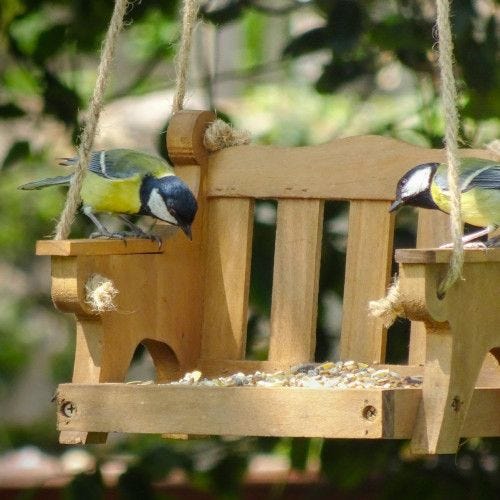 Swing Bench Bird Feeder
£19.99 
Various Bird Feeders
From £8.99 
---
Help with your Hobby!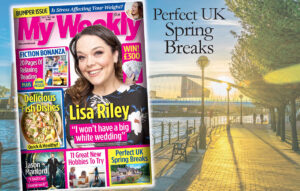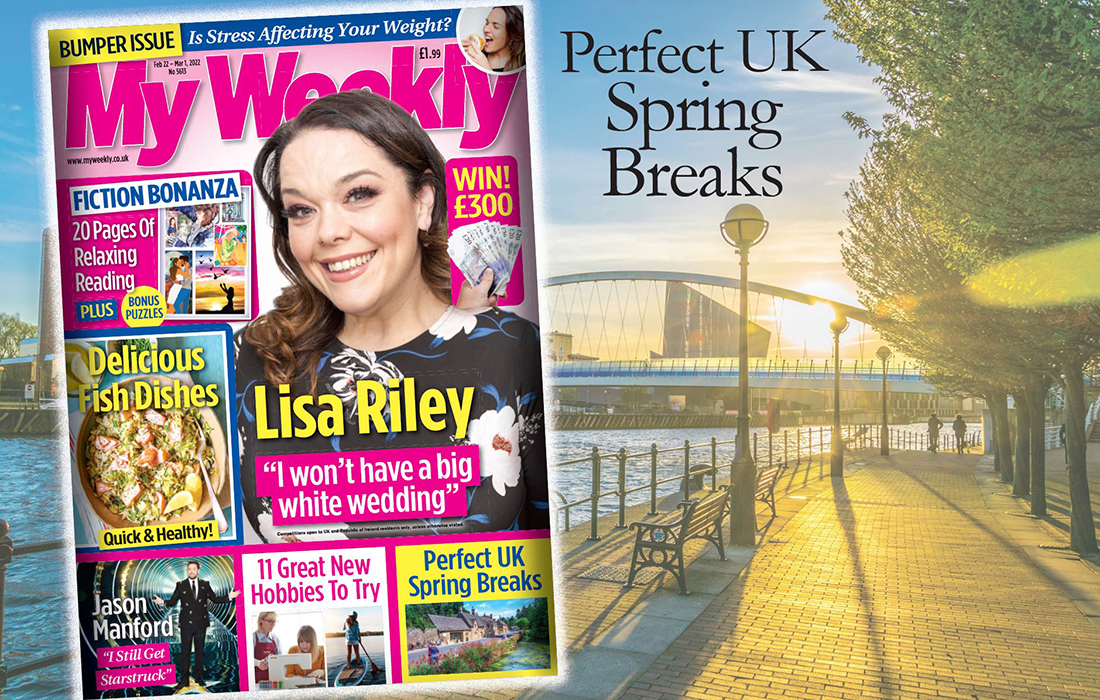 Into craft? Whether it's embroidery, knitting, painting or jewellery making, then we have something for everyone in our crafts pages both on our My Weekly website and in our weekly magazine.
Perhaps you prefer to be outside tinkering with tulips? For those green fingered readers, we have oodles of gardening news and ideas on our My Weekly website to make your outdoor space bloomin' brilliant.
Resident My Weekly Gardening Expert Susie White will be back with her magazine column in My Weekly, out in the shops March 8. So watch this space!