A Perfect Match
---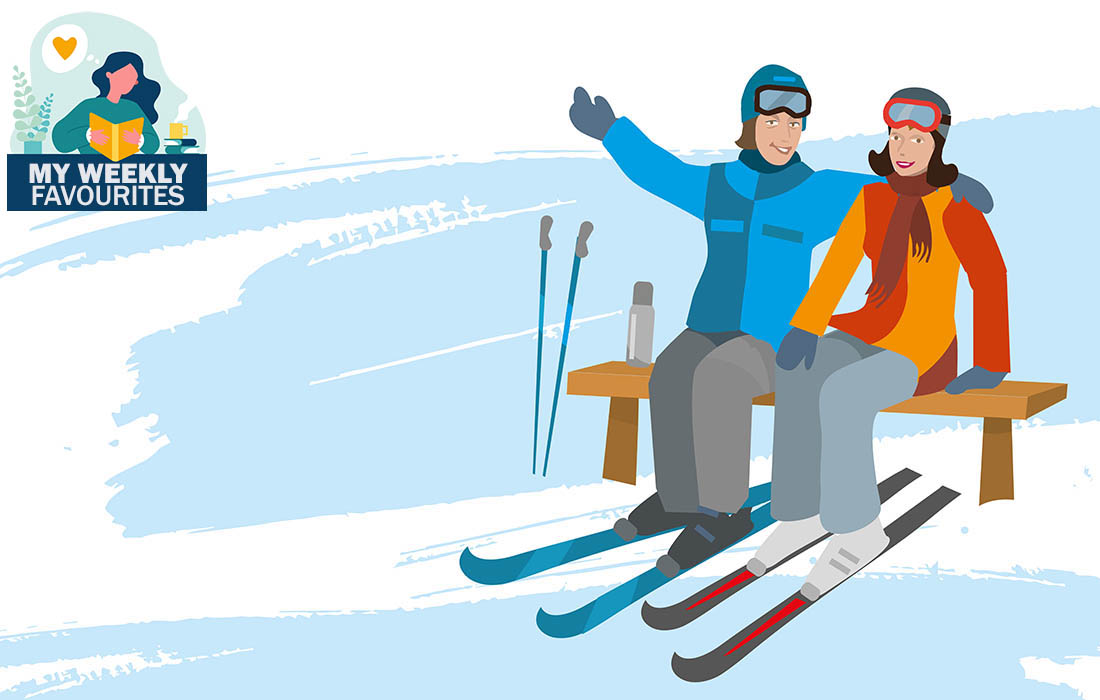 Just how far will stay-at-home Sophie go to impress gorgeous, sporty Tom? And will she live to tell the tale?
There are lots of advantages to online dating. Scrolling the site in pyjamas has to be top of the list, snacking while browsing a close second, followed of course by the opportunity to be only loosely accurate with your likes and dislikes.
For instance, if the man you are interested in loves golf, you're hardly going to say you have a phobia of balls, are you?
It's so easy to be economical with the truth. You can end up leaving the truth out completely if you're not careful… or you can be very careful and deliberately leave out the truth!
My problem began, I guess, the moment I first saw Tom on my screen.
Tom Danvers – six feet tall, brown hair, blue eyes, loves all things sporty. Very nice photo.
I prepared to give him a virtual wave, while continuing to read his profile – I love skiing and would love to meet someone who can share my passion for the mountains.
Mmm, I had never been skiing in my life, but was totally prepared to stretch the truth a little if it meant meeting up with Tom Danvers.
I pressed "Wave". Hopefully he hadn't read my profile too closely – likes eating out, reading, TV dramas and walking.
I only added "walking" as an afterthought so I didn't look a complete couch potato.
---
As strange and unlikely as it sounded, when we finally met up it really was a case of opposites attract.
I loved listening to tales of his holidays in the Pyrenees, and he seemed to enjoy discussing the latest television programmes and our curry nights at the local Indian restaurant.
He never actually asked if I could ski, so I never actually told him I couldn't. The subject just didn't come up.
Not, that was, until a few weeks ago.
"France is wonderful in February. It's usually the best time of year for snow."
"Oh, I love snow," I told him, imagining sitting beside a roaring fire after an excellent French meal, glass of wine in my hand.
"I knew you would! Shall I book it, then, Sophie? Can you get time off work?"
"Yes, I've loads of holiday to use up."
"Great." He reached across the table and took hold of my hand. "Our first ski holiday together. I can't wait, can you?"
"Skiing?"
He nodded, his face alight at the thought of whizzing down icy mountains and balancing precariously on chair lifts.
"I know just the right hotel, too. It's right next to the green runs and the red and blacks aren't far away either. It's perfect for us."
"Sounds it," I said with a fixed smile, adding, "You realise I actually haven't skied for a while?"
"Don't worry. It's like riding a bike, you never forget."
Well, I can ride a bike so that was a good start. It couldn't be that hard to throw yourself down a mountain.
---
The hotel was sparse, with wooden slatted beds and minimal furniture.
"I didn't think there was any point paying for extras," Tom said, sounding like an excited child. "We'll be on the slopes all day.
"The food's good and there's a bar – but you know what it's like, Sophie, when you've been skiing all day, all you want to do at the end of the day is fall into bed and sleep."
"Mmm," I murmured, looking around.
I'd borrowed my ski suit from a friend, intending to hire boots and skis, but was totally unprepared for the extreme clumpy footwear I was expected to strap to my feet and keep on all day.
Tom laughed as I tottered around trying to keep my balance.
"Anyone would think you'd never worn them before!"
"It's been a while," I said, keeping my fingers firmly crossed behind my back.
"Right, come on Sophie, the snow's perfect at the moment so we need to make the most of our first day. Do you want to start on the green, as you haven't skied for a while?"
"Red's my favourite colour. I think I'll do that one."
"Are you sure? You could do blue, it might be better for you."
Green? Blue? Red? What is he talking about? I wondered.
"No, no – red's fine," I said, blissful in my ignorance.
"Come on, then. Don't forget your goggles, though."
I copied his sideways crab-like walk across the snow towards a lift which would take us up to the chair lift.
If this is all there is to it, I have nothing to worry about, I thought. I'm keeping up with Tom no problem.
My first mistake was looking down when we reached the top, and I almost confessed there and then.
Then I glanced at Tom, looking wonderful in his gold and white ski suit, and told myself again that it can't be so very difficult to get down a mountain.
I will take it slowly. A mountain is merely a gigantic slope.
When the chair lift stopped, however, I froze, legs dangling in mid-air.
Tom gave me a gentle push in the back and I found myself standing in the snow in oversized boots and over-long skis, at the top of a very big mountain.
"Beautiful, isn't it?" Tom said, looking around. "Where else would you get a scene like that?"
"Very nice," I agreed, aware my legs suddenly seemed unable to move.
"Even the air feels different, doesn't it?"
"Very nice," I said again – what's happened to my legs?
"There's a great restaurant at the foot of this mountain. We can have lunch there later."
"OK."
"Right, are you ready then?"
"I think so."
"Are you all right, Sophie?" Tom asked, looking at me and sensing, I suppose, my complete lack of enthusiasm. "I did say it was maybe a good idea to start with the green."
"Green's an unlucky colour," I said, still determined to wing it. "I've never liked green. Red's fine."
But even as I spoke, it was slowly beginning to dawn on me that this colour coding business might be an indicator of difficulty and terror.
"Are you going to be OK to ski down?"
"Of course – if I can get my legs to move," I said in a desperately jokey way.
Tom looked concerned.
"Well, we're here now, Sophie, and there's only one way to get down this mountain. We'll take it slowly at first. I'll stay with you until you get your confidence back.
"How long did you say it's been since you last skied?"
"A long while."
"How long exactly?"
"Oh – about thirty-two years."
He looked puzzled for a moment, then said, "Aren't you thirty-two?"
I nodded, smiling sheepishly, realising that I had zero chance of getting down this mountain.
"I'm afraid I've never skied in my life."
"But – I thought – you did say you wanted to do the red run!"
"I'm sorry, Tom. I should have been honest with you."
He was silent for a moment, then a worried look crossed his face.
"We have to get down at least half way before there's another lift station, so you'll have to try and ski.
"I'll stay with you all the way. We'll go really slowly. Just follow me, do what I do, and whatever happens – don't panic."
"Don't panic." I repeated his words quietly. "OK. I'll try."
"Right, let's go."
He adjusted his googles and seemed to be steeling himself for a feat that would require enormous courage. I actually knew exactly how he felt.
---
We pushed off slowly and Tom was as good as his word, never leaving me, constantly encouraging me and shouting out instructions.
I can't blame him for the crash in any way at all.
When we both ended up in the snow, I seriously believed I might have killed Tom.
The clash of skis and amount of screaming – me, I later realised – sounded like a gruesome scene from a murder film.
However, although winded, after a minute or two Tom calmly clipped his skis back on and climbed to his feet.
"You OK?" he said.
I nodded. Something was hurting, hurting a lot, but now didn't seem a good time to mention it.
Somehow Tom got me down and back to the hotel where I first drowned my sorrows in hot chocolate, and later copious amounts of wine.
It turned out I'd badly sprained both ankles, but all I could think about was how disappointed Tom must feel, lumbered with me in this place instead of the mountain-loving soulmate he had been searching for online.
Our relationship would be going nowhere now, and I only had myself to blame.
Tom skied alone for the rest of the week, while I spent each day sitting by the open fire reading the selection of books I'd had the foresight to bring with me.
Every evening I gazed at Tom over dinner watching his winter tan grow ever deeper, wishing I could have been on the slopes with him, wishing I could have shared in his obvious love of skiing.
---
Finally our last evening at the hotel arrived. The small dining room was bathed in cosy candlelight and heat from the fire burning in the corner.
All around the air buzzed with ski-type chatter – the state of the snow, the best run – the jumps – the speed – the bombing!
"It's like another language," I whispered to Tom over dinner.
He grinned, his teeth looking whiter than ever against his tanned skin.
There was a lovely glow about the room tonight, a feeling of relaxation that the week was over and the skiing done. Or maybe it was just me, relieved it was all over at last.
"It must sound like that, but it's not really. It's just a bunch of people who like to ski." He reached across to refill my glass. "I'm sorry you had to spend most of the week on your own."
"That's hardly your fault," I said. "I should have told you from the very beginning that I can't ski."
He gave a small shrug. "Well, it's as much my fault as yours. I read your profile, Sophie, I knew you weren't the sporty type but you were so gorgeous I really wanted to meet you anyway."
"You did?"
He nodded. "Although of course we are completely incompatible."
"Oh, completely. Yin and yang."
"I thought I might be able to convert you to skiing, but I can see now that's never going to happen."
"No – I don't think it is."
"Maybe you can convert me to reading good books."
"Maybe." I smiled. "But I doubt it."
"We could arrange to have our next date at the library if you like."
"How about we just grab a takeaway and watch back-to-back TV?"
"It's worth a go. Anyway, I'm sure we can find something we both enjoy doing together." He grinned at me, raising his glass. "Let's have a toast."
"To yin and yang?" I suggested. "After all, that's what we seem to be!"
"OK – to you, my lovely Sophie, the perfect yin to my yang."
"To us," I said softly, clinking my glass against his.
Our My Weekly Favourites series of lovely feel-good fiction from our archives continues on Mondays and Thursdays. Look out for the next one.
Don't forget – you can find brand new, uplifting short stories every week in My Weekly magazine! Subscribe now for a great money-saving deal, or enjoy one of our Little Escapes short story collections.