Vegan Millionaire's Caramel Tart
---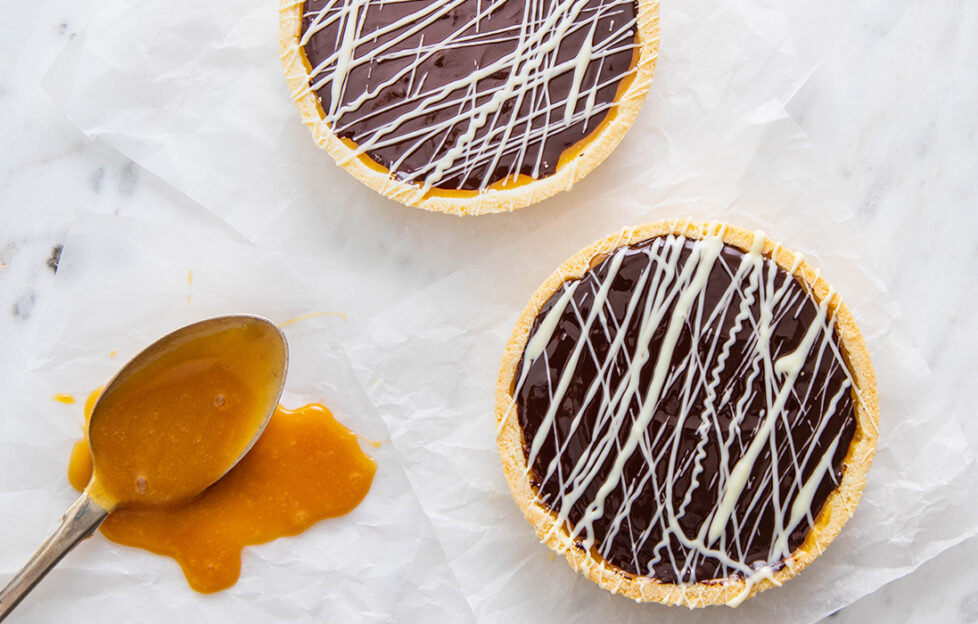 Preparation Time: 20min
Cooking Time: 30min +15min chilling + 45min cooling
Serves: 6
Preheat the oven to 180ºC.

For the pastry: Rub together the plain flour, salt and dairy-free spread until the mixture resembles breadcrumbs. Add 1tbsp cold water at a time and bring the pastry dough together until it forms a smooth dough and shape into a ball. Wrap with cling film and refrigerate for 10-15min.

When the pastry has chilled, roll out into a circle or rectangle depending on the shape of your tin, to ½cm thickness. Carefully line your tin with the pastry, pressing into the corners. Trim any excess pastry along the top.

Line the pastry with parchment and fill with baking beans.

Blind bake for 15min, or until the pastry is firm. Remove the parchment with the baking beans and cook for a further 5-7min until golden brown.

Cool the pastry case on a wire rack completely before continuing.

When the case is completely cooled, gently cover the bottom with the caramel sauce.
Melt the dark chocolate and evaporated milk together, either in the microwave or in a bowl set over a pan of gently boiling water. Mix until the mixture is smooth and glossy. Gently spread the warm mixture over the caramel base.

Melt the white chocolate. Drizzle over the dark chocolate with a spoon and then using a cocktail stick, swirl the white chocolate to create a marble effect.

Let the tart cool at room temperature for 15-20min to allow the chocolate filling to firm up before serving.
Find more delicious recipes in My Weekly every week! Order a copy of our latest lovely recipe book or the popular Cooking For One And Two.