Diary of A Modern Gran | Granny Still Has Covid
---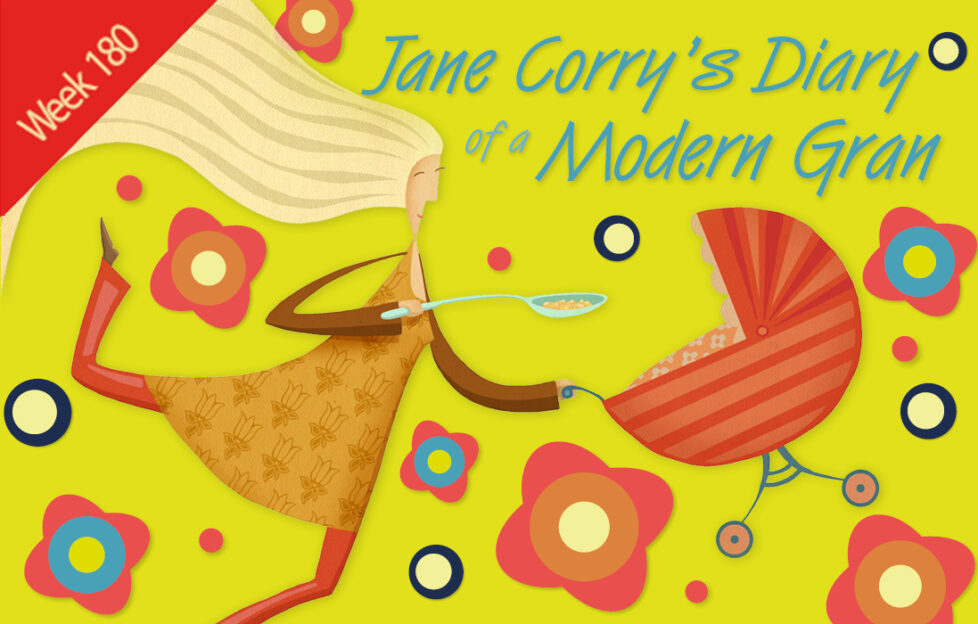 Illustration: Istockphoto
A week on and my husband and I still have Covid. We're not alone, according to the statistics. In fact, we're part of a tidal wave which is sweeping through the country, targeting the over 55s.
The good news is that the hospital has put my husband on a special course of pills to reduce the effects of the virus. (He finished chemotherapy at Christmas and has low immunity.)
It seems to be working because he's not too bad. Meanwhile, my symptoms (sickness, aches, shivers, congestion and extreme exhaustion) come and go.
But the worst, for me, is the pain in my heart. I miss my grandchildren so much!
I know I'm incredibly lucky to be near them. But I'm so used to seeing them every day, that it's agony not to be able to cuddle them or hear them read or even sort out those little squabbles!
"We miss you too, Gan Gan," says Rose, peering at me from of her iPad, at the other end of town. "I lost another tooth last night. Look!"
She points a finger at a space which I can't really see.
"That's great news," I say. "How much did the fairy leave you?"
"50p," she grins toothily.
Only 50p? It would have been more if I'd been there!
I'd love to do more…
I'm also acutely aware that my illness is letting them down when it comes to childcare. Both my daughter, son-in-law and little George have the virus so Rose couldn't go to school on the Monday. Luckily a kind friend stepped in to take her.  Then the children's Welsh grandparents had the brilliant idea of ordering a supermarket home delivery of shopping.
Thankfully, George soon tested negative followed by his parents but I'm still positive so I can't do school pick-ups when my daughter and son-in-law are working.
Enter "after-school club"! Rose had never been before but she loved it. In fact, she's grinning from ear to ear as she tells me all about it on screen.
"It's Mummy's birthday on Thursday," she says. "I've made her a card!"
I've been desperately hoping that I'll be better by then. But I'm not. Nor is she, even though she has to go to work despite suffering from the after-effects such as extreme exhaustion. On the Friday, we were due to have a mother/daughter late birthday lunch but that's been cancelled too as I am still positive after eleven days. According to the rules, I'm allowed to live life normally. At least I think I am, although I'm finding it hard to interpret them. However, I've decided to play safe.
Instead, my daughter, her brothers and I celebrate her birthday online with  a tea-time Family What's App. My eldest son joins us from Spain; my youngest son and his German girlfriend from St Albans (where they've been visiting the Roman remains); and my daughter from her house round the corner
My "big boy" has written a really moving song about funny things in his sister's life (including the time she went up to Scotland to visit him at university for his 21st!).
And I wrote her a poem about the day she was born. At times, it seems like yesterday. I vividly remember walking her round the maternity ward all night to try and stop her crying, never dreaming that I would be helping to look after her babies many years later!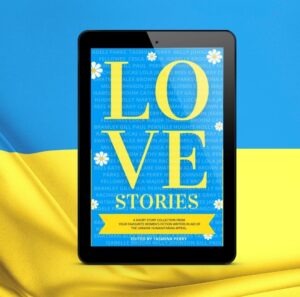 Meanwhile, like last week, our thoughts are with the terrible things that are happening in the world and all the families who are no longer together. One of my school friends, whose parents escaped from Germany in 1939, has applied to help a family of refugees. Everyone I know is helping in some way.
Thanks to those of you who bought a copy of the short anthology I contributed to, in aid of the Ukrainian situation. It's called Love Stories and includes big names like Tasmina Perry (who edited the book), Adele Parks and Milly Johnson. If you'd like to help, you can order here.
I don't know about you, but I feel terribly guilty about doing anything nice such as sitting in the garden when such horrors are going on. But then I switched on my daily meditation app. The theme was taking time out to "have some joy".
I was brought up to believe that taking time off was a luxury and that one should strive to work hard. But I'm beginning to make some post-Covid resolutions. When that negative line finally appears for two days in a row on my test kit, I'm going to make more time for the most precious part of life.
My family.
Agony Gran
"I'm upset with a friend of mine who is still coming to our weekly exercise group even though her grandchildren have got covid. She continues to see them every day so she is surely a risk? I said as much the other day and now she won't talk to me." Anonymous
Jane replies:
"Oh dear. I suspect you're not alone. Covid has caused all kinds of divisions in families and friendship groups. It can also be hard to interpret the rules. Some seem to be purely 'advisory'.  Not very long ago, family and friends were falling out over Brexit – and some chasms still haven't been healed.
"Personally, I would stop going to places where I suspect people might be in contact with this horrible virus. You might feel that it's your friend who should be staying away but it looks as though she has no intention of doing so. At the same time, I wouldn't blame her openly for your absence. In fact, I'd leave the door open to her in a mental rather than physical way. If she's a good friend, you might want to find a way back. Not everyone will agree with me on this. Then again, I prefer to be a peacemaker in life. So ultimately, it's up to you…"
The Funny Things They Say
Thanks to Elaine who sent this one in.
"My mother-in-law had been babysitting my three-year-old son when my husband and I went out one evening. In the morning, he couldn't wait to tell me that Granny had 'nits'.
"It turned out that my mother-in-law had been 'nitting' a jumper…"
Do Your Grandchildren Love Reading?
If you're short of ideas for great books for kids, you might like to take a look at the shortlisted books for the Children's Book Award 2022. Here is a sample:
Stella and The Seagull, written by Georgina Stevens and illustrated by Izzy Burton, published by OUP
The Highland Falcon Thief, written by M G Leonard and Sam Sedgman, published by Macmillan Children's Books
The Midnight Guardians, written by Ross Montgomery, published by Walker Books
You can vote online for your favourirte by Friday May 27 at www.fcbg.org.uk/childrens-book-award.
Grandparent of the Week – Antonio
Antonio  and his wife Tracey have five grandchildren (from their two sons and daughter) aged five, four, two and two lots of one year olds.
"Every week, we have what's called Fun Friday when Tracey and I drive up early from our home in Sussex to London and spend the day looking after two of our grandchildren from 9am to 4pm while their parents work.
"We did the same with the older two until Covid struck and now we're on the next set who are cousins.
"My wife opened my eyes when our grandchildren were born when she said, 'I want us to have a relationship with them.' It works really well.
"How do we amuse them? We play in the house and do brunch and take them to the park. We also go into Waterstones and walk by the river. They're at the age when they still have a lunchtime nap. I look after one in one son's house and my wife looks after the other in our other son's house because they've got their own beds/cots there. Then we will have time playing together. When we get home, we're ready for a nice glass of wine!
"One of our other grandchildren (aged one) lives very near us.
"Our daughter and her husband moved down here so we could help out. We see our grandson just about everyday and help out when we can during the week to give his parents a break.
"We are a very close family. My sister Carolina lives in Spain (we're half-Spanish) but we see a lot of her and are in constant contact.
"One of our granddaughters recently had a school project where each child was asked to create a gingerbread lady and post it to a relative who then had to send the gingerbread lady back with a story about where she'd been!
"Our granddaughter sent it to great-aunt Carolina and my sister thought this was a fantastic idea! She did a little 'tour' with the gingerbread lady and sent back pictures to the school. Our granddaughter was absolutely thrilled.
"I am known as Yayo to our grandchildren. I even have it on my numberplate. It's a young child's name for abuelo which means grandfather in Spanish.
"Tracey is known as Grammy partly because she thought the children should have an award!"
---
Jane's new book – out June 23!
When Emily makes a mistake at work, she goes running home to Cornwall. But it seems that someone else has moved in during her absence.
Jane Corry is a Sunday Times best-seller and writes thrillers about families. Her next novel is called WE ALL HAVE OUR SECRETS and is about the complex relationship between father and daughter, set in Cornwall. You can pre-order here: http://linktr.ee/janecorry. If you would like a free bookmark, or to get in touch about anything else, please contact us at moderngran@dctmedia.co.uk.