Our Gorgeous Easter Gifts Guide
---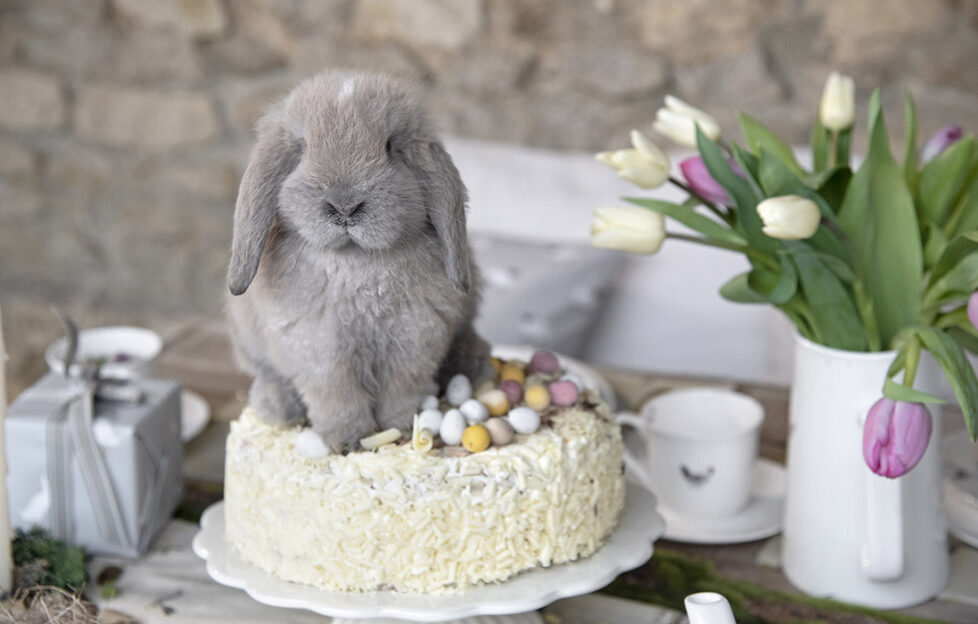 Needing some Easter gift inspiration? We've picked out some truly mouthwatering chocolate and much more, from bargain to luxury choices.
Eco Eggs… Doubly Satisfying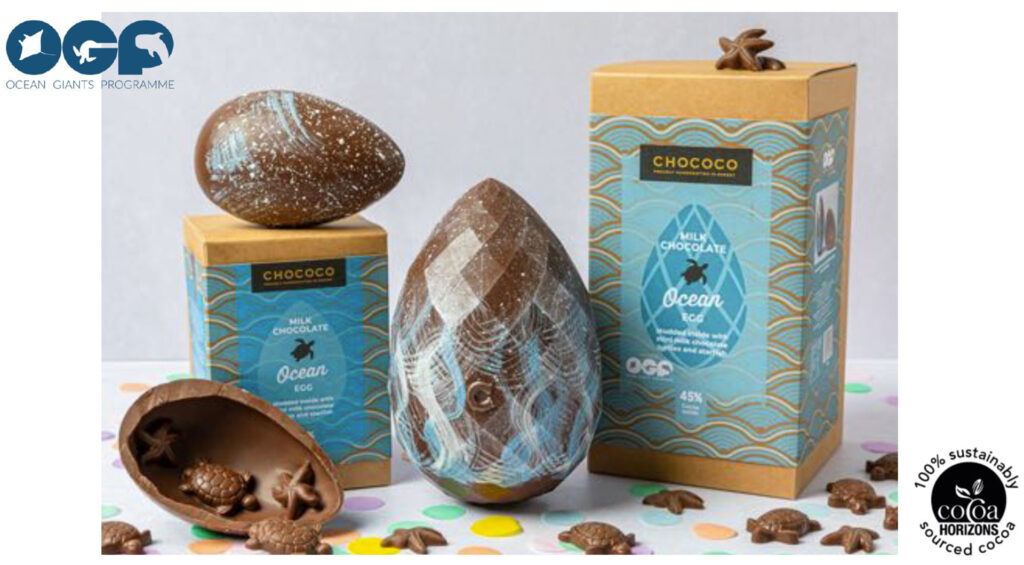 Giant Ocean Egg 400g £27.50, Medium Egg 175g £13, Chococo
Available in 45% Venezuela milk or vegan-friendly 72% Ecuador dark single origin chocolate. Each egg contains chocolate turtles and starfish. 5% from every egg sold is donated to the Ocean Giants Programme, a charity which prepares the next generation of marine scientists and ocean guardians, and supports small marine groups across the world. 100% plastic-free, recyclable packaging.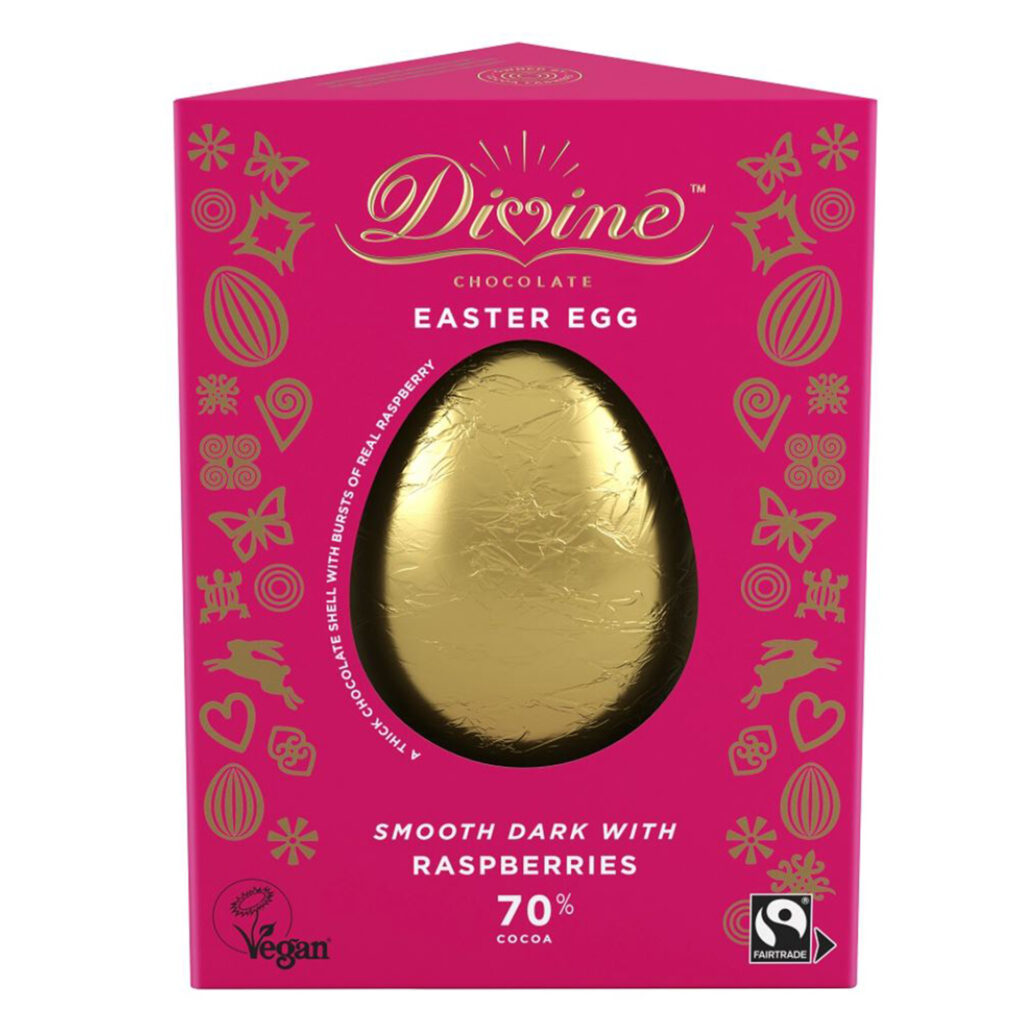 Divine is a Fairtrade company co-owned by cocoa farmers. Also available are Milk Chocolate Orange Egg, Mini Eggs and a selection of Dark Chocolate eggs, plus a great range of delicious milk, white, dark and flavoured chocolate bars. Choose your weapon to fight exploitation!
For The Youngsters…

Egg Hunt accessories and garden games, from £2 each, Wilko
Headbands, pin the tail and hopescotch – all you need for an afternoon of fun! The range also includes plush toys, bunny bunting and a range of chocolate eggs from £8.

Easter Egg Hunt kit, refillable plastic eggs, bunny bag, egg & spoon race, £3.99 each, Aldi
Choose from the egg hunt kit, complete with signs, novelty glasses and adorable bunny footprints; fillable plastic eggs perfect for hiding treats around the house and garden; a beautiful plush bunny bag; or the egg and spoon race kit (four fillable eggs, spoons, bean bag eggs and medals). Pick up the Easter Egg Hunt Kit (£2.69, 100g – in stores now) and hide up to 10 milk, soya and gluten-free eggs for little ones to find.
Get Crafty…

Easter Friends downloadable knitting pattern, £3.99, DC Thomson Shop
Knit your very own Easter friends,  such as Buttercup Bunny and Cuddles Chicken! You'll find five fab yarns to make cute animals which will be perfect Easter gifts for friends and family. The download will be sent through to your inbox using the email address supplied.
Home Decorations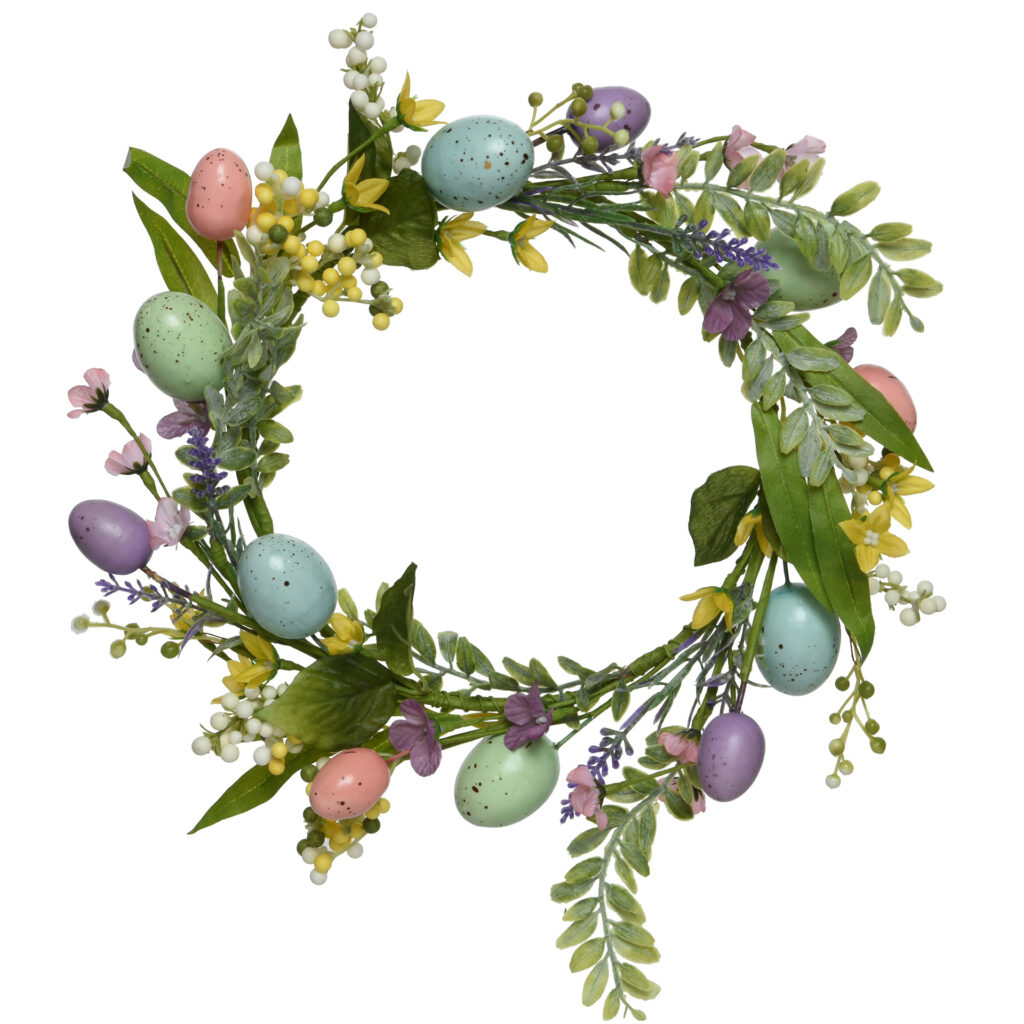 Egg Wreath, £12.99, Dobbies
Is there any lovelier way to say "welcome Spring" than hanging this on your door?

Easter Wreath, £4.99, Aldi
Aldi has a choice of three eye-catching wreath designs, also including a colourful pompom bunny.
Chocolate Galore!

Giant Creme Egg Dessert, £6, Iceland
The frozen food chain has supersized everyone's favourite chocolate treat for a fabulous finale to an Easter meal. Who can resist?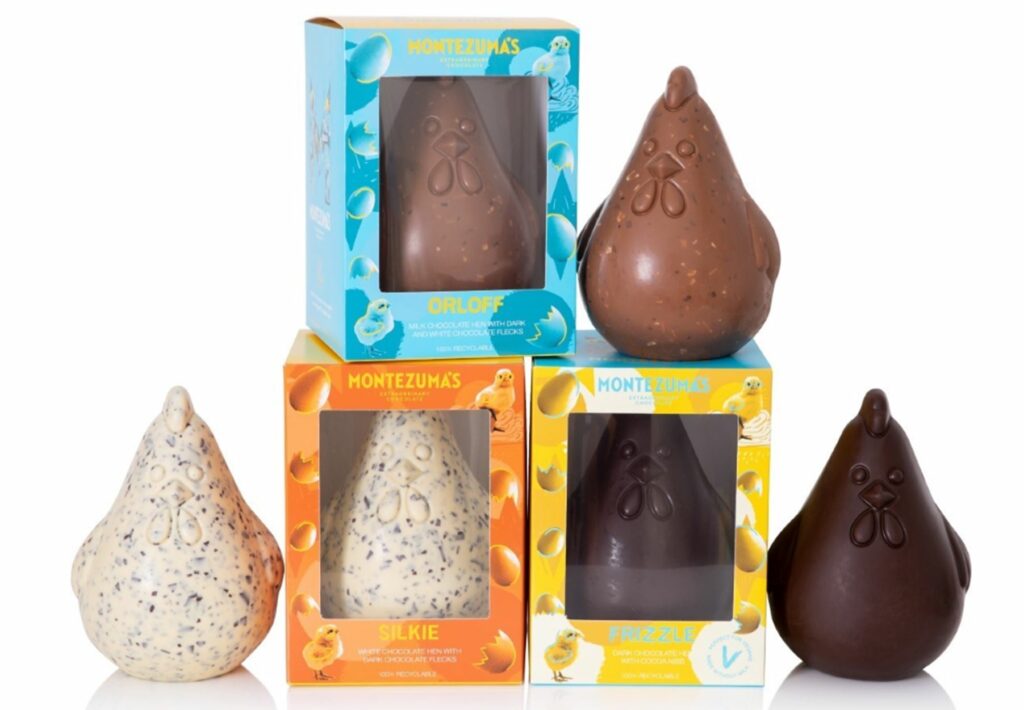 Chocolate Hens, £9.50, Montezuma's
Choose from 'Orloff' Milk, White and Dark Chocolate, 'Frizzle' Dark Chocolate with Cocoa Nibs (vegan), and 'Silkie' White Chocolate with Dark Chocolate Flecks. Britain's greatest little chocolate company handcrafts Montezuma's chocolate in its Chichester-based factory and comes in 100% recyclable, biodegradable or compostable packaging.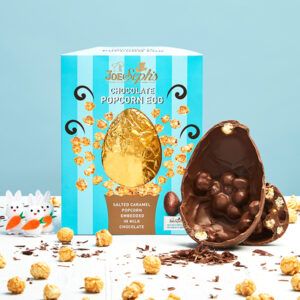 Chocolate Popcorn Egg 214g, £12, Joe & Seph's
A lighter alternative that's still very gratifyingly chocolatey.
Vegan Choices

Cookie Dough Bunny 20 x 30G, £16, NOMO
I have 2 dairy-free offspring and NOMO is their chocolate of choice. Creamy, smooth, cocoaey… and now with extra fun added in the shape of this Cookie Dough Bunny. Many NOMO lines had sold out at the time of compiling this guide – hopefully they will be re-stocking!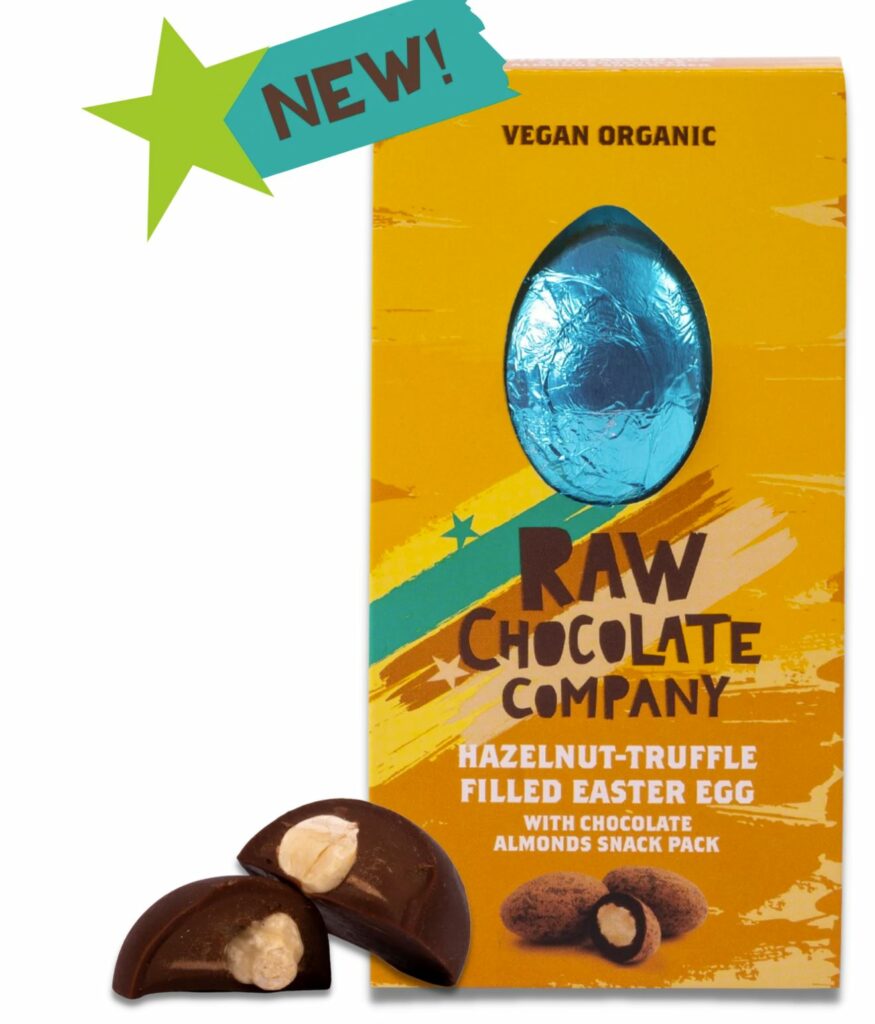 Hazelnut Truffle-Filled Easter Egg, £2.50, Raw Chocolate Company
This luxuriant hazelnut truffle-filled M*lk chocolate egg contains the Raw Chocolate Company's award-winning Almond Snack Pack, rich with their singular brand of chocolate that is raw, vegan and kept as close to its natural state as possible.
Something Totally Different!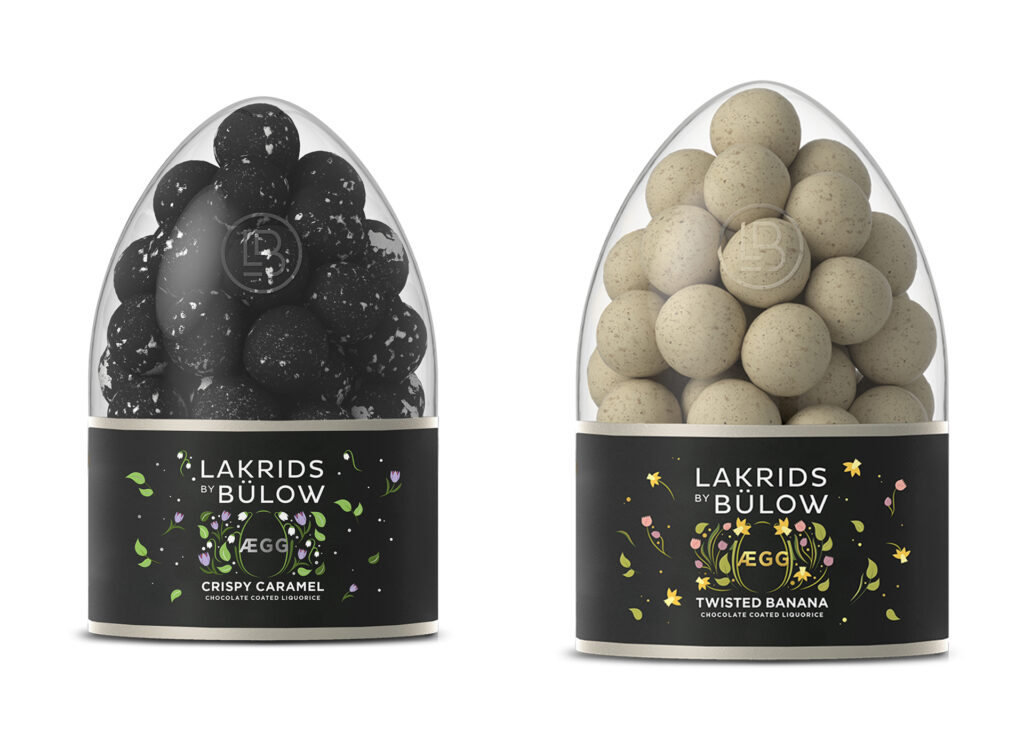 Twisted Banana and Crispy Caramel flavour Aeggs, 480g, £27 each, Lakrids By Bulow
Do you know someone with eclectic tastes? How about chocolate and liquorice? Premium Danish confectionery brand Lakrids By Bulow have Aeggs in delicious Twisted Banana flavour or indulgent Crispy Caramel.
Chosen especially…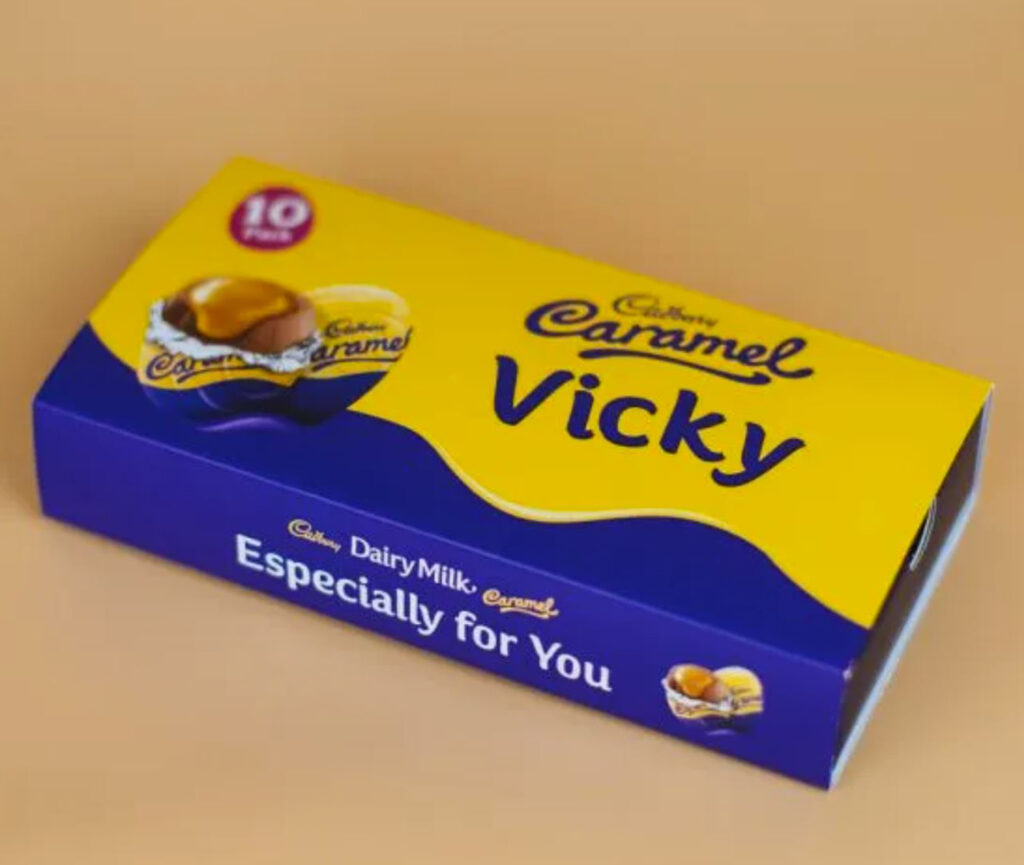 Personalised Happy Easter Cadbury Caramel Eggs Box, £12.99, DC Thomson Shop
A whole range of personalisation choices, with many Cadbury bars as well as eggs.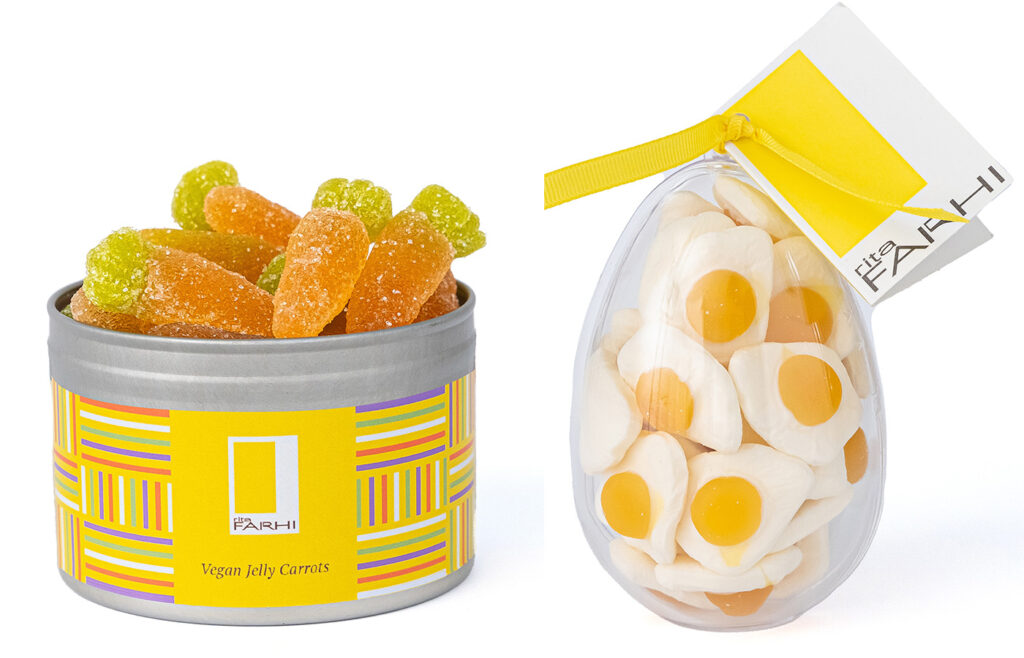 Alternatives to chocolate from Farhi, £9 each
Looking for a great gift, and an alternative to chocolate? What about these fabulous ideas from Farhi? Vegan Jelly Carrots Gift Tin, made with natural ingredients and Jelly Fried Eggs Gift Box.
Useful… And Exquisite

Set of four Chicken cotton napkins, £17.50, Sophie Allport
Part of the Chicken Collection of fine bone china, kitchen textiles, oilcloth and stationery. 41cm x 41cm and made from durable cotton. Perfect for a charming, dainty spread whatever the season.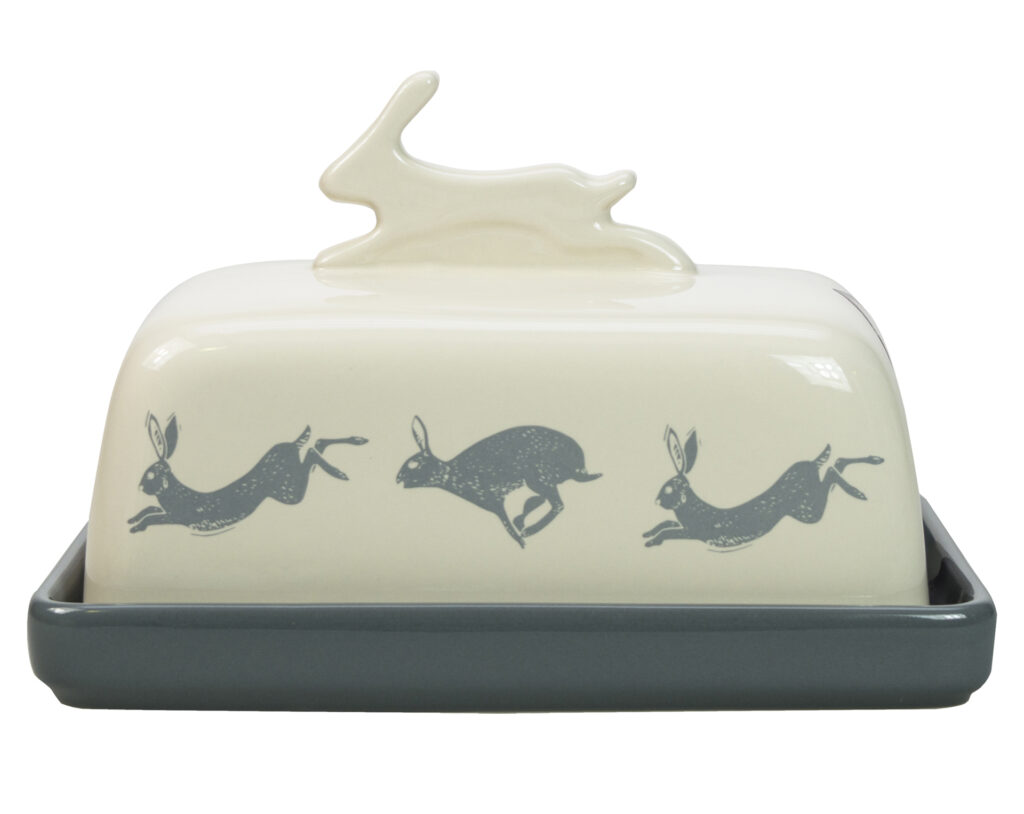 Artisan Hare Butterdish, £16.99, Dobbies
The last word in elegance, this is just one item from a range of tableware. Though it would look just as good as a single statement piece.
Look out for more lovely Easter gift ideas, recipes and much more in My Weekly magazine – £1.60 from newsagents and supermarkets, or subscribe for a great money saving deal.