Q & A With Author Sarah Pinborough
---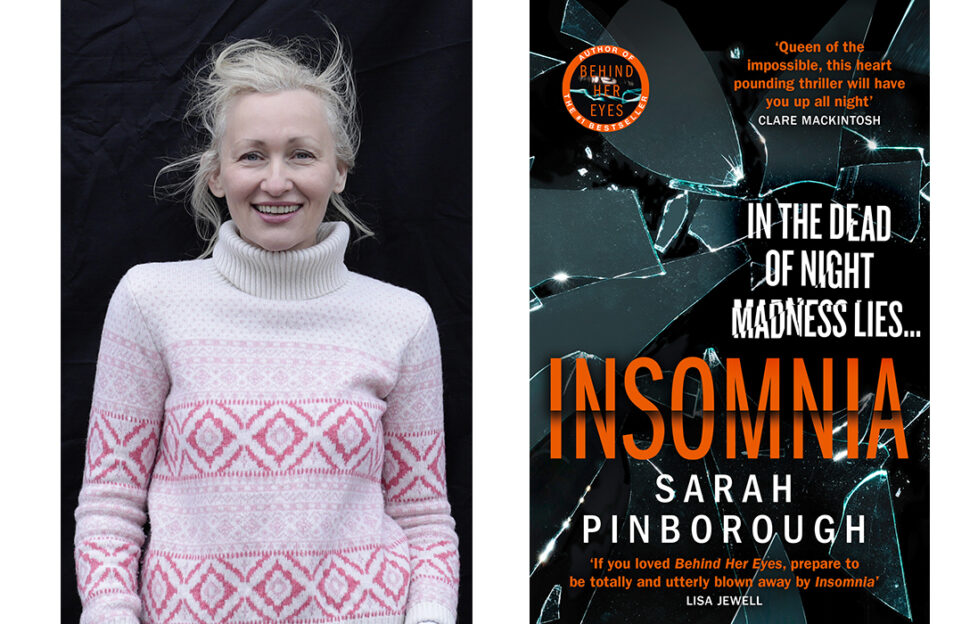 Author Sarah Pinborough
We catch up with Sunday Times bestseller Sarah Pinborough as her latest gripping thriller, Insomnia, is released. Sarah is author to over 20 novels, including Behind Her Eyes, which has been turned into a Netflix series…
Tell us a bit about your new novel, Insomnia, and the protagonist, Emma?
Insomnia is told in the first person viewpoint of Emma, who's a successful divorce lawyer with a great stay at home husband and a 17-year-old daughter and 5-year-old son. On the surface she very much is a "woman who has it all" but as with all these things, under the surface she's pedalling very hard. Like most working mums she still does a lot of the child organisation (PE kits etc) and she works long hours and feels guilty for enjoying her job as much as she feels guilty for missing out on some family routines. Her husband, Robert, is also getting bored of being the one at home and that's adding friction. About two weeks before her fortieth birthday, Emma stops sleeping and develops strange night-time tics. As her life unravels she's not sure if someone is messing with her or if she is the one going mad – because Emma's own mother stopped sleeping in the run up to her own fortieth birthday and on that night did something unthinkable. Emma's now afraid she's going to do the same. It's hopefully quite claustrophobic and twisty and also a little fun take on women's fears of getting older and turning into our mothers!
What inspired the idea for the book?
I'd been toying with ideas about working women and stay-at-home husbands and what resentments etc that could form in that situation, and then I went away with two women (the producers of Behind Her Eyes as it goes) for a night and we got onto to the subject of female guilt and lack of sleep and then my original idea morphed into a much more contained, paranoid story, so I owe a lot to them.
What research was involved in writing this novel?
I don't sleep well but not to the extent that Emma suffers so I had to look into the effects of lack of sleep on the brain which was really fascinating. It's amazing how quickly – a matter of three or four days of no sleep – will have you hallucinating and paranoid and if you go too long you can get dementia. Amazing how much we need it! Also, I'm not a solicitor but thankfully my best friend Baria is a lawyer so she helped me with how that business works. The hardest thing about writing sometimes is getting office/workplace life "right".
Your previous novel, Behind Her Eyes, had a much talked about ending! Did you know how Insomnia was going to end before you started writing or was it something that developed as the story took shape?
I always have to have the ending before I can start writing – not just only in an "events/denoument" way but I have to see exactly how it will play out, often down to actual sentences.
I think I pretty much wrote the last chapter of Behind Her Eyes in the pitch I gave to my publishers, so I knew exactly how it was going to end. For me, I'd find it impossible to write a thriller without knowing that. I need to have something to be working towards.
If Insomnia was adapted for TV or film, who would you cast in the role of Emma?
Oh, I'm so terrible at casting people! I see them from the inside out so never really fixate on looks other than I know I need to give them some description and sometimes it's necessary for plotting. I'm a very visual writer in my head but I never see their faces. Odd but true.
Both Behind Her Eyes and Insomnia are incredibly gripping thrillers. What do you think are the key ingredients to writing the perfect thriller?
That's so hard to say, isn't it? I wish I had a definitive list, but for me a lot of it is about pace. I've got a lot pacier with Insomnia than maybe I've been before, and I want people to keep on turning the pages. Of course, you really want a great story above all else, and by that I don't mean the plot. Story kind of happens when plot meets character, and that's where you get your magic.
How characters react to situations and each other, for me that's the gripping stuff. But it's different for everyone.
Your writing is full of ingenious plotting and shocking twists – how do you keep track of everything? Do you have a huge wall filled with post-its and reminders?
Ha, no. I do have a big notebook for each book though and I try and get the big reveals kind of tent-pegged into the structure and work around them, but they sometimes change as I go. But everything gets jotted down, every thought etc, or mulled idea, so if I don't work on it for a few days I have all my thinking in there. To anyone else it would look like a mess though – jumbled scribbles and spider diagrams.
Tell me about some other authors who inspire you. Whose books do you enjoy reading?
I get sent a lot of proofs so often there are books from debut authors etc which is a great way of getting to know new writers. I do love John Connolly, I wish Gillian Flynn would write another, Catriona Ward I'm a fan of, Sarah Lotz is amazing, Harriet Tyce, Philippa Gregory, Stephen King, and I'm late to the party but I recently discovered Joanna Cannon. The list goes on and on!
Tell me about one of your favourite literary villains…
Hannibal Lecter is a massive favourite of mine. He's so arch which I love and terrifying and compelling in equal measure. You kind of root for him. I'd have to add Annie Wilkes as a terrifying villain too, for gender equality. Misery is even more terrifying now I'm a published author.
For me the best villains are the ones who are clearly the heroes in their own minds.
In Insomnia, childhood experiences shape the way Emma views her life in the present. You spent some of your childhood growing up in Damascus – do you think this experience has shaped your views as an adult?
I think all of us are shaped by our childhoods. I think ten years at boarding school certainly shaped me emotionally as an adult. I'm quite insecure and also very independent which I think comes from that. Especially the boarding schools of the 1980s where there were no mobile phones or emails etc to stay in touch with. I went to boarding school after Damascus when I was 8 and then my parents moved to the Sudan so there weren't even phone calls. It was a shock to the system for sure.
Are you working on your next book? Any hints as to what it might be about?
I am just plotting it out at the moment so don't want to say too much but it's in the vein of Behind Her Eyes and Insomnia… a psychological thriller that's a bit bonkers!
What are you reading at the moment?
I'm reading the not yet out Simon Toyne novel Dark Objects which I'm thoroughly enjoying!
What do you enjoy doing when you're not busy writing?
I'm a pretty chilled person really. I like walking my dog, watching movies and box sets, reading and having lazy lunches with friends.
---

Insomnia by Sarah Pinborough (HarperCollins, released March 31, 2022) is available now from Amazon (HB £14.99, Kindle £6.99)