The Hot Gardening Trends For Spring 2022
---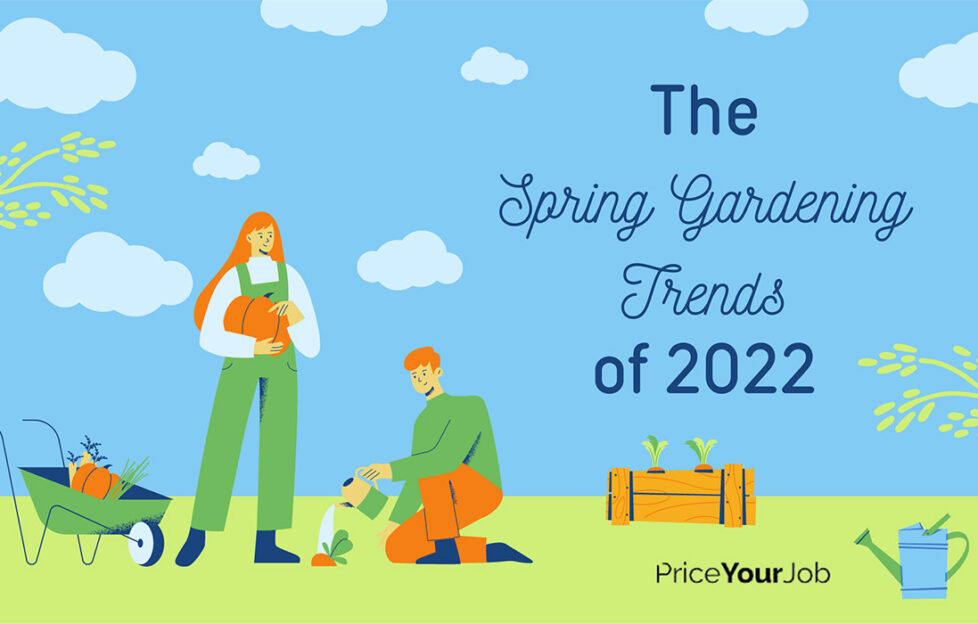 What are the latest gardening trends? And how do you go about getting them?
By analysing Google trends data, PriceYourJob's gardening expert Harry Bodell reveals the most popular gardening trends set to dominate this spring and summer.
Harry also advises on incorporating the trends into your own garden.
Make sure your garden is sustainable
Searches for "sustainable garden" are up by 210.64% since the beginning of 2022
Just because you are gardening and utilising your outdoor space, does not automatically mean you are being more sustainable than otherwise, Harry says. "A study conducted in 2020 shows that 57% of councils in England charge a fee for garden recycling, which is a deterrent for many to properly dispose of their waste."
So how can we ensure our gardens are truly sustainable and not adding to our carbon footprint?
"For planting, opt for peat-free compost and fertilisers – or better still, make your own compost to help fertilise your plants and reduce garden waste at the same time," Harry advises. "Peatlands provide ecosystems for plants and animals and help reduce flood risks. So when peat is removed, the ecosystem is compromised, carbon is released, and habitats are damaged. Make sure you check the label and ensure your compost and fertilisers are peat-free."
Other things to consider include switching from chemicals to natural pest control, replacing fences with hedges, and allowing moss to grow in lawns – it helps drought resistance as well as biodiversity.
Garden cluttercore
Searches for "wildlife garden" have seen an 825% increase since the start of the year
The interior trend which has been dominating 2022 so far is cluttercore, aka an encouragement and embracing of organised chaos, and this maximalist trend is seeping into our gardens.
"Outdoor cluttercore allows our gardens to grow naturally to create a cottage-like atmosphere," Harry explains.
"As many of us are spending less time at home, especially with many of us returning to the office, we are not able to spend as much time on our gardens as we could have during the pandemic, therefore the cluttercore look is low-maintenance, yet high impact.
"Overgrown wildflowers not only look beautiful and picturesque, but they help to encourage wildlife which helps boost our ecosystem. Wildflowers attract pollinators, such as bees, as well as a wide diversity of birds and butterflies."
Entertaining space
Searches have increased in March for:
Firepit – by 2475%
Outdoor sofas – by 582.4%
Garden playground – by 341.4%
Unsurprisingly, the pandemic is still impacting our day-to-day lives. As we spent a lot of the last two years distanced from our families and friends, now is the time to embrace spending as much time with them as possible.
"Searches for fire pits, outdoor sofas and garden playgrounds for children have all seen huge increases in the last few months, reflecting how we want our gardens to be a social area," Harry explains.
Grow your own… more than ever
Searches for "how to grow veg" has seen a 9900% increase in March alone
The pandemic saw a huge number of Brits growing their own produce, with an estimated 7.4 million trying it for the first time. Especially as the rising cost of living is inescapable, growing our own fruit and veg is a first step to becoming self-sufficient and saving money on goods. It's a garden trend that's showing no signs of waning.
Around 60% of Brits have said they would like to try growing their own produce where they can. Yet 40% of those surveyed also said they thought it wouldn't be possible, due to the size of their garden and property.
However Harry advises that size is irrelevant when growing your own produce. "You don't need a huge space to grow your own food. All you need is a bright, sunny windowsill to get started."
Atmospheric lighting
Searches for "garden lighting" have increased in March by 357.9%
With more time being spent outside, especially now the weather is warming up and spring has officially begun, lighting is a key but often overlooked part of any garden.
"We've all been in the position where we do makeshift lighting methods while outside in the evening, whether it's turning a light on in the house to help illuminate the garden, to even just turning on the torch on our phones," Harry admits. "However, good lighting in the garden helps create ambience and is a necessity if you intend on spending evenings outdoors.
There are many ways to light your garden, with numerous methods cheap to buy and can be free to run."
He continues, "Invest in solar lighting, which is purely powered by the sun and can last for hours on a full charge. Solar lighting can be in the form of fairy lights, mini lanterns or lamps which can be placed around the garden for atmospheric lighting."
Look out for great gardening  tips and recommendations every week in My Weekly, from our expert Susie White. Her passions for wildlife and sustainability are right on trend! Subscribe for a great saving on the shop price, and you'll never miss an issue.