Sponsored
Three Cheers For The Shipyard Girls | Nancy Revell
---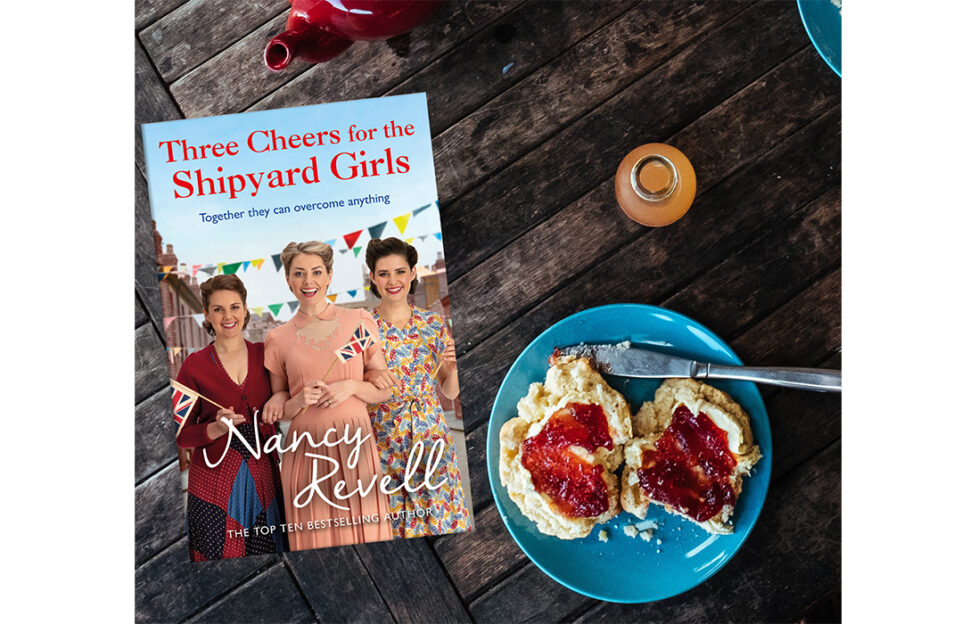 It's the end of an era as the twelfth and final book in The Shipyard Girls series is published. Unrequited love, births and weddings, friendships forged and hearts broken… we've experienced it all within the pages of the wonderful Shipyard Girls series written by Sunday Times bestseller, Nancy Revell.
Now, it's time to immerse ourselves in the pages of this final book in the series and join our friends, Gloria, Rosie and Helen, for one last time in Three Cheers for the Shipyard Girls, out now.
Set in January 1945, after five tumultuous years working in the shipyards in Sunderland, spring is in the air and with it the hope of victory at last. Wedding bells are finally ringing for Gloria but she can't rest until her youngest son has been safely returned to her.
Meanwhile Rosie is delighted to have her husband safely home but she begins to wonder – what lies ahead for her and her friends when the war is over?
Helen finds herself caught between two men and forced to hide her true feelings from one. Can her fellow shipyard girls help her find a way to follow her heart?
Out now, Three Cheers For The Shipyard Girls by Nancy Revell (Penguin, PB, £7.99) is available from Amazon.

---
Q & A with Nancy Revell
We catch up with the author to find out how she felt as she wrote the final emotional chapters…
It's the end of an era with Three Cheers For The Shipyard Girls – the last book in the series! How did you feel when you were writing it? It must have been a very emotional experience….
It was! Very emotional. I also felt quite nervous when I first started plotting and writing as I knew it had to be the best yet – the series had to go out with a big bang. As I neared the end of the book that apprehension was replaced by a feeling of joy as the women's stories reached their conclusions – as they ended a chapter in their lives and embarked on a new one. I hope my readers will feel that there's a real celebratory feel to the final book and an excitement for the future.
What can readers expect from this final instalment in the Shipyard Girls series?
Oh, there's a lot packed into this book. It's a little longer than most of the other books – just shy of 500 pages. There's love, heartache, romance, a proposal and two weddings, (but I'm not telling whose!). There's also a sudden death, which has far-reaching consequences, and a funeral, which starts a race against time to make sure various characters don't come to any harm.
Your books are hugely popular and there's even talk about them being made into a TV series! What do you think readers love about your books?
I think it's a mix of reasons, but the overriding one which comes through time and time again is the love of the characters – Rosie, Polly, Gloria, Dorothy, Angie, Martha, and Hannah. I receive so many messages telling me that the women welders feel 'like family' and that they can't wait to see what happens to them all in the next instalment. I also have demands that certain characters find love, or others end up taking a long jump off a short pier!
Did you know before you started writing the last book what would happen to all the characters?
More or less. Although when I started the series, I had no idea what the characters were going to get up to and how their personal stories would develop throughout the years the country was at war.
What first inspired you to write the series and pick this particular setting?
The inspiration for the series came from the real women shipyard workers of WW1 and WW2.
I felt incredibly passionate about basing the series on these incredibly brave and hard-working women because I was astounded that next to nothing had been written about them. It was as though history had simply ignored them. There wasn't even a single blue plaque giving these women even the slightest recognition for what they did. And yet they risked life and limb by working in the northeast shipyards.
The work they did was both backbreaking and dangerous. They were welding, riveting, burning and rivet catching, as well as doing general labouring, operating cranes, and painting the sides of the hulls of ships. There was next to no training or any kind of health and safety, so they had to learn on the spot, and the conditions they worked in were harsh and hazardous to say the least. Shipyard work has always been labour-intensive, but also notoriously dangerous – and often fatal. On top of which, they did it all under the constant threat of being bombed as the shipyards were Hitler's prime target.
And then, at the end of their shift, these women often went back home where they had to look after their families, cook, and clean – all the while worrying about their husbands, sons and loved ones who were away at war.
These women didn't just inspire me to write this series, but they also inspire me as I go about my daily life.
Researching the Shipyard Girls series must have been so interesting – what parts of the research did you enjoy most?
Yes it was – really interesting. I loved learning about people's experiences of living through the war, rationing, fashion, culture, and how life changed for women.
I particularly enjoyed learning about the Desert Rats (one of my characters comes back from North Africa badly injured). My dad had always told me that my granddad had been a Desert Rat in the 7th armoured division of the British army, so it also gave me an understanding of my own heritage.
I had a similar, 'Who do you think you are?' moment when I learnt more about the men in my mum's family, who were all shipyard workers and were well known. There's even a large placard in the Sunderland Museum showing five generation of Revells, most of whom worked as platers. I already knew that my grandfather had died tragically in a shipyard accident when a large metal plate fell on him, but I hadn't realised that my great grandfather had also died in an identical accident.
The most illuminating and exciting find, though, when I was researching the real women shipyard workers, was a study I came across on the Imperial War Museums website which had been carried out by Durham University back in the 1980s.
The study involved interviewing women shipyard workers who had worked during WW2. The actual audio interviews were available to listen to, and it was fascinating to hear their tales.
I heard a smile in the voices of just about every one of those women who were interviewed.
What character will you miss the most?
All of them! I'm really going to miss them all so much!
Is there one you particularly enjoyed writing about?
I loved writing about them all, but if I had to choose, it would probably be a toss-up between Rosie and Helen. Rosie because I loved writing about her background in retro chapters, relaying how much she had endured simply to survive, and the lengths she went to in order to keep her little sister safe. And Helen, because she really took me by surprise and was supposed to be the women's nemesis, but she just developed a will of her own and ended up doing the exact opposite! Her character arc ended up being huge and totally unplanned.
You have a journalistic background which involved writing real life stories for magazines – tell me about a person you came across in your research for The Shipyard Girls that really stood out and made an impression on you?
A woman welder called Florence Collard. I came across a newspaper article in the Sunderland Echo dated November 1942 which told the story of a shipyard welder called Mrs Florence Collard whose husband was in the Forces, and who returned to Sunderland after being bombed out of her home in Plymouth, only then to be bombed out of her home yet again. She was trapped in the kitchen but rescued.
The end of the article reads:  Though suffering from shock she went to her work at the shipyard for the afternoon shift maintaining that "work comes first".
When I read it, I just sat back and thought, 'Wow, that is amazing! That's what you call "true grit"!'
Florence Collard epitomises the courage and resilience of so many women during the war.
What's next? Can you tell us anything about your next writing project?
Yes, I can! I'm presently working on a new contemporary crime series called 'Hacks' which draws heavily on my many years working for the tabloid press.
However, that's not to say I have totally closed the door to future books taking the characters beyond the war.
What do you enjoy doing when you're not busy writing?
I have recently discovered gardening – something I used to avoid like the plague. I'm a convert and now bore anyone who will listen to me about how wonderful it is to be out in the fresh air, pulling weeds, and creating something with my hands instead of my head.
What books do you enjoy reading?
All sorts. From all different genres – saga, historical fiction, crime, romance, biographies, true life – as long as they captivate me and have me swiping the pages until my eyes close and my kindle hits the bedroom floor, I'm happy!