Diary of A Modern Gran | Withdrawal Symptoms
---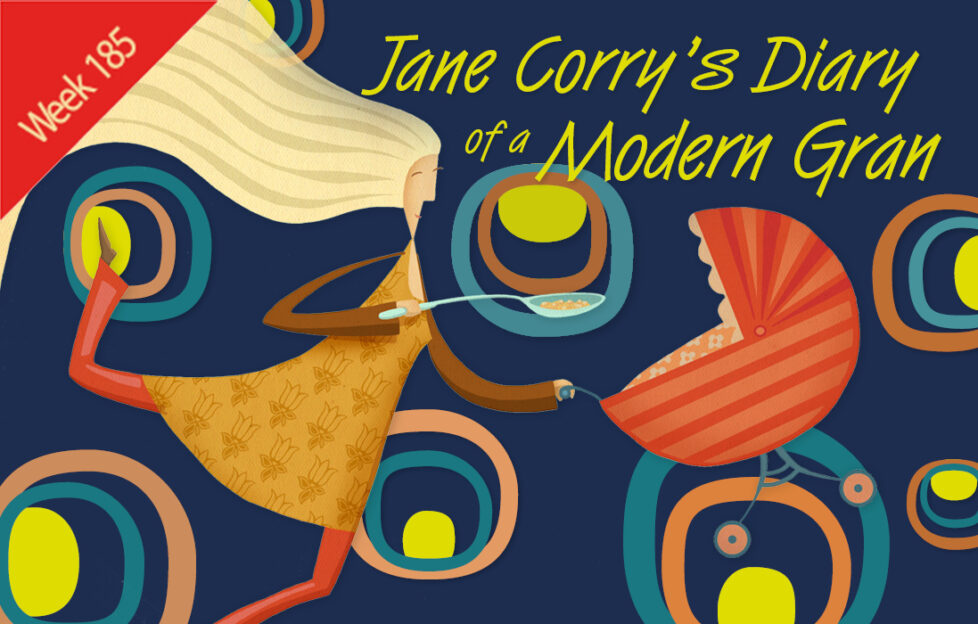 Illustration: Istockphoto
I have to say that I'm experiencing withdrawal symptoms.
Regular readers might recall that last week I moved in to my daughter and son-in-law's house to look after six-year-old Rose and four-year-old George while their parents went away for a much deserved break.
I am now recuperating. Wow – I'd forgotten what hard work it is to watch two small children 24 hours a day! I said 24 hours, because they took it in turns to wake up during the night.
But after I went home, I kept feeling something was missing. I even woke up at 3am with a start, about to tiptoe along the corridor to check they were alright. Then I realised that they were in their house and I was in mine.
"They miss you, Mum," says my daughter the next day.
I'd like to say here that her remark was totally unprompted by my reciprocal feelings.
"Now you know what it feels like," says one of my granny friends who lives a long way off from her brood.
I've always tried to be sensitive about this. I also have friends who are desperate to have grandchildren – just as I had friends in my youth who were desperate for children. I was one of those. Although I'm now lucky enough to have three grown up children, I had two miscarriages along the way.
So I hope I am sensitive to losses and also hopes and dreams.
That's why, this month, I am celebrating…
One of my dear friends has just become a granny to a much-wanted baby and she's over the moon. Hooray!
Meanwhile, of the biggest lessons I've learnt as a granny, is remembering how fast children grow! Not just out of their shoes but in terms of progress too. "We're going to find out this week whether George has got into his first choice school," says my daughter.
We have a few schools in the area. But my daughter and son-in-law hope he'll be accepted by the same one that his sister is in. So do I. It will make school runs a lot easier!
Tension mounts as the day approaches. But then I'm ashamed to say, it also slips my mind due to work and other family commitments. (There's a long story here involving my 98-year-old father and an Easter egg which I ordered but didn't get delivered on time – but I won't go into that now. Let's just say I'm extremely grateful to a local courier driver who saved the day!)
Then my daughter rings. "George has got in!" she trills.
Got in? For a minute I think she's locked herself out of the house and George has somehow found the key.
"Into school, Mum," she says.
It takes me back to A-level results and waiting for university acceptances. Goodness me. How am I going to cope with all this tension ahead? Let's just hope I live long enough to see it.
Every now and then, I get a bit of a panic about age. I'm only in my mid 60s so I like to think I'll be around to see Rose get married. "Matrimony will probably be banned by then," jokes my husband. "Besides, George might pip her to the post."
Some of my friends are only my age but have already seen their grandchildren matched and hatched!
Are you a great-grandmother by any chance? If so we'd love to hear from you.
PS By the way, I forgot to tell you something last week.
When I was out with the children in the shop, I was actually mistaken for their mother! Maybe my new eyebag tightening cream is working…
Time sharing
I sometimes worry about the fact that I don't give my grown-up boys (who don't have children) as much time as my grandchildren. So I always try to have some one-to-one time with each of them.
The other week, I had a lovely time in London with my youngest son and his girlfriend.
This week, I'm visiting my eldest son in Spain. It also happens that I have some work there. He is working too. But we manage to get together in the evenings and have some walks and talks in the late afternoon.
It's almost time for me to go home. I will miss him but I'm also looking forward to seeing Rose and George.
Why is it that there aren't enough hours in the day when you're a mum with young children? And there still aren't enough hours in the day when you're a gran!
Meanwhile, I have my morning FaceTime calls with my 98-year-old dad. I'm afraid to say that I haven't told him I'm in Spain.
That would really worry him. He still feels that people shouldn't go out of their front door because of the virus. But if that makes him feel more comfortable, who am I to disagree?
"What would you like me to bring you back from Spain," I ask Rose and George on WhatsApp the day before I leave.
"A guinea pig," they both call out.
Hmmm. I think customs would have something to say about that
The funny things they say…
Thanks to Josephine who sent this one in.
"The other day I was walking along with my four-year-old grandson and the sun was shining after weeks of rain. 'Nanny,' he said to me. 'Where does the sun go when it goes in?'
"Behind the clouds," I said.
"But I can't see a door," he replied.
"It's there somewhere," I replied.
"I hope he doesn't lose the key like you did the other day," he said.
"So do I!"
Ask Agony Gran
"My grandson has decided he wants to be vegetarian. He is nine. Neither of his parents are vegetarian and they're concerned in case it affects his growth. I can see both sides. It's caused quite a rift in their family. What can I do to help?" Brenda from York
Jane says:
Dear Brenda, I sympathise. My daughter insisted on going vegetarian at the age of six and it really worried us. However, there are lots of ways in which you can eat healthily as a vegetarian, whatever your age. The Vegetarian Society has some very helpful advice on balanced vegetarian meals for children. See www.vegsoc.org. Maybe you could tell your grandson's parents about this if they don't already know. By the way, according to a fairly recent survey, 21% of all children want to be vegetarian. So your grandson is by no means alone.
Grandparent of the Week – Isabelle
Crime writer Isabelle Grey also writes as V.B. Grey. Her latest novel, Sisterhood, a mystery inspired by the wartime experiences of her mother and her twin sister, is available in paperback or ebook.
How old is your grandson?
Two and a bit.
Can you tell us more about moving near him?
I'd been in a "bubble" with my daughter, son-in-law and their new baby throughout the lockdowns and realised how useful it is to be near enough to drop in and offer spontaneous support without too much disruption to own my working day. I'd been looking to move for a while, mainly to have a garden, so when they bought a house near Dulwich I started to look there and was lucky to find the perfect new home. I'm now a half-hour green and leafy walk away from them, so I get to see plenty of my grandson and they have help if they need it.
What kind of things do you do together?
He likes to carry out a minute examination of every corner of my house. Then he puts on lots of bracelets and necklaces (his pirate treasure) and asks to be shut in the bedroom cupboard (his pirate cave).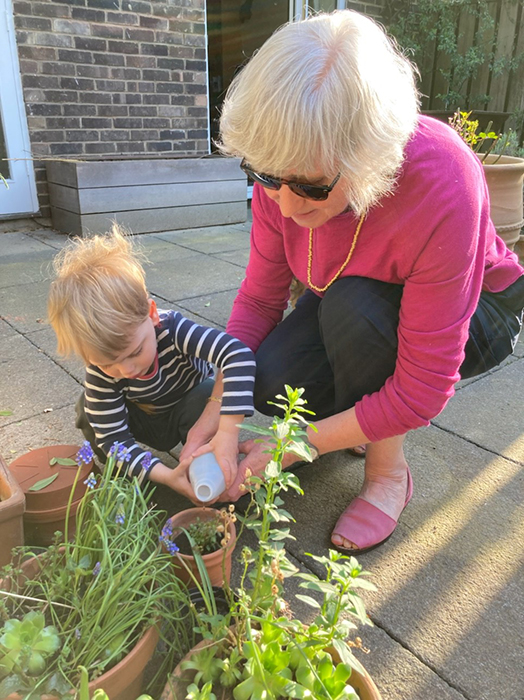 Can you describe some lovely experiences that you have shared such as having a special day out?
So much of his life so far has been dominated by lockdowns that there haven't been many opportunities for days out. We took him to see the full-scale dinosaur statues in Crystal Palace Park, but he acknowledged them as a normal part of the landscape and was far more excited by the chance to grab a few really good sticks. He does however still talk about going by train and bus to see the dinosaurs at the Natural History Museum. I think he was also thrilled by the scale of the building where he ran about shouting "wow".
Do you read to him? What book are you reading at the moment? Are there any that you would recommend?
I love showing him the books I read to his mother at his age, all of which I've kept. Some were even passed down from my mother. Eric Hill's Spot, of course, and a great early favourite, The Bears' Water Picnic by John Yeoman and Quentin Blake. He especially likes Eric Carle's Brown Bear, Brown Bear, What Do You See? as he can name everything and feel as though he's reading aloud. Plus the illustrations are stunning.
What does he call you?
His version of Granny was Bunny, which we all liked so it's stuck.
What funny things has he said or done?
When he gives me a look and says, very firmly, "No, Bunny", it's very hard not to laugh.
What is the best thing about being a grandmother?
All the good things that all grandparents say are true! Maybe the best thing is watching my daughter experience the love and joy that I felt (and feel) as her mother.
What advice would you offer new grandparents?
Be ready to learn new and different parenting skills. Christina Hardyment's entertaining history of childcare manuals, Dream Babies, puts it all in perspective.
---
Jane's new book – out June 23!
When Emily makes a mistake at work, she goes running home to Cornwall. But it seems that someone else has moved in during her absence. This absorbing book explores the complex relationship between father and daughter.
Jane Corry is a Sunday Times best-seller and writes thrillers about families. You can order Jane Corry's new Penguin novel 'WE ALL HAVE OUR SECRETS' from booksellers and online. Or you can scan this code. You can pre-order here: http://linktr.ee/janecorry. If you would like a free bookmark, or to get in touch about anything else, please contact us at moderngran@dctmedia.co.uk.