Get Set For Barbecue Season! Tips & Recipes
---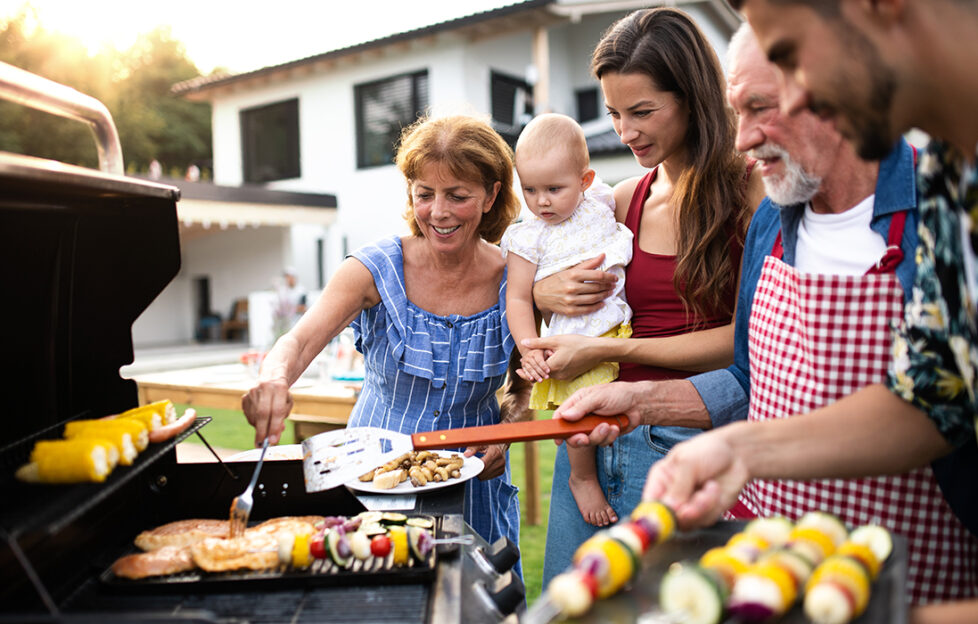 Portrait of multigeneration family outdoors on garden barbecue, grilling.; Shutterstock ID 1641184801; purchase_order: 27.04.2022; job: bbq round up MW online
We all love an al fresco get together. And with an ever increasing range of free-from and meat-free barbecue food alternatives, as well as healthy options, everyone can tuck in.
Here's a round-up of great ideas for the best barbecue party ever, along with some of our favourite recipes…
1. Tasty, original food
"There's nothing wrong with the classic burger bun, but it definitely won't have that 'unforgettable' factor. While 51% of Brits still look forward to meat, the most interesting and unusual sides is where the real excitement is.
"Almost a third (31%) look forward to potato and sweet potato sides, closely followed by corn on the cob (21%) and surprisingly, salad (15%). By buying readily chopped, frozen sides, you can save yourself time to focus on manning the barbecue."
2.  Top tunes
"Why waste hours collating your favourite tunes into a music playlist that no-one can hear? 20% of Brits consider music to be the most important element to a barbecue, so to really create some atmosphere, borrow or hire a speaker. Get interactive by hiring a mic and host a mini karaoke contest!"
3. Entertainment
"Don't have your guests twiddling their thumbs. Come up with a few simple games to get everyone involved in once the food is over. Simple school sports day races are a great, fun way to get the whole family involved. Egg and spoon, sack race, or limbo – they don't need to break the bank!"
4. Keep 'em comfy
"Make sure your guests aren't standing around, and getting achy knees! Picnic blankets are a great, sociable seating idea. Bring the inside outside too, with bean bags and comfy cushions."
5.  A little something extra
"To make your barbecue truly memorable, why not bring out a little surprise for your guests? A surprise 'make your own sundae' ice-cream station once the main food has gone down, marshmallows for toasting, or a little cocktail (or 'mocktail' for the kids)!"
Upskilling And Staying Safe
Pick up some expert tips to improve your cooking skills with different types of barbecue. Less char, more grill! Do you know someone who needs to read this?
Have fun and relax, but make sure that everyone is safe.
Save those BBQ calories! Swap beef for an equally tasty turkey burger, and other healthy hacks.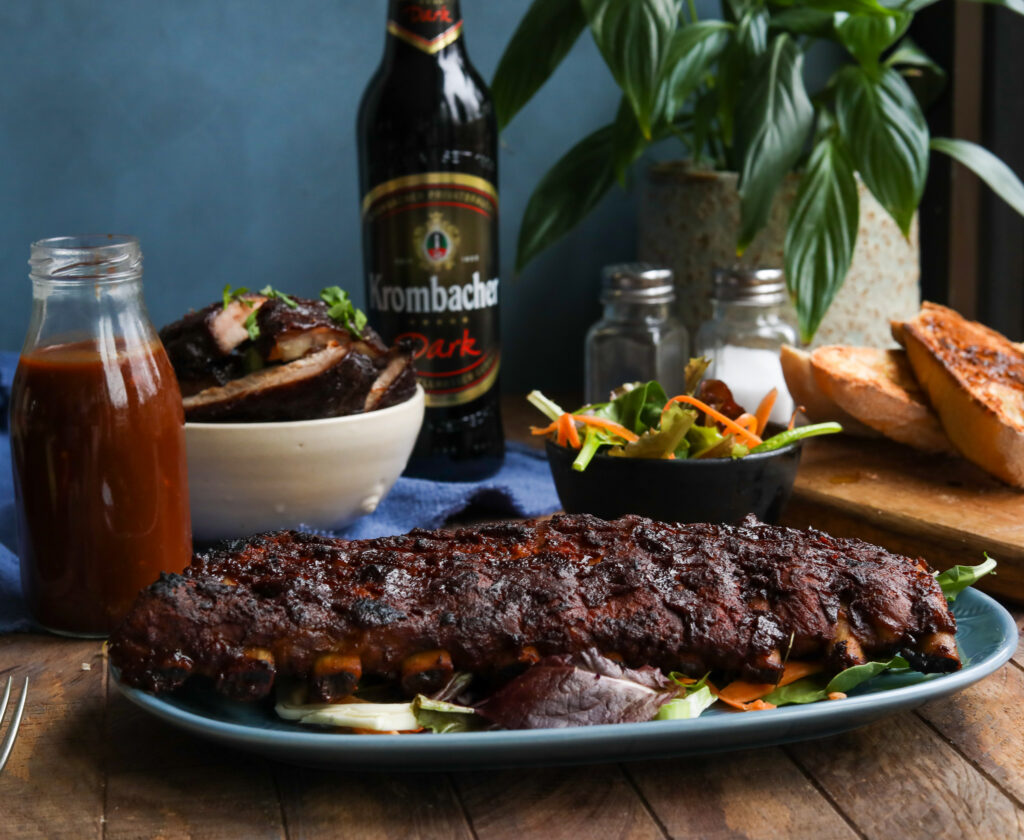 Ingredients (Serves 1-2 people)
1 rack pork ribs
250ml Krombacher Dark Pilsner
425g tomato ketchup
1 dried ancho chilli
20g dark chocolate
85g molasses
1 tbsp Dijon mustard
60ml apple cider vinegar
2 tbsp Worcestershire Sauce
½ tsp sea salt
1 tsp freshly ground black pepper, to taste
Preheat the oven to 200°C/180°C fan/Gas 6.Begin by making the BBQ sauce. Add all ingredients to a pan, bring to the boil and gently simmer for 10-15min until thickened.
Remove the chilli and discard. Place the ribs in a roasting tin and rub some of the BBQ sauce all over using a brush (or your hands, if the sauce is cool) until the ribs are completely covered. Reserve some sauce for later.
Tightly cover the tin with foil and place in the oven for 30min.
Remove the foil and baste the ribs. Re-cover and return to the oven for another 40min, removing the foil after 30min.
By now the ribs should be soft, but not falling from the bones. Brush with the remaining BBQ sauce and transfer to the barbecue. Grill over medium/high heat for 5-10min.
Recipes To Get Your Teeth Into
Want more? For vegetarians why not try Plant Based Chilli Hotdogs or for vegans, BBQ Jerk Skewers With Mango & Black Bean Rice?
Free of meat but full of flavour, rustle up some Sweet Potato Burgers with Sweet Chilli Sauce
Set up a Middle Eastern vibe with Mint & Pea Lamb Kofta Burgers. 
Then there's Easy Buttermilk Chicken Burgers, Ultimate Umami Burgers or Jerk Salmon Burgers with Pineapple.
So many delicious grillable delights – you'll just have to have a barbecue every week to try them all!
Look out for easy, tasty original recipes every week in My Weekly magazine and the monthly Special. Subscribe for a great money saving deal. We've got a family recipe collection too!