Found Foraging
---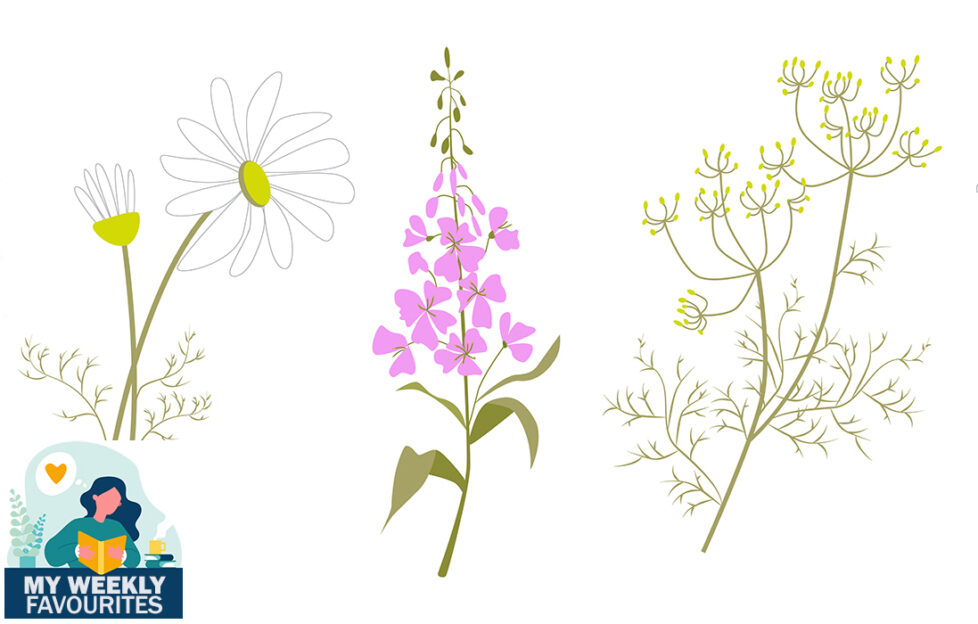 Illustration: Shutterstock
He was just a stranger she encountered while she was wandering in the woods, nothing special…
"What are you doing?"
I looked up from my kneeling position and saw the question had come from a small boy, maybe five or six years old, standing just a few feet away.
"I'm collecting nettles," I said, glancing around for an adult. "Isn't anyone with you?"
"My dad told me I could run ahead."
"Did he?"
I knew the woods well but I'd never let a child of mine…
"There he is," the boy said, pointing to a man running along the sun-dappled path, his mobile pressed to his ear and his brow furrowed.
When he spotted us he pocketed the phone.
"Tiger!" he shouted, his voice a mixture of annoyance and relief.
Must be a pet name, I thought. Like Chickpea, Niall's endearment for me.
The man hurried over and grasped his son's hand.
"I didn't mean you could chase off as soon as I was on the phone."
Tiger shrugged, obviously unaffected by his dad's ticking-off.
"The lady's collecting stinging nettles," he said.
I stood up and brushed the dirt from my trousers.
"He asked me what I was doing," I explained, not wanting the guy to think I'd encouraged his son to talk to a stranger.
"It's fine, but you know how it is. I took my eye off him for a minute and he was gone."
He blew out his cheeks. I didn't know but nodded anyway.
Then he smiled at me. It was rather an engaging smile, producing attractive crinkles at the corner of his grey eyes.
Tiger looked up at his dad.
What did Mummy say? Has she had the baby?"
"Not yet, but it won't be long."
I couldn't help a little stab of envy as I pictured the handsome dad and cute boy gathered around a serene mother and perfect baby.
Some people were so lucky.
Tiger pouted and kicked at the ground, twisting the toe of his trainer into some mud.
"Why were you picking those horrid nettles?" he asked.
I smiled. "Bees and insects don't think they're horrid. In fact, they love them and so do I. I'm going to add some leek and potato to the nettles and make a delicious soup."
Parents sometimes bring their children to my foraging courses and the kids love finding out about nature's larder, so I was sure Tiger would be interested.
I expected him to ask what the soup would taste like or if you could buy it in tins. Instead, he screwed up his face and said, "Gross."
"Don't be rude," his father said. He turned to me. "Sorry."
"It's OK, but nettles are tasty and full of nutrients."
"Are they really?" The man raised his eyebrows and held my gaze.
I felt my cheeks grow warm. Surely he wasn't flirting. I looked away.
Tiger began pulling at his father's hand.
"Can we go?" he said.
"I suppose so," his father sighed, but then hesitated as though he was going to say something else.
I knelt down and picked up my scissors.
"I need to get on, too," I said, even though I wasn't in a hurry.
"Yes, come on, Dad," Tiger said. "You promised I could get an ice cream with sprinkles."
The man nodded.
"OK, OK," and as they walked away he waved and called, "Nice meeting you."
I lifted my hand in a half-hearted goodbye and brought my focus away from the boy and his father and back to cutting the tender nettle tips.
As usual, Niall's advice to only take what you need came to mind.
---
Niall and I met five years ago.
I was stressed by city life and had heard how connecting with nature helped ease tension, so I booked one of the three-day foraging courses run by a Niall Jeffries.
There was an instant attraction between us, and I loved learning about the abundance of plants and fungi that were safe to eat.
Within weeks I'd moved out of my city flat and into his cottage.
After several months, I sold my flat and gave up my job to work with him.
In spring, we'd hunt for nettles and edible flowers, like roses and elderflowers. When summer came we'd head to the seashore for sea beet and citrusy rock samphire.
He was honest with me from the start about the sacrifice I'd have to make if I were to stay with him. But I always thought, as time went on, he would change his mind.
And he did. Just not in the way I expected.
---
I pushed the melancholy thoughts to one side and put the nettles into a paper bag.
Pulling off my gloves, I stood up and arched my back, easing out a slight stiffness, then picked up my body warmer. I hadn't needed it after all. The March morning had been bright and pleasantly warm after an earlier shower.
Before I headed home, I decided to take a closer look at some wildflowers. It was something I encouraged my foragers to do, and today, in a sunny spot near the nettle patch, I'd spotted Lesser Celandine with its heart-shaped leaves and yellow blooms.
I reached into the pocket of the body warmer for my eye loupe. It wasn't there. I tried the other one. Empty.
My stomach twisted.
I pulled the pockets inside out as though the eyeglass would somehow magically appear.
I knelt down, searching the patch where I'd been foraging, parting nettles, forgetting I wasn't wearing gloves.
Calm down and retrace your steps, I told myself and grabbed a dock leaf to rub into the white bumps fast appearing on my hands.
Scouring the path, I walked back to the car park where I'd left my bicycle.
Tears welled. The loupe, like Niall, was gone.
---
When I arrived home, I wheeled my bike into the lean-to just as the heavens opened.
At least I'd avoided the rain, but today's foraging could hardly be called restorative.
I unlocked the door of the kitchen, where lavender from the dried bunches on the windowsill scented the air. I decided, once I'd immersed the nettles in cold water, that a cup of camomile tea might help soothe me.
As I sat in the lounge and sipped my tea, my mind went back to when Niall and I were on holiday in Scotland two years ago, staying in what the travel website called an isolated "bothy" overlooking a loch and in the shadows of ancient oaks.
Luckily, it was more a contemporary take on the concept of a bothy because the interior was cosy, with solar panels providing the essential phone charger and lighting.
Niall had no qualms about the eco loo and al fresco shower, whereas I, to put it mildly, was dubious.
But I needn't have fretted.
The weather was perfect and all doubts were erased after we tested the comfortable bed and swam in the clear, shimmering water.
"I've something for you," Niall said, as we sat outside on the swing seat that first evening, gazing at the stars. He took a small blue box from his trouser pocket and handed it to me. "It belonged to my grandfather."
I removed the lid.
"Oh, Niall, it's lovely," I said, taking the loupe from its box. I flipped the lens out of its silver casing.
"It's always been a keepsake but I'd like you to use it. Look on the other side."
I did as he asked, and saw he'd had Chickpea engraved.
I kissed him. I knew it meant commitment, as much as any ring.
Maybe now he'd reconsider his decision about having a child.
He'd told me before I moved in with him that although he was fond of children, he didn't want to contribute to the world's overpopulation and depleting resources by having any of his own.
But at thirty-eight years old, my biological clock was ticking loudly.
Sighing, I brought my thoughts back to the present. It was time to see to the nettles.
---
The next afternoon there was a knock at the door. I must have looked as shocked as I felt when I opened it, because Tiger's father took a step backwards.
"Hi. I know it must be strange to see me – I'm Stephen by the way – but is this yours?"
I gasped as he handed over the loupe.
"Oh, my goodness, it is. Thank you!" I closed my fingers tightly around it. "But where did you find it and how did you know it was mine and how did you find me?" I babbled.
He took a breath. "It was Tiger who found it." He looked sheepish, which made me curious to know more.
"Would you like to come in?"
"Please, if you don't mind," he said.
He stepped inside, into the lounge.
"Nice room," he said, looking around at the Welsh dresser cluttered with unmatched china, the faded green velvet sofa covered with colourful blankets my grandmother had crocheted and, on the mantelpiece, the framed photo of Niall, shaggy haired and beaming through a bushy grey beard.
"Would you like some tea? I've got a selection of herbal."
"No, I'm OK, but thanks."
"Take a seat."
Standing in the room, he seemed broader and taller than in the woods. He took off his jacket and sat on the sofa.
I sat in the chair, opposite.
"So, your son found the loupe?"
"Yep. He was playing with it this morning. I asked where he got it and he said it was on the ground, near where you were kneeling. I guessed it was yours and Tiger should've asked you if it was, not just taken it.
"He's been a bit of a handful lately – attention seeking mostly and looking for a reaction, although now his mum's had the baby he said he's decided being a big brother is 'cool'."
He smiled and shook his head.
I put the loupe on the side table.
"Congratulations," I said, again picturing the ideal family quartet.
He frowned. "Sorry?"
"On the baby."
"Goodness, no, I'm not the father. I mean, Tiger's mum–"
"Look, you don't have to explain. Thanks for the loupe and Tiger wasn't to know it was mine."
I went to stand up, intending to show him out.
He put out a hand to stop me.
"Please. Give me a minute. Tiger's mum and I split up ages ago and she's remarried. She was on the phone yesterday to say she was going in for a C-section and could I keep Tiger with me for a bit longer.
"We share custody, you see. Sophie had the baby late this morning, so after her husband picked Tiger up and took him to the hospital, it gave me the chance to try and find you."
"Oh, right," I said slowly, surprised by the revelations as well as the little tug of pleasure in my chest that he might be single. I relaxed back in the chair.
"But how did you find me?" I asked.
"Through the Visitors' Centre."
I couldn't help but smile.
"Let me guess. You asked about the eccentric woman who forages in the woods."
"Replace 'eccentric woman' with 'attractive lady'. I explained we'd met, what Tiger had found and they pointed me to the notice board where you advertise your foraging courses and cooking demonstrations at Buttercup Cottage."
"Ah, my attempts at keeping the paparazzi away won't work then," I said with a grin.
He laughed. "Actually, I'm a photographer but what I do is a world away. I've got a small gallery in the city where I show photographic artists' work as well as my own."
"Impressive."
"And I'm impressed you can make nettles sound so appealing."
"They're very versatile. You can tell Tiger that it's possible to make string from them too, once the stems have grown to their full height."
"Perhaps you can show him," he said, softly. His gaze went to the photo on the mantelpiece. "Can I ask about this photograph?" He went across to the fireplace. "Whoever took it has captured the guy's personality. It looks like he loves life."
I took a deep breath. "He does. He was my partner but we're not together any more."
"Wow, and you still display his photo?"
"I still care about him – as a friend." My throat tightened. "We… we didn't have any children so there are no real ties." I swallowed. "He lives on a smallholding now."
Then it struck me. He was more an acquaintance than a friend. The last I heard from him was an email a couple of months ago when he forwarded a petition for me to sign.
I had a flashback to how unsettled Niall was when we got back from the bothy, pacing around as though caged, losing interest in the foraging business, obsessed with moving away and permanently living a more self-sufficient lifestyle.
We decided to rent out Buttercup Cottage and found an isolated bungalow in need of renovation on a five-acre plot.
I tried to live his dream.
But loneliness seeped into my bones along with the chill inside the property despite the open fire.
I missed the guests on foraging days, the delight on children's faces when they helped with the cooking demos and the luxury of sinking into a hot bath whenever I felt like it. And Niall was still adamant about not wanting a family.
"Niall was in his element but I couldn't deal with being so cut off. We both realised we were growing apart but I wanted to capture his happiness in a photo. It reminds me that breaking up was the right thing to do."
"And you're Chickpea?" Stephen's voice was soft.
I felt myself blush.
"Sorry. It's none of my business. I didn't mean to embarrass you," he said.
Niall had come up with the name after he'd cooked a spicy Moroccan dish not long after I moved into the cottage and I said I never knew chickpeas could taste so good.
That night, when we held each other close, he whispered in my ear, "I love you, my delicious chickpea."
"It was a pet name, that's all, like Tiger. I'm Emily," I said.
Stephen gave a wry smile.
"Actually, Tiger is his proper name."
"Oh, gosh. I'm sorry. I had just assumed –"
"Don't worry. His mum loves unusual names. The baby's called Sparkle."
"Very sweet," I said, imagining a vivacious little girl.
"Is it? Personally, I think Emily is far nicer."
He paused and then took a deep breath.
"Look, I understand if you don't want to get involved with someone who has a young child but would you like to have dinner with me? I know a lovely Italian bistro."
Managing to keep a straight face despite a grin battling to break out, I said "Hmm… I'm not sure. Is nettle gnocchi on the menu?"
He frowned and I laughed.
"Only kidding. I'd love to – but on the condition that when I get round to making nettle soup, you'll give it a go."
He extended his hand. "Deal."
I felt a little spark of static as we shook hands.
"And as for Tiger, I love children so it's a bonus not a problem."
"Let's hope so!" he said. "Is tomorrow at seven OK? I'll pick you up."
"Perfect."
I saw him out and waved as he tooted the car horn and drove away.
Shutting the door I went across to the mantelpiece, where I picked up the photo of Niall. I took it, and the loupe, over to the Welsh dresser, opened a drawer and placed both inside.
I was ready to start afresh.
Our My Weekly Favourites series of feel-good fiction from our archives continues on Mondays and Thursdays. Look out for the next one.
Don't forget – you can find brand new, uplifting short stories every week in My Weekly! Subscribe now for a great saving on the weekly magazine, monthly My Weekly Special… or our fortnightly thrilling, romantic Pocket Novels.