A Beach Wedding
---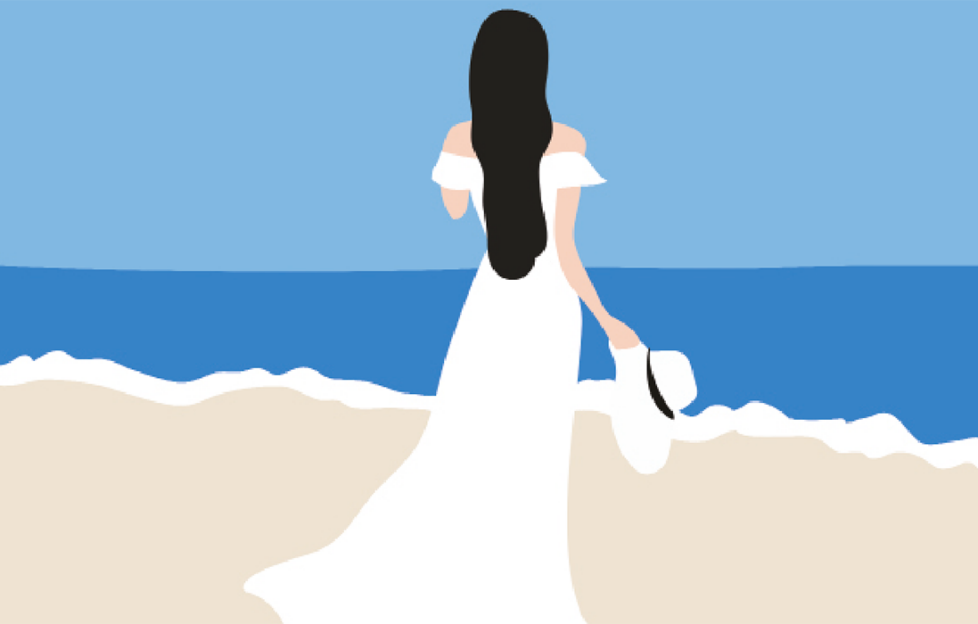 Illustration: Shutterstock
WRITTEN BY LYNDA FRANKLIN
Joanne wasn't at all happy with her daughter's marital plans… so whatever would her sister make of it all?
Joanne stepped carefully out of the car, put on her sunglasses and gazed around. There was nothing nicer than the Cornish coast, and today it was bathed in May sunshine, the sky blue and cloudless, and despite everything she felt a tremor of excitement inside her.
Or maybe it was anxiety. Lauren had been right about one thing. It was going to be a scorcher.
Joanne had decided on sandals with a low heel. She would have preferred stilettoes for a day like this, but that would have been silly. Her dress was floaty and cool, splattered with orange and yellow, and she wished she'd worn the fascinator after all. She'd put her hair up into a loose bun and could feel the sun trying to burn its way through the sunscreen already. She turned to her husband and shrugged.
"Let's go."
Mike loosened the tie Joanne insisted he wear with the short sleeved white shirt and took hold of her hand.
"Mind how you go on those steps."
Hand in hand they slowly negotiated the sandy steps down to the beach…
When they got to the final step, Joanne paused, looking around at the empty golden sands. The sea was a long way out, but she could hear the gentle lap of waves splashing as they moved back and forth. She loved that sound. It was the sound of childhood, both hers and Lauren's. It was the sound of summer and memories and happy times.
She hadn't expected to hear it on a day like this.
"Come on Jo," Mike said quietly. "They're already there."
Joanne peered into the brightness. She could see Adam's parents. Adam's father was wearing a suit, but appeared to have a barbecue shirt beneath his jacket. His mother was dressed in a simple blue dress and Joanne was relieved to see she too was hatless. They began to walk carefully across the sand to reach them, and the wedding planner smiled and beckoned them forward. "This way, Mum and Dad." she said. "We're waiting for you."
Then the Registrar appeared at the opening of the cave, and Joanne suddenly caught a glimpse of Lauren and Adam inside. She glanced at Mike, wondering if he was wishing he was walking her down the aisle.
They stepped into the coolness of the small craggy entrance, shuffling around to make sure they all had space and a view of the bride and groom. The Registrar looked up, Joanne clenched her hands tight, and everyone waited for the opening words.
---
It seemed a million years ago when she first heard about their plans.
"Please tell me you're pulling my leg Lauren." she said.
Lauren had laughed. "Of course I'm not. We think it's a brilliant idea. We met on the beach after all, and Adam proposed in the cave. We want something different and this is perfect."
"It's not perfect, it's… well I don't know what it is. And what on earth am I going to tell Auntie Sue?"
Joanne's elder sister Sue had three daughters and each one had celebrated their marriage with a beautiful text book wedding – lovely old church, exquisite dress and reception with fine wine and food at an eye wateringly high end hotel.
"Your cousins had beautiful weddings. I can't tell my sister you're getting married in a cave for goodness' sake!"
"Why not? What's it got to do with her?"
"Oh Lauren – you know what she's like."
"Mum, I'm not arranging my wedding to suit Auntie Sue."
"Promise me you'll think about it before you decide anything. The church in the village is so pretty, perfect for photographs. And you did go to Sunday School there when you were small. It's always nice to get married somewhere you have a strong connection."
Lauren laughed. "Oh Mum, if's connection you want, I can assure you I feel more connected to our lovely cave."
"A different church then, or a special venue perhaps."
"We've got a special venue."
"A cave is not a venue Lauren. You can't call a smelly cave a venue."
"It smells of the ocean," Lauren told her dreamily. "We've spent so many lovely days on that stretch of beach. I think it was really romantic of Adam to suggest it."
"Well it's typical of a man to think of something like that," Joanne said. "They have no idea what a wedding entails, the arrangements that have to be made, or the practicalities of it all."
"We don't need a lot of arrangements Mum, that's the whole point. Adam's auntie is a wedding planner and she's going to sort out all the boring stuff for us.
We want our wedding to be personal – really mean something to us. I don't care what Auntie Sue thinks about anything, and actually neither should you.
"It's not just Auntie Sue." Joanne admitted. "I don't want to see my only daughter get married in a cave either. And neither will your dad. Please Lauren, have another think about it."
"There's nothing to think about." Lauren said, grabbing an apple from the fruit bowl. "And don't worry, it will be fab."
---
"She's what?" Sue's cake had dangled mid bite in the air, her expression confused rather than surprised. "I thought you said cave but you couldn't have."
Joanne nodded. "I did, I'm afraid." Their usual meet up for coffee seemed a good time to break the news about Lauren's forthcoming wedding.
"But that's ridiculous. Are you sure it's actually legal?"
"Lauren says you can get married anywhere these days. She has to get a permit to keep that part of the beach closed for the afternoon, but they have a wedding planner who's sorting all that out for them apparently."
"Good gracious." Sue's confusion was turning to disapproval now. "Surely you're going to stop her, Jo."
"Well, it's her wedding."
"What's that got to do with anything? How will you arrange the music – where will all the guests sit – and suppose it rains? May isn't always lovely sunshiny days, you know."
"I know." Joanne nodded miserably. "I'd much rather see her get married in St Mary's. She went to Sunday School there," she added for some reason.
Well it's a completely stupid idea and you need to tell her that. Would you like me to have a word?
"No, I don't think that would help, Sue."
"Hmm" Sue wasn't convinced. "I'll drop some wedding brochures over, that might tempt her to change her mind."
"I doubt it."
Joanne remembered going to a bridal shop with her sister when her youngest niece was getting married. They'd sat sipping champagne in sumptuous surroundings, swooning over the countless dresses her niece appeared in. Her sister had cried and Joanne got a little tipsy, and the whole day had been quite magical. What did Lauren intend wearing she wondered – surely not a swimsuit or something totally inappropriate? She really must remember to mention that when she got home.
"Of course I'm having a wedding dress, Mum." Lauren said when Joanne asked her. "Nothing fancy. I want a long straight dress, sleeveless of course because it's going to be scorching!"
"It might not be."
"It will be," her daughter said breezily. "And cream flowers in my hair instead of a veil, and I'll carry a single long stemmed rose and a sunhat. I don't want a bouquet."
"I quite like a bride in a veil," Joanne murmured.
"I'm not into veils."
"Well what about the reception?" Maybe she could talk her into having the reception at a nice hotel somewhere. "The hotel in Craigbury is absolutely beautiful and really near the beach."
"We're at the beach – that's the reception." Lauren said. "We'll ask all the guests to bring a picnic. We'll have a few canapes and fizz for a toast, nothing else."
"Picnic? But everyone will be in their best clothes. You can't expect them to squat on the sand eating a ham sandwich!"
Lauren shook her head. "There will only be you and Adam's parents for the ceremony as it's a small cave. We'll invite everyone else to come later in casual gear for a big celebration picnic."
"What about chairs?"
"If they don't want to sit on the sand, they can always bring picnic blankets."
"Music? Is the wedding planner sorting that out?"
"I don't think we need music, Mum".
---
Now Joanne was concentrating on what the Registrar was saying. Her hands were soaked in perspiration and she was conscious the back of her hair was caught on the rough cave wall. She carefully released her hair with one hand and smoothed it quickly, gazing back again at her daughter.
Lauren looked so young, so beautiful in the dress they had eventually chosen together. Close fitting and creamy white, it clung to her slim body down to her brown bare feet. Her long brown hair was loose, caught at the back with a corsage of cream roses, and in her hand she held one freshly plucked rose. Adam stood beside her, tanned and bare footed in a cream shirt and blue jeans.
They were saying their vows now, not traditional vows, but promises to encourage and support and help each other, and she thought how special it must be to create a unique vow for the person you love. They were facing each other, holding hands and looking into each other's eyes, and Joanne felt an unexpected flicker of envy. How wonderful to be young and in love again and so impossibly sure about everything.
She squeezed Mike's hand, suddenly needing to feel he was there beside her. If Adam turned out to be as good a husband as Mike, she would have no complaints.
Mike returned her squeeze and smiled.
It was all over quickly. In no time they were standing back outside the cave on warm fine sand, watching guests arrive in shorts and T-shirts, carrying picnic baskets. Sue arrived in an elegant sundress and matching sunhat.
"Sorry Jo, but I just have to wear a hat when I go to a wedding." She plonked her hamper on the sand. "Gosh that's heavy. Must be the three bottles of champagne. Do you fancy a glass?"
Joanne laughed. "I think we actually have champagne for you all. The wedding planner is sorting it out at the moment."
The beach was filling up with guests and now echoed with the sound of laughter and happy excited voices. Blankets were being spread, corks popped and picnic baskets opened.
"It's a beautiful day, Jo," Sue was saying. "Lauren was right about the weather at least."
Joanne smiled. "She was."
The sun eventually began to set in the sky like a brilliant red ball and someone got out a guitar and began to gently strum.
"Your first dance love?" Joanne whispered to Lauren, gently pushing her forward.
As she watched the young couple swaying to the soft chords and muted roll of the sea, she realised Lauren had not just been right about the weather. This was the perfect wedding for her daughter.
"Shall we dance?" Mike asked, and held out his hand.
Joanne smiled, gazing at the beach swathed now in the glorious red and gold of sunset. "I'd love to."
---
Our My Weekly Favourites series of feel-good fiction from our archives continues on Mondays and Thursdays. Look out for the next one.
Don't forget – you can find brand new, uplifting short stories every week in My Weekly! Subscribe now for a great saving on the weekly magazine, monthly My Weekly Special… or our fortnightly thrilling, romantic Pocket Novels.