Lemon Curd Platinum Pudding
---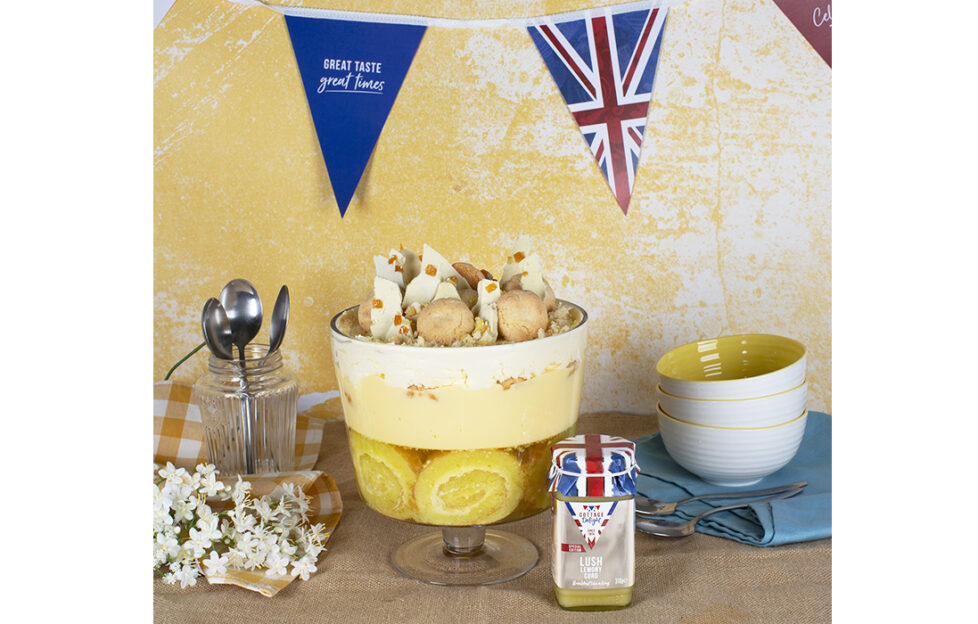 Inspired by the official pudding of the Jubilee, Cottage Delight have created their very own Lemon Curd Platinum Pudding, a show stopping recipe to create for your celebrations. The truly triumphant trifle includes their bestselling lemon curd and it's super easy to make!
Preperation time: 40min
Cooking time: 3hr chill time
Serves: 8
Make your decorative chocolate bark in advance. Melt 200g of white chocolate then pour into a shallow 20cm dish and sprinkle over mixed peel whilst warm. Leave to set in the fridge.
Cut swiss roll into 1 inch slices and line the bottom and bottom half of the trifle bowl with the slices. Press slices halfway up along the sides of the bowl.
Make your lemon jelly according to packet instructions and pour over the swiss roll layer. Place into fridge to set (approximately 3hr).
Once set, pour over custard and arrange a single layer of amaretti biscuits, keeping a few back for the decoration. Dollop 4tbsp of the Lush Lemony Curd over.
In a large bowl, whip the double cream until soft peaks form then stir through 6tbsp Lush Lemony Curd into the cream.
Spoon the cream mixture on to the curd layer and amaretti biscuits.
Break white chocolate and peel mix into shards and decorate your trifle, finish with a crumbling of amaretti biscuits and remaining dollops of Lush Lemony Curd.
Serve up at your Jubilee Street Party. Enjoy the celebrations!
---
Pick up our latest issue, on sale May 24, for more Jubilee fun! We've party food recipes, royal fashion throughout the decades, Jubilee inspired fiction, Jubilee gift guide plus your chance to win a dream holiday to Tuscany!