The Slow Lane Walkers Club | Rosa Temple
---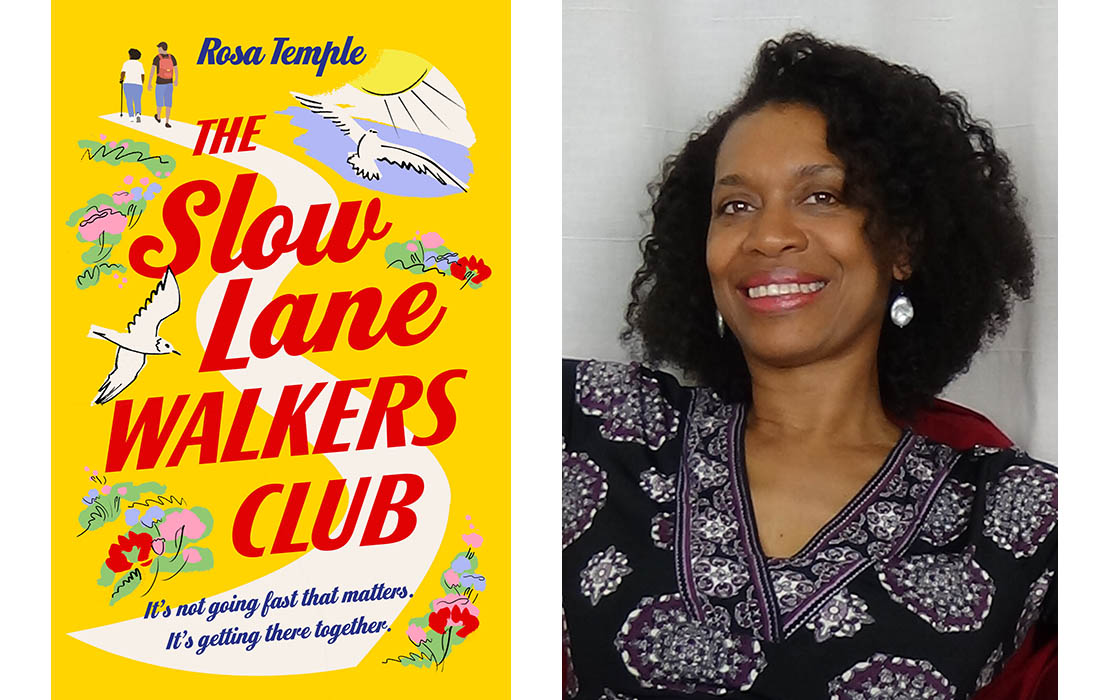 Author Rosa Temple
You'll be captivated by Rosa Temple's feel-good story of unlikely friendship, community, adventure and learning to live life in the slow lane. Enjoy our extract from the book now…
About The Slow Lane Walkers Club
Daniel isn't used to living life in the slow lane, so when he finds himself unexpectedly jobless and back in his old Cornish hometown, he needs to find a new purpose.
Hazel used to be adventurous in her younger days, but now widowed and in her eighties, she barely leaves the house. When she sees an advert for Daniel's new walking club, she grabs the chance of some excitement.
Daniel's heart sinks when he sees that the only person who's turned up for his walking club is the crazy old lady from two doors down. But what he doesn't expect is to discover that Hazel is one of the most fascinating people he's ever met…
The Slow Lane Walker Club by Rosa Temple (Simon & Schuster, PB £8.99, out May 26 2022) is available to order from Amazon.
---
An extract from Chapter 1
The train came to a stop at the station. As the doors hissed open, Daniel felt his shoulders sag. He peeled his body from the seat and gathered up his luggage. He had everything he owned with him crammed into an oversized rucksack and two large holdalls. Then there was the long
case carrying his walking poles which bashed and banged until he could free everything from the train and dump it onto the platform. With all of his possessions on the ground at his feet, he looked up at the sign: Bodmin Parkway Station. Though it had never been his plan, Daniel was
well and truly back in Cornwall. The other passengers for this station had dodged around him and his baggage. Places to go, people to see. But Daniel was in no hurry. When the guard at the gate looked at him curiously, Daniel decided to heap his rucksack onto his back, pull his case of walking poles over his shoulder and then stoop to pick up the two bulging holdalls. As he lifted himself to standing, his mobile buzzed with a notification. It was probably his sister, Annabelle, saying she was waiting in the car, so he ignored it and exited the station.
Daniel had slept for most of the train journey from Gatwick Airport to Bodmin. The team of tour guides he'd worked with for the last five years had given him the biggest and noisiest send-off of his life the night before his flight. He was sure he'd enjoyed himself at Bar Casa Mia, though most of the evening's events were hazy. The following morning his tour guide friends, dressed in their walking clothes, hiking boots and backpacks, had waved him off as his taxi sped away to Catania Fontanarossa Airport. From there, the journey to Cornwall had gone by in a blur.
Outside Bodmin Parkway, Daniel watched as people hopped into taxis at the rank, or were picked up by friends or relatives. He hoped his sister would have realized he was bringing home all of his worldly goods and would arrive in her four-by-four. But there was no sign of her, or a Range Rover come to that, so he dropped all the baggage he'd so carefully loaded onto his person and pulled out his phone. There was a message from Annabelle:
So sorry D. Rasmus has bucket stuck on head. On way to A&E. Key under the blue flower pot. See you later. A x
A careful negotiation of Daniel's luggage into the boot of a taxi followed until, finally, he was on his way to his childhood village.
Daniel sat in the back seat of the taxi and rolled the window down. Fields and farmland swept past him along the Bodmin Bypass; vast verdant fields bordered by dark green hedges and brown furrowed land lay on either side of the A30. He sipped in the familiar Cornish breeze, which went some way to soothing the effects of his last night in Sicily.
'Holiday, is it?' The taxi driver was male, dumpy, with a thick neck. He glanced at Daniel through his rear view mirror.
'Er, no. Family reasons.'
'Must be a long stay.' Daniel furrowed his brow at the driver's reflection. 'All the luggage?'
'Oh, yes, of course. Yes, I'll be here a while.'
Daniel twitched in his seat. A sinking feeling rose from the pit of his stomach as it always did when the word 'family' came up in conversation. He thought back to a strained family meal, ten years ago. Daniel sat across from his father at the dining table, their faces aimed at each other like pistols at dawn. A heavy brandy glass sat nervously close to the edge of the pine table when the confrontation began. Daniel had shouted that he didn't want to follow in his father's footsteps and should never have allowed himself to be forced into taking the engineering degree. His father, fist thumping the table, had called his son a complete failure. Daniel hated university. He hated his father and their provincial life and once he'd taken his exams he would leave Cornwall and never return. His father had swung his hand and said good riddance. The brandy glass had smashed on the stone floor and Daniel's mother had rushed to gather the shards of glass. The family had shattered that evening and though she was able to collect together each piece of the broken brandy glass, Daniel's mother had never tried to bring the family back together.
The taxi driver drove past the nature reserve, a small village with a close-knit infrastructure and past signposts to place names that sounded odd to Daniel now. He was drawing nearer to the town of Padstow where his sister Annabelle had moved to when she'd married Scott. Annabelle, unlike Daniel, had only moved a ten-minute drive away from their home village of Trevone.
---
Enjoy brilliant fiction, author interviews, book reviews and more inside the pages of My Weekly, out every Tuesday, and here on our website.