Visit Chelsea Flower Show With Susie White, Our Gardening Expert
---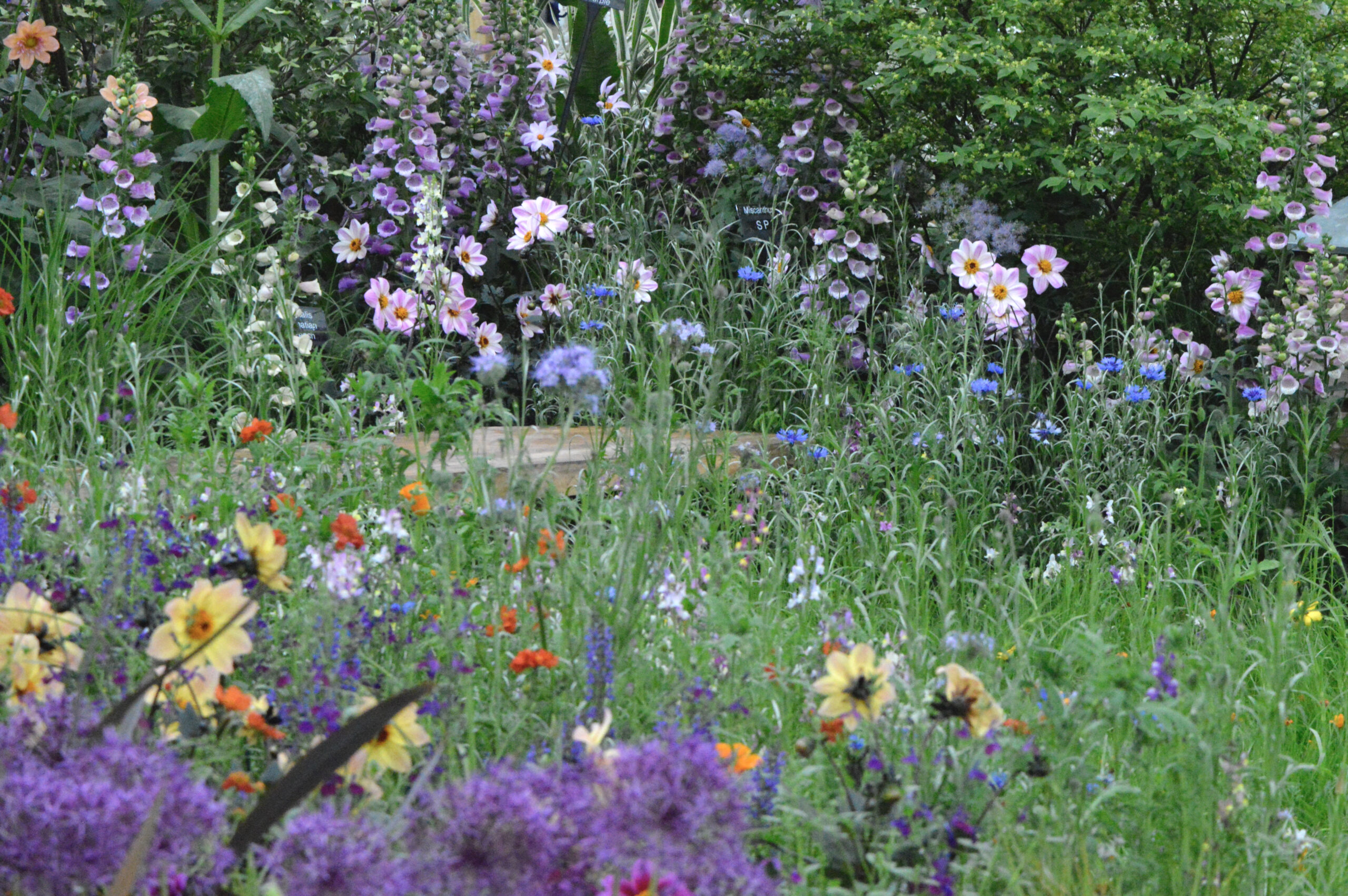 The Marshalls display in the Great Pavilion. Pic: Susie White.
It's called 'the greatest flower show on earth' and, after two years of missing out, it was such a thrill to be back at the RHS Chelsea Flower Show this Monday. For Monday is Press Day, the day when the world's press and photographers can view the gardens without the crowds and when celebrities turn out in style. It's an amazing event and a chance for me to get ideas, see new products, meet designers and growers and come away with photos for the coming months in My Weekly magazine. 
I got to the show ground about 7.30 when the light was soft for taking pictures and I could have a good close look at the displays. First off I went down Main Avenue to see the largest show gardens; there are 13 this year and it's always interesting to see the main themes. There was an emphasis on natural planting with a wild looseness, with native hedges, wildflowers, trees, biodiversity and plants for bees. Just my kind of gardening! 
It is quite incredible how these gardens are created in just three hectic weeks on site using cranes to position mature trees, diggers for making pools and changes in level, builders for walls and paths, teams for putting in the very best plants. This year the show was sponsored by The Newt in Somerset, a dream of a hotel with beautiful grounds and a farm shop, cafes, exhibition about bees and hives and a fascinating oval-shaped walled garden. 
I always love the gardens designed by Chris Beardshaw and this year's was another sublime creation. He has been a lifelong supporter of the lifeboat charity, the RNLI, which was also my dad's favourite charity, so it meant a lot to me too. His beautiful garden very cleverly referenced the history and the modern RNLI, not with a seaside theme which would have been too obvious but with subtle use of plants and materials. The charity has saved lives at sea for 200 years and the green oak pavilion mixes the past with now, Georgian style with contemporary design. I loved the winding Purbeck stone path, the modest and calm borders, the huge urns decorated with motifs of sea holly and the large rock around which tree trunks had grown. 
The Mind garden designed by Andy Sturgeon holds the idea of the garden as refuge, its clay-rendered walls curving through sublime meadowy planting. Tall grasses threw shadows against the honey coloured and rough textured walls, ox eye daisies waved amongst plum coloured poppies and delicate sprays of roses arched over vibrant species gladioli.
The Morris and Co garden was sumptuous with deep coloured peonies, irises, pattern and colour laid out around rust coloured pierced screens based on William Morris's wallpaper patterns of trellis and willow. I especially loved the way that this fretwork of design was used in the water rills.
For a complete contrast there was the urban park design of the St Mungo's Putting Down Roots garden. This charity helps people recover from homelessness and to rebuild their lives and gain confidence through gardening together. This was a vibrant colourful garden using bright materials, giant hoops and planters in zingy oranges and pinks. 
The healing power of nature is central to Grow2Know, a non-profit Community Interest Company that was born in the wake of the Grenfell Tower fire. This urban garden called Hands Off Mangrove combines two issues, the loss of mangrove swamps due to deforestation and racial injustice, highlighted in the famous trial – and acquittal – of the Mangrove Nine in 1971. Grow2Know was founded by Tayshan Heyden-Smith and here he is with co-designer Danny Clarke in this poignant but inspiring garden. 
Away from Main Avenue there were other areas such as the Sanctuary Gardens, smaller spaces with a mix of themes: regeneration in the Body Shop garden, Swiss flora and landscape in A Swiss Sanctuary, needlework in prisons in the Stitchers' garden and one with a strong concept, the Plantman's Ice garden. I found this particularly moving, a giant cube of ice, 15 tons in weight, that will melt over the course of the show as a message about the alarming rate of decline in the Polar Ice cap. Is it a garden? I don't care. It was beautiful and sad and thoughtful. 
I saved the Great Pavilion til I had seen the outside gardens but then went in to be wowed by the horticultural excellence of the displays. It's extraordinary how growers could bring plants forward and hold others back to produce banks of daffodils and tulips as well as tomatoes or autumn flowers. Ranks of alliums all purple and gorgeous, immaculate leafy hostas, orchids and alpines, woodland plants and vegetables, fabulously scented roses, they were all on display. 
By mid morning the celebs had arrived, some to publicise a particular garden or charity, some to see the very best of plants, others to be at one of the main social events of the year! So there I was asking for photographs for My Weekly from Clare Balding, Joanna Lumley or Esther Rantzen. But the person I was most delighted to meet – she has featured in the magazine and for me is such a part of the Chelsea Flower Show – was Chelsea pensioner, Marjorie Cole! Here we are together enjoying a fabulous day.