Jazzy Coronation Chicken
---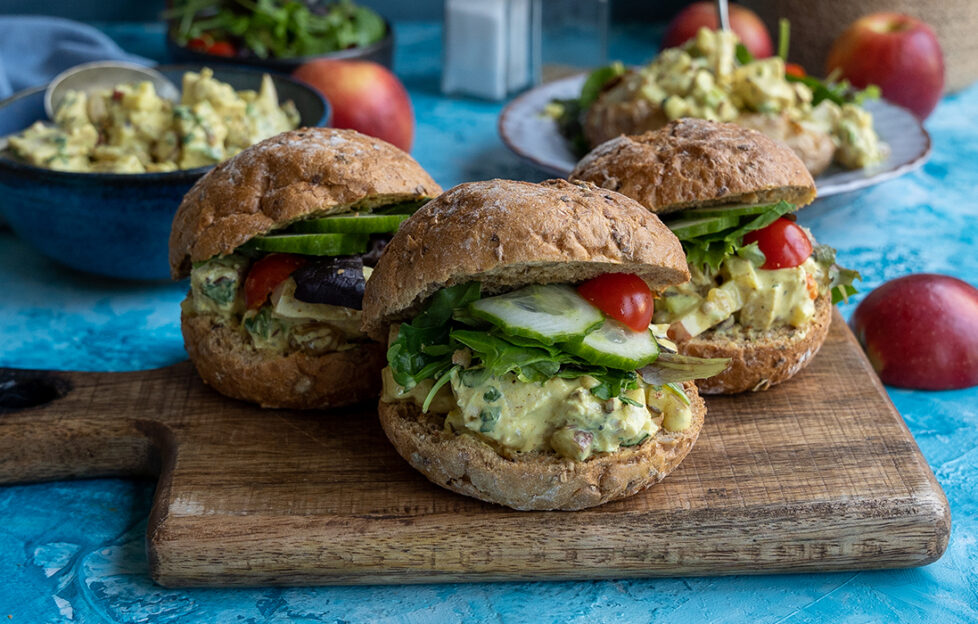 Coronation Chicken, or "Poulet Reine Elizabeth" as the recipe was first known, was created for the Coronation Luncheon in 1953 by Rosemary Hume and the students of Le Cordon Bleu London, one of the oldest Cookery schools in the UK. Why not give a nod to this special dish by creating this version for your street party celebrations? Add to sandwiches, rolls or serve with a delicious salad…
Preperation time: 15-20min
Begin by toasting the flaked almonds in a clean, dry pan. Cook over low heat for 2-3min, stirring often until lightly browned and fragrant.
Set the almonds aside, then use the same pan to toast the coriander seeds, cumin, turmeric, cayenne pepper, ground ginger and cinnamon over a low heat for 2-3min, again stirring often until fragrant. Cool slightly then transfer to a spice grinder or pestle and mortar and grind to a fine powder to make a homemade curry powder.
Cut the cold roast chicken into chunks then place into a large mixing bowl alongside the chopped JAZZ™ Apple, toasted almonds, golden raisins, coriander and spring onions. Season with salt and black pepper.
In a separate bowl or jug, mix the mayonnaise, yoghurt, mango chutney, lemon juice and 2tbsp of the homemade curry powder. Spoon the mixture into the bowl with the chicken and mix to combine. Taste for seasoning and add more salt and pepper if needed.
---
For more Jubilee food ideas, pick up your copy of My Weekly for amazing party recipes!