A Beautiful View
---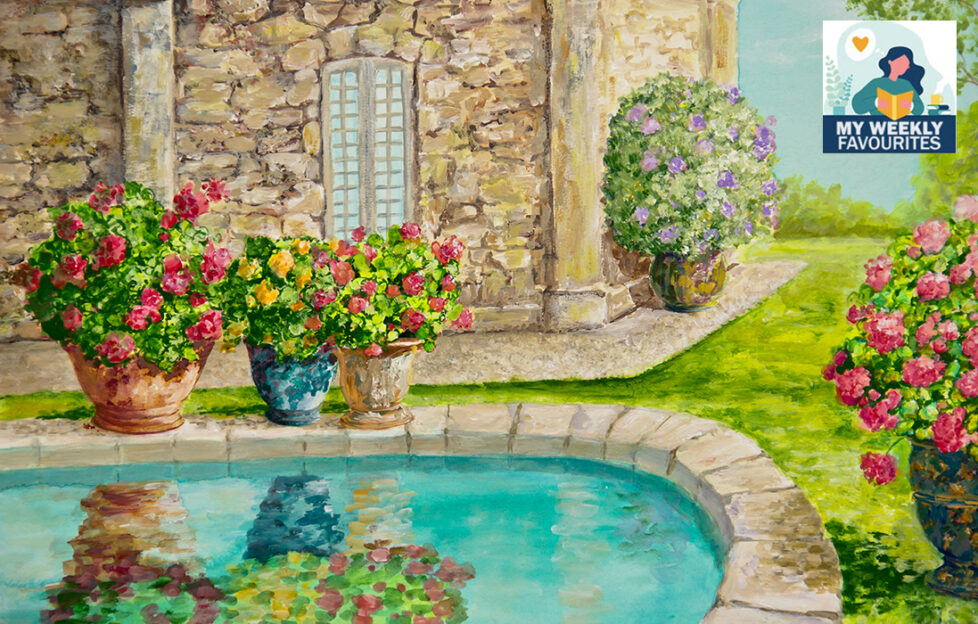 Illustration: Shutterstock
WRITTEN BY KATE HOGAN
Was it worth the climb through the pines above Aunt Clara's villa? The memory would never leave me…
I gaze at the villa sprawling against the backdrop of rock. The sea beyond is a blur of aquamarine, meeting the blue of the sky in the distance. How wonderful to view this beautiful place again through grown up, more confident eyes.
"Go," Mum had said. "You need a break after the year you've had, Tessa. The year we've all had." She paused. "Great Aunt Clara's…"
"Mum… I…" I began, caught up in a sudden tangle of fragile memories.
"Just an inventory of the villa. Pricing up repairs, if required. Showing prospective buyers around. Clara's met a rather dapper old chap. Reckons he could be the love of her life – even if she is almost eighty! Reason she's thinking of selling or renting the villa."
"Mum, I haven't the money for…"
"She's wiring five thousand pounds over to cover costs, Tessa."
I paused. Maybe it would take my mind off the fact that my planned career as an art therapist was on hold. Or maybe I'd just huddle up and cry on my own.
Now I was here again, the place I'd never really wanted to leave. Resting my hand on the still-warm stone of the gatepost. Drawing in the scents of rosemary and thyme, spinning backwards in time, to how it all began.
Mum, amazed Aunt Clara had invited us to her Spanish villa, emptied what was left in her bank account so we could escape on what she said would be the holiday of a lifetime.
"She used to be an actress, you know," she said while searching through clothes that might be suitable for the glorious weather, along with the warm Mediterranean breezes. "Travelled all over the world – magician's assistant, too, at one time.
"She stayed with us for a while when I was growing up, then disappeared. I loved her. Still do. She was glamorous, full of stories. I was mesmerised. I'd always wanted to be an actress."
I glanced at Mum. How come I'd never known that?
"We really hit it off," Mum continued. "Only written occasionally over the years, because she's moved around so much. Thank goodness for Facebook, or she'd never have found us."
"What about uni?" I said. "My exams. Loads to catch up on."
"We only have to pay for our flight, Tess. Let's make the most of it."
---
Aunt Clara swept us up like long-lost family when she met us at the airport, Mum and I standing like a rag-tag pair of waifs. Told us the villa had been practically crumbling away.
"Still would be if it wasn't for Jack," she'd said breezily. "Never known a person work so fast."
"Jack?" Mum asked.
"Talented young man – handsome, too – travelling round Europe. Villa's up there," she added. "Long, steep drive. But worth it."
She was right. We'd stood, after climbing from the car, gazing in awe at the villa sprawling haphazardly across three levels, framed by the pink-hued tones of the evening sky, pool shimmering turquoise beyond the terracotta terrace, opening to a curved path. Aunt Clara told us it led down to the village through a swathe of woodland, or upwards to the walking trails.
I hardly noticed the ragged stonework or the paint peeling off the faded blue shutters, just the sheer beauty of the place. The clutter and colour of abundant geraniums and herbs spilling from pots, lemon and orange trees, and so much more I'd later learn about.
Then I saw him. He was on the roof, bent forward, his back taut, muscled, gleaming and tanned in the sun, his long, dark hair tied in a ponytail. He turned and waved, and my heart careered out
of my chest.
I could hardly find words when he climbed down and came towards us. I felt so plain, so lanky, my hair flat and dull. I'd ducked my head. Managing only a muffled "Hi" during Aunt Clara's introductions. Praying he'd soon be gone and I'd be safe from being too scared to look at him. It was not to be.
He stayed in a little camper van on the lower slope below the villa and seemed always to be doing some job around the place. He joined us for meals, and when Aunt Clara wanted to rest beside the pool, drove Mum and me into the nearby small town to pick up food provisions, while he put in orders for building materials for work on the villa.
He chatted away easily, asking us about home, what Mum did, and what I was studying.
"Oh, just stuff," I'd mumbled, feeling like a dopey kid.
"Tessa's going to be a psychologist," Mum told him, while I cringed. He glanced at me through the rear view mirror and smiled.
"And you?" Mum asked. "Do you have plans for the future, Jack?"
"Working towards it," he said, eyes fixed once more on the road, before changing the subject.
Some evenings he played guitar at Aunt Clara's request, she and Mum singing along, or laughing gaily, while I, enchanted by his voice, tried to make myself invisible. But it didn't stop me thinking about the way his eyes sparked when he looked at me, or the slow, almost conspiratorial, smile when Aunt Clara said something off the wall.
Maybe if I'd kept reading the books I'd brought to help me revise, it wouldn't have happened, but after a few days I started to feel restless. I'd always liked my own company. Found peace in my lone studies for the degree Mum had encouraged me to commit to because she didn't want me ending up like her, working all hours for barely the minimum wage.
But despite how great it was seeing Mum so happy enjoying herself with Aunt Clara, the relentless heat, captured in the suntrap of the terrace, combined with my longstanding irritation with myself, made it difficult to focus.
Glancing at the opening to the curved path, I imagined the cool and shade within its canopy of pine: the sanctuary from the heat.
"Just going for a walk," I said.
I'd headed upwards along the track, glad to be moving out of the glare of the sun into the semi-darkness of the trees. Thinking about my studies, I wondered if I'd ever be good enough to achieve what Mum thought I could achieve. I'd never been the smartest girl in the class, despite probably being the most hard-working one. The only thing I was really good at was art, but everyone said I'd never make a living out of it.
I followed the path, catching glimmers of light as it burst and cascaded through the trees, allowing the artistic imagery to flood my mind blotting out all the theories I was trying to understand, glad to be alone.
Walking for what seemed like forever, eventually I turned to head back. Then turning in a circle looking for some point of recognition of my location, I realised I was lost. I was hopeless. What would Mum think if I failed my degree and couldn't find a job?
I didn't realise I was crying, until what seemed an age later, I heard Jack calling my name as he emerged through the trees. Quickly wiping my eyes, I turned away from him.
"Beautiful here, isn't it, Tessa?" he said, reaching my side. "Lots of fantastic walks I could show you when you fancy a break from studying. Times I thought I'd go crazy if I had to read another textbook when I was doing my degree. Evening's best for walking, though – it's a lot cooler then."
I tossed around a jumble of words in my mind. What was I supposed to say?
Jack didn't push, just told me how he'd struggled with lots of subjects.
"All except maths," he said. He laughed. "Got lucky with a teacher who pointed me in the way of engineering and somehow everything fell into place until…" He stopped, his smile fading.
"Until?" I asked.
"Until it didn't," he said.
"I'm sorry," I said, wanting to ask more, but conscious I'd be intruding. "I'm not sure I'm good at much," I added, suddenly blinking back more unexpected tears.
"Hey," he said, touching my arm. "You've gotten this far. You know how to study. You've had your head in a book every time I see you."
I felt a flicker of a smile. Surprised he'd even noticed I was there, never mind what I was doing.
I'm just scared I won't be able to live up to Mum's expectations of me…
I began, suddenly aware it was the first time I'd voiced my fears of letting Mum down.
"It's OK to be scared, Tessa. But she's your mum," he said, eyes fixed on mine. "She believes in you, but whatever you do, I bet she'll be proud. Mums are."
He touched my bare shoulder as he spoke, creating a charge of something I'd never felt before, surge through my veins. For a moment we were both still.
He blew a soft hiss of air through his lips. Shook his head.
"C'mon," he said. "They'll think I've kidnapped you. Your mum was worried you may have lost your way."
Looking at Jack, I thought maybe I already had.
We'd walked back together.
"Be good if we could get out walking some evenings, Tessa," he said. "Give you a chance to clear your head. Some fantastic views beyond the ridge, but it's not a good idea to go alone."
How easy it was to slip away. Mum and Aunt Clara were pleased I wasn't sitting cooped up with my books, both of them acting like two happy teenagers.
By the second week of our evening walks I could barely get through the day until it was time for Jack and me to set off. We talked about anything and everything – the struggles I was having with my study; Jack's work on the villa; the heat; the spectacular setting; Jack identifying the plant and bird life; our words tumbling together as we walked.
I found myself transfixed by his enthusiasm; the way he looked at me. He listened in a way no one else had ever done. Made me feel as if I could be anyone I wanted to be.
I told him I'd hoped to become someone who could help others. How I'd thought of nursing, but almost fainted at the sight of blood.
He'd laughed. Told me told me how he wanted to help others, too. Had planned to use his engineering skills doing voluntary service overseas during his gap year.
"What happened?" I asked.
"Life sometimes happens," he said, his face clouding. "I lost my mum. Everything kind of fell apart."
I felt his loss like a jolt.
"Oh, Jack," I said touching his arm. "I'm so very sorry."
"Thanks," he said. "I keep telling myself she's still watching over me, somewhere. Helping me pull through.
"I mean, look where I am now. Working for Clara, living in a fabulous sunshine paradise and spending time with a beautiful girl like you."
I raised my hand, touched my face.
"I know you don't think you are, Tessa," he said. "But you are. You shine with your lovely naturalness."
I'd felt something blossoming inside me as we'd followed the ridge upwards, each turn on the path opening up the beauty of the vista ahead.
I'd thought about him all that night…
Tossing and turning in the heat. Wondering how he could think I was beautiful? Wondering what it would be like to be kissed by him.
I wanted to forget about my degree and just stay on at the villa, spending time with Jack, even if we were just being friends nothing more. But the evening before Mum and I were due to fly home, Jack and I finally made it to the top ridge. We'd stood together, captivated by the jagged summits in the distance, silver and white against the sky; the sea a mirror of coloured glass; citrus orchards sloping toward the bay. The breath caught in my throat. We'd both turned to speak at the same time. I'd stumbled slightly, Jack's arm quick around my waist to steady me, his hand grazing my bare skin; lips too close to mine, some long-awaited fire igniting.
I could have stayed in his arms forever. I was dizzy with joy and desire as we made our way back.
We stalled just beyond the opening to the terrace, suddenly in each other's arms again. I glimpsed Aunt Clara as we separated. I glanced at Jack, suddenly unable to discern the look in his eyes.
I felt suddenly ashamed, convinced I'd embarrassed him. A big, gawky girl like me thinking there could be anything with a guy as handsome as Jack? I was just a silly kid with a crush.
I was suddenly angry with myself, with Jack. Mum and Aunt Clara, too. Why had they made me forget I was just a plain, studious girl? Letting me fall for someone so much out of my league? A guy who probably transfixed girls wherever he laid his hat.
I'd turned abruptly.
"Goodnight Jack," I whispered over my shoulder, determined not to cry.
"Tess," he said, almost catching my hand, as I ran into the villa.
---
The taxi picked us up at dawn the next morning to take us to the airport, me, trying to swallow the lump that had formed like a stone in my throat as we drove past Jack's camper.
He'd written to me months later, telling me he'd finally started work sinking wells on a volunteering project in Africa.
"Will you write back?" Mum asked.
"I don't think I will, no," I said. "He probably has a string of girls all over Europe writing to him."
She reached out and touched my arm.
Scared that he'll break your heart.
I'd forced a hard stare in response and she shook her head.
"Sometimes," she said, "we can make the big mistake of breaking our own."
---
Oh, how right she was. But now I was back. I raised my hand from the still-warm stone of the gatepost, and let go of the memories.
Mum and Aunt Clara had were both better actresses than I'd imagined, drawing up their special plot to get me right back where I'd always wanted to be.
"I'd always planned to come back," Jack told me, striding across the terracotta terrace, the first potential purchaser who'd come to view the villa.
"Your Aunt Clara found me on Facebook, told me you'd be here. I'd always dreamed of finding you again – maybe buying this place, too."
"There are some fantastic walks," I told him, acting as if I was really just there to show him around the house, fireworks exploding in my heart,.
He'd smiled.
"Best walks of my life," he said.
"Mine, too," I answered.
So we went back to where it began. Discovered the views were just as, or maybe even more beautiful, with just some gap years in between.
---
I lift my eyes to the ochre-coloured roof and the future.
Jack turns and waves, from the roof he's fixing again. His arms muscled, gleaming and tanned in the sun. His long, dark, hair tied in a ponytail, still with the ability to make my heart career out of my chest.
I wave back. I'll be picking up Aunt Clara and Mum from the airport within the hour. Aunt Clara's bringing the dapper old chap whom she says is now the love of her life.
I can't thank her and Mum enough for working their magic in helping me find my way back to mine.
---
Our My Weekly Favourites series of feel-good fiction from our archives continues on Mondays and Thursdays. Look out for the next one.
Don't forget – you can find brand new, uplifting short stories every week in My Weekly! Subscribe now for a great saving on the weekly magazine, the monthly My Weekly Special… or our fortnightly thrilling, romantic Pocket Novels.