Rosemary Shrager's Pork Chops From Cooking With The Stars
---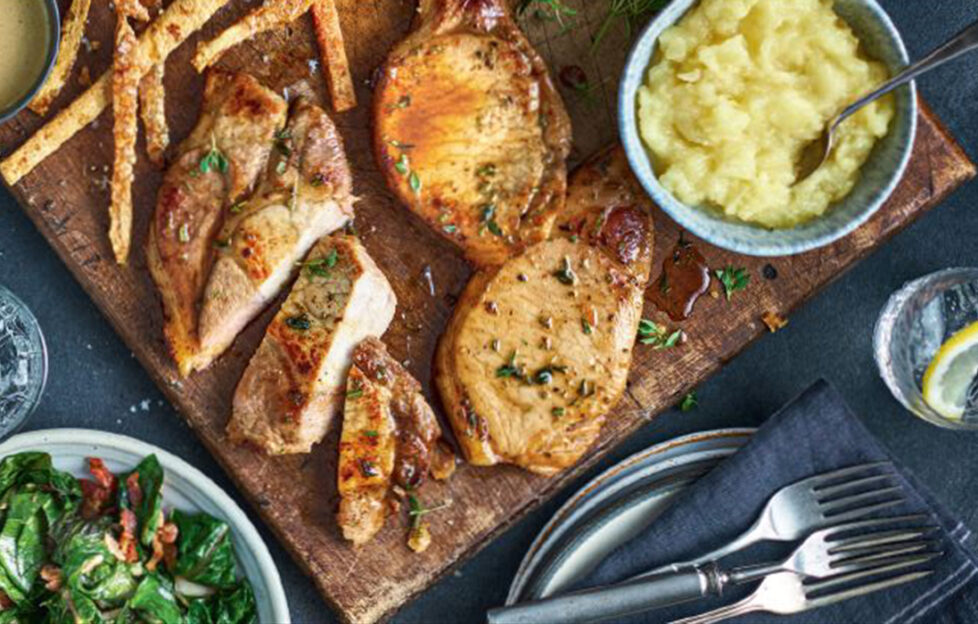 The new series of Cooking With The Stars has started this week (June 7), at 8pm on ITV. Why not try your hand at Rosemary Shrager's flavour-packed pork chops with apple sauce, greens and sherry and mustard sauce – simpler than you might think!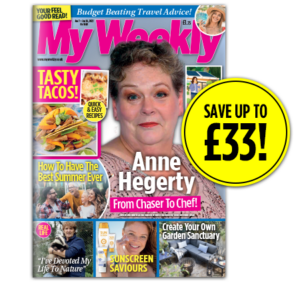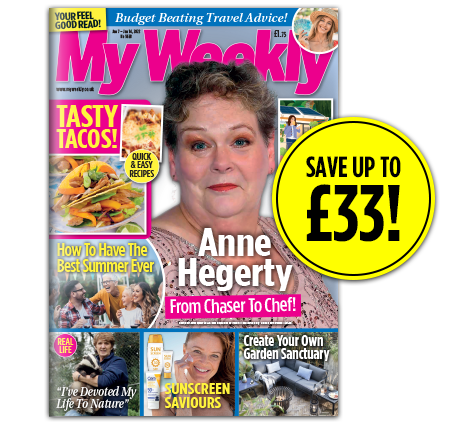 In this week's magazine we enjoy a friendly chat to contestants Anton Du Beke – who's paired with Rosemary – and our cover star Anne Hegerty of The Chase, mentored by Jean-Christophe Novelli.
Anton, who had never cooked before signing up for the show, tells us cheerfully that the contestants are "just delighted if (what we've cooked) doesn't look like it's been dropped from a great height!"
Preheat the oven to 220°C/200°C fan/gas mark 7.
To make crackling, remove the rind from the pork chops and cut into two lengthways. Lay them flat between two heavy baking trays. Put into the oven and cook for 15min.
Turn the oven down to 190°C/170°C fan/gas mark 5 and cook the rind for a further 10min, or until golden and crispy. Remove from the oven, taking care in case any fat runs off.
To make the apple sauce: put all the ingredients in a pan with a little water and cook over a medium-low heat until mushy.
Meanwhile, make the sherry and mustard sauce. Heat 2tbsp olive oil in a pan, add the shallot, garlic and bacon and cook until soft. Add the mustard and herbs, cook for 1min, then deglaze with the sherry and reduce by half.
Stir in the stock and cream, return to a simmer and again reduce by half. Season, strain through a sieve and set aside.
To cook the pork: heat 2tbsp rapeseed oil and 1 tbsp butter in a large, heavy-based frying pan over a medium heat. Add the chops and garlic, season well and fry for 2-3min on each side, until just firm.
Add the remaining 1tbsp butter, herbs, honey and lemon juice, baste over the chops and cook for a final 2min, then set aside.
Finally, cook the greens: Melt 1tbsp rapeseed oil and 1tbsp of the butter in a large frying pan over a medium-high heat. Add the bacon and cook until beginning to crisp. Add the juniper berries and garlic and cook for 1min before tossing in the greens. Stir-fry for 3-4min until wilted. Squeeze over the lemon juice, stir in the rest of the butter and season.
To serve, divide the greens between four plates, followed by the apple sauce and pork chops. Drizzle each portion with the sherry and mustard sauce and top with two crackling strips.
Don't forget to pick up My Weekly (issue dated June 7-14) for behind-the-scenes chat from Cooking With The Stars, and much more! £1.75 from newsagents and supermarkets. Or why not subscribe to get up to 50% off?