Radish & Kale Fritatta
---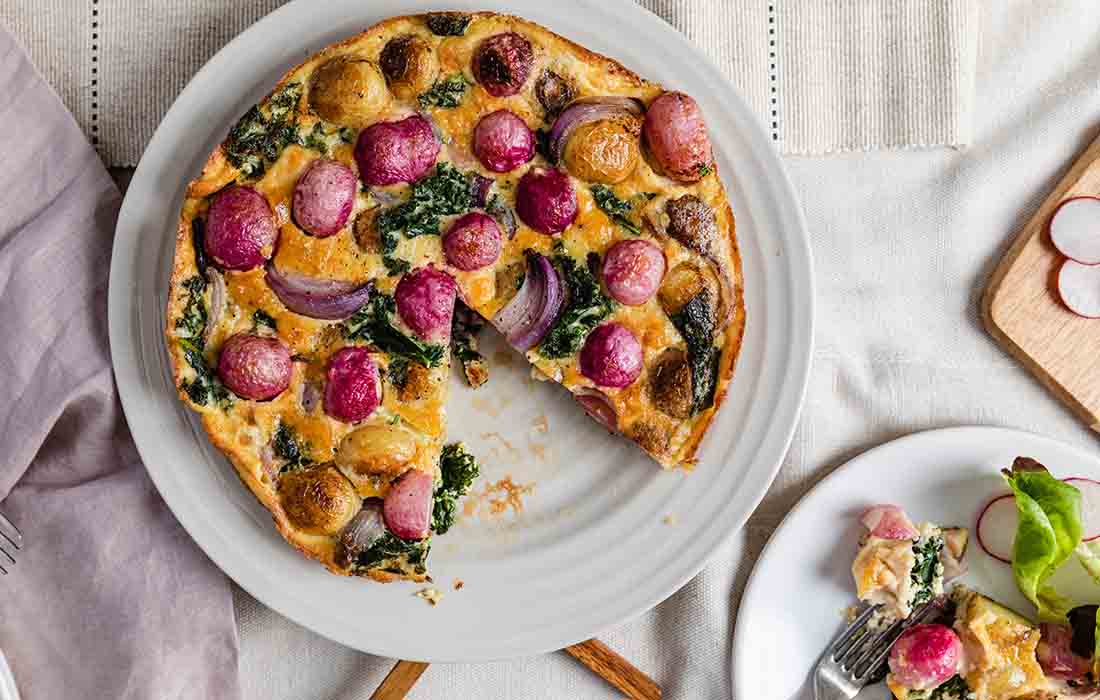 An unusual, highly nutritious combination of veg makes this a superfood breakfast or lunch – with a delicious sprinkle of cheese!  
Preparation Time: 20min 
Cooking Time: 10min  
Serves: 4-6 
Preheat the grill on high. 

 

Slice the potatoes in half, or keep whole if very small. Bring to the boil in a pan on a medium heat, and cook until tender, about 5-7min. In the last couple of minutes add the kale. Drain the potatoes and kale and set aside.

 

Meanwhile, heat the oil in an ovenproof frying pan over a medium heat, then add the onion and radishes. Season generously and fry for 8-10min, until the radishes are golden, and the onion is soft. Remove the radishes from the pan and put to one side.

 

Pour the potatoes and kale into the pan with the onion and radish mixture.

 

Mix the eggs and cheese together in a jug and season well. Pour into the frying pan and top with the radishes. Cook on a medium heat for 3-4min until starting to set.

 

When the frittata has started to set, place the frying pan under the grill for a further 5min.

 

Slide the frittata out of the pan onto a large plate and serve with salad.

 

More easy recipes – often healthy, always delicious! – in every issue of My Weekly magazine, £1.75 from newsagents and supermarkets. Why not set up a subscription – either digital or a paper magazine – and save up to £33 in a year on the shop price?