Can't Sleep In The Heat? Sleep Expert Alison Jones Can Help!
---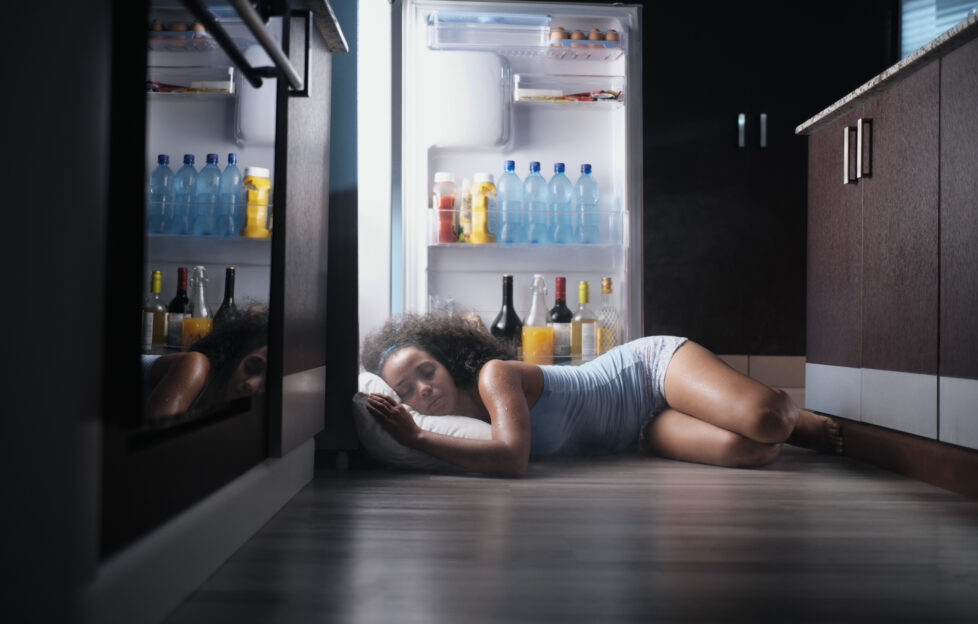 Pic: Shutterstock
While the summer months are great for longer days and spending time outside, the hot weather can also cause major sleep disruptions as we battle feeling restless, overheated, and unable to drift off into a deep sleep.
Thankfully, there are various things you can do in the run up to bedtime, to help you cool down and drift off. Here, Alison Jones, Sleep Expert at Sealy, shares her expert hacks on how beat the heat at night.
Keep your head and feet cool
The secret behind regulating body heat is keeping your body warm but hitting core pulse points such as your head, neck, wrists, and feet. By keeping those key areas cooler, and away from the heat of the covers, it will help to lower core temperature.
Running cold water or resting a cold wet flannel on these pressure areas will rapidly reduce body heat by effectively cooling the blood circulating around your body – helping you to feel cooler, faster.
Switch up your bedding
As we approach summer, it may be time to invest in some lighter bedsheets to help keep you cool. By ditching your satin, brushed cotton or synthetic bedsheets for something more lightweight and breathable, such as cotton or linen, it will reduce the temperate in bed, helping you to get a quality night's sleep. If you're looking for something a bit different, plant-based fabrics, such as rayon from bamboo, also help to keep your skin cool. For an extra-luxurious feel, opt for Egyptian cotton as it is especially light-weight and breathable.
The colours of your bedding can also have an impact on temperatures, with pale colours coming out on top, like light blues and pinks, due to them being lighter in weight than dark colours.
Invest in the right mattress
Your bed can play a major role in how comfortable you feel during the night, as well as the temperature in the bed itself. Mattresses made with thick foams tend to absorb and trap body heat, causing you to feel excessively warm. A great way to regulate temperature during sleep is to look for mattresses with Geltex, a unique cooling material for the ultimate sleeping comfort, found in the Sealy Posturepedic range. This range of mattresses also features a BasePlank which is not only engineered to allow air to move throughout the body of the mattress, but also to work with the Align Support Coil to provide true support during your sleep.
Sleep on your side
Those that usually sleep lying flat should try sleeping on one side when the weather is warm, as this position exposes more of your body to the air. This means heat from the body can escape more easily which, in turn, regulates body temperature to a more normal level.
Don't ditch your PJs
When the heat feels unbearable it is understandable our first port of call is usually to remove layers that feel like they could only be making us hotter. However, sleeping naked is not the answer, as sweat can stick to your skin, making you feel uncomfortable and clammy. Lightweight, loose-fitting, wide leg pyjamas or a nightie will help to combat sweat, ultimately leaving you cooler and drier throughout the night.
Stay hydrated
Water is an essential nutrient for the human body, and during the summer months staying hydrated is key. Not only does staying properly hydrated help to lubricate the joints and cushion sensitive tissues throughout the night – it can also help you attain the drop in core body temperature that helps induce sleepiness. Alison suggests as part of your evening routine to keep a small glass of water on your bedside table.
Get your workouts in early
Staying active is a proven way to improve sleep quality, no matter the time of year. However, Alison recommends avoiding evening work outs and raising your core temperature in the run up to bedtime – instead opting for an early morning work out when temperatures are set to be cooler compared to mid-day.
For more information on getting a good night's sleep, visit: https://www.sealy.co.uk/