Coffee & Caramel Baked Cheesecake
---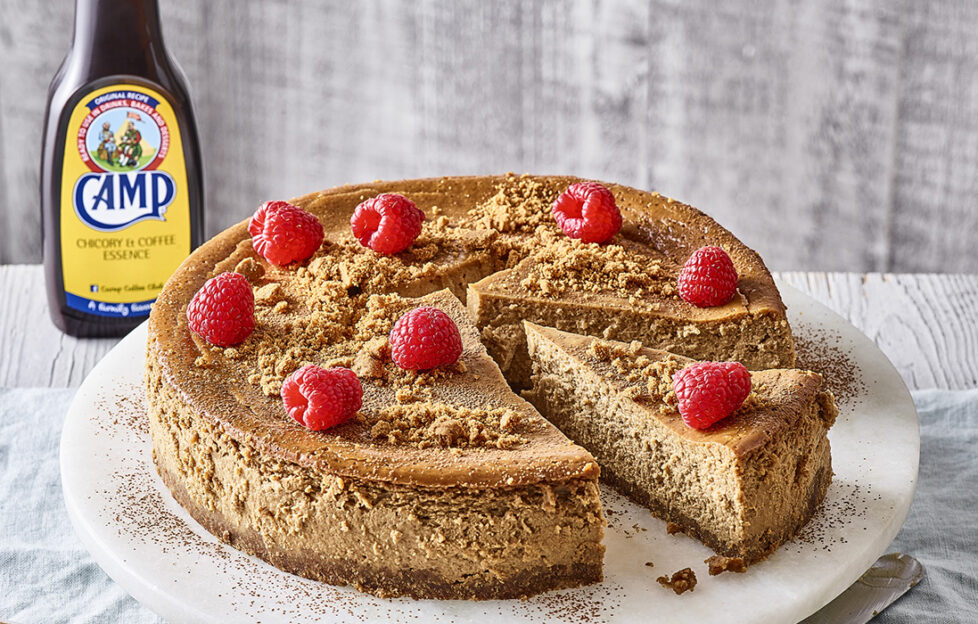 Sweet and sumptuous with a coffee kick, you have to give this delicious 6-step cheesecake a try!
Preparation Time: 20min
Cooking Time: 2hrs 10min
Serves 8-10
Preheat the oven to 180°C, gas mark 4. Place a sheet of baking parchment over the base of a 23cm springform tin. Place the ring of the tin on top and close the catch. Trim off any excess paper.
Place the biscuits in a food processor and blitz to resemble fine breadcrumbs. Mix in the butter. Press into the prepared tin and bake for 10min. Cool.
Reduce the oven to 140°C, gas mark 1.
Meanwhile, whisk together the cream cheese and sugar until just combined, then mix in the flour, vanilla, lemon zest and Camp essence. Whisk in the eggs along with the soured cream and caramel.
Pour into the tin and place on a baking tray. Bake for 2 hours until just set with a slight wobble in the centre, turn off the oven leaving the cheesecake in until cooled, then chill before serving.
Serve sprinkled with a little cocoa and Biscoff crumbs and top with fresh raspberries.
Find recipes for five delicious, simple one-pot suppers in the latest issue of My Weekly! £1.75 from newsagents and supermarkets or subscribe for a great value deal.