Honey & Harissa Halloumi Wraps
---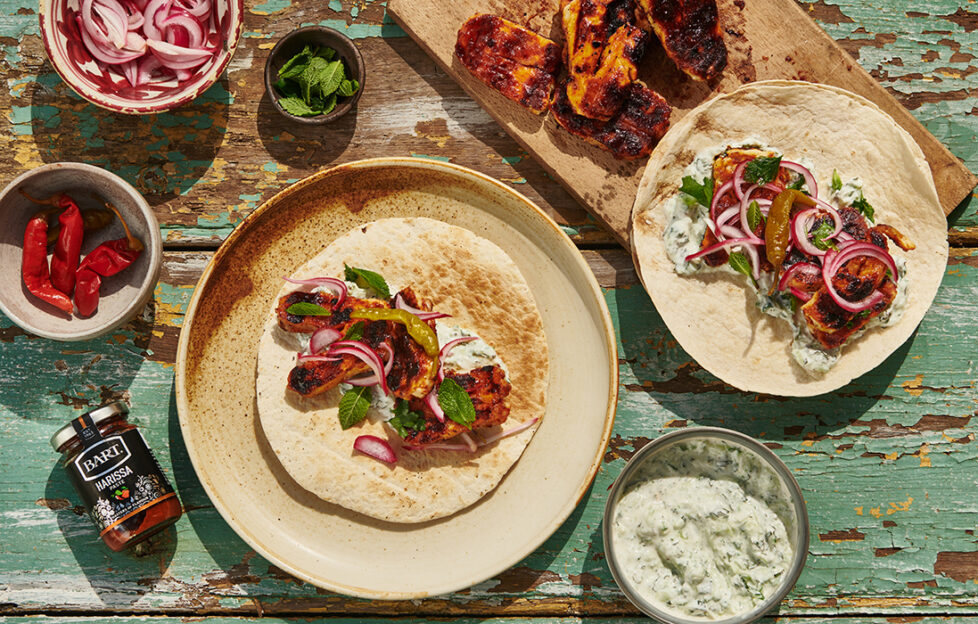 These halloumi wraps are sticky, salty and sweet. Served with smoky garlic raita and quick pickled onions, this is sure to be a veggie BBQ favourite!
Preparation Time: 15min
Cooking Time: 10min
Serves: 4
Start with the raita: Grate the cucumber and place into a sieve, season with a generous pinch of salt and leave to drain over a bowl for 20min. Finely chop the mint.
After 20min, squeeze excess liquid out of the cucumber by placing it into a clean cloth and rinsing, discarding any liquid. In a bowl, mix cucumber into the yogurt and mint. Season to taste and finish with a squeeze of lemon.
To make the pickled onions: place sugar and vinegar in a pan with 100ml water and 1tsp salt. Bring to the boil, then take off the heat. Meanwhile finely slice the red onions and place in a bowl. Pour the heated liquor over the onions, add the sumac, and set aside.
Pick the mint and parsley off the stalks. Lightly wash, drain well and add to a bowl. Mix the honey and harissa and set aside. Slice the halloumi into 2cm thick slices.
To cook the halloumi on the BBQ: start by toasting the tortillas for a few min on each side. Remove from the heat and wrap in a clean tea towel to keep warm. Next grill the halloumi on each side until golden brown. Using a pastry brush or spoon, add the honey and harissa marinade to the halloumi, covering well on each side. Cook for a few minutes further then take off the heat.
To serve: Spread the raita onto a tortilla and top with the halloumi, herbs, pickled onions, some crushed pistachios and a little extra sumac. Serve alongside a wedge of lemon, and the chillies if you're after an extra kick!
Pick up this week's bumper My Weekly for a minimag full of fabulous BBQ recipes, along with loads of summer tips and relaxation. It's your feelgood read! Why not beat the price rise and take out a subscription?