Healthy Shrimp & Spicy Peanut Sauce Rice Bowl
---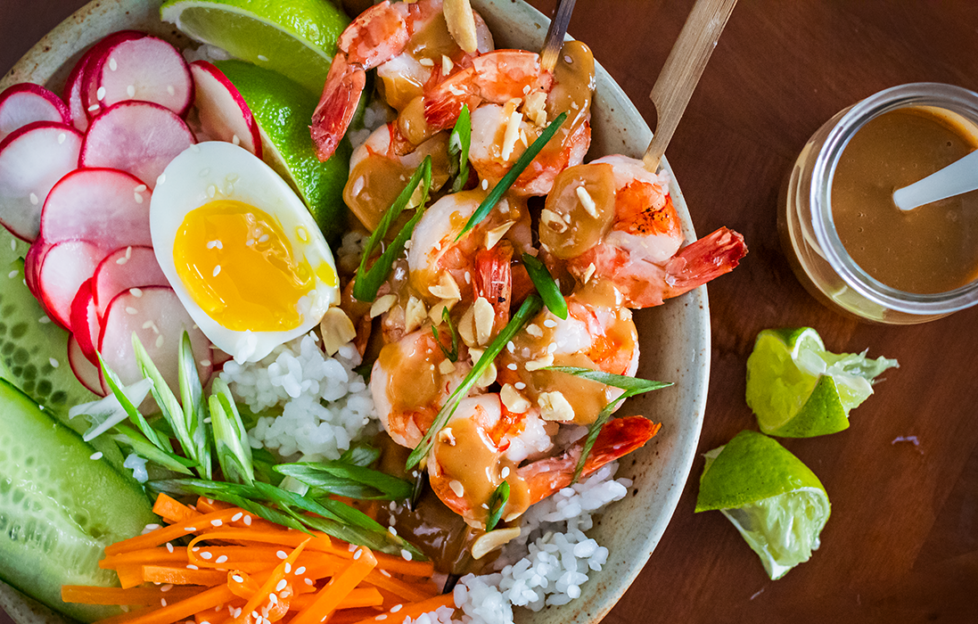 Jumbo shrimps are so easy to cook on the barbecue, making them a favourite for grilling. Serve up in a bowl with delicious rice and veg…
Serves: 4
Preparation time: 20min
Cooking time: 10min
First prepare the sauce. In a saucepan, combine the sugar, vinegar, and soy sauce. Stir over medium-low heat until just dissolved, then allow it to cool slightly. Then stir in the sambal, peanut butter, and garlic. Whisk until combined and it becomes a sauce. Set aside and refrigerate until needed.  Depending on the peanut butter you are using, it may go thick, so add ¼ cup of water and 1tsp of cornstarch while you whisk over low heat until the sauce becomes smooth once more.
Preheat your barbecue to high, about 450°F (232°C).
In a bowl, toss the shrimp with oil and salt to taste. Thread them onto skewers.
Grill the shrimp over direct heat for 3-4min per side. While they're barbecuing, squeeze a lime wedge over the side that is facing up. Repeat when you flip them.
Serve the grilled shrimp on a bed of rice topped with the peanut sauce. Add your favorite seasonal veggies and toppings. Try sesame seeds, sliced green onion, and crushed peanuts, maybe a drizzle of extra peanut sauce, and a squeeze of lime.
Cook's tip: This recipe works well with chicken instead of shrimp. Grill chicken portions on barbecue until cooked and drizzle with peanut sauce.
---
Pick up this week's issue of My Weekly for a bumper issue with an extra Barbecue Bonanza mag featuring 26 great recipes!