Festival Fever
---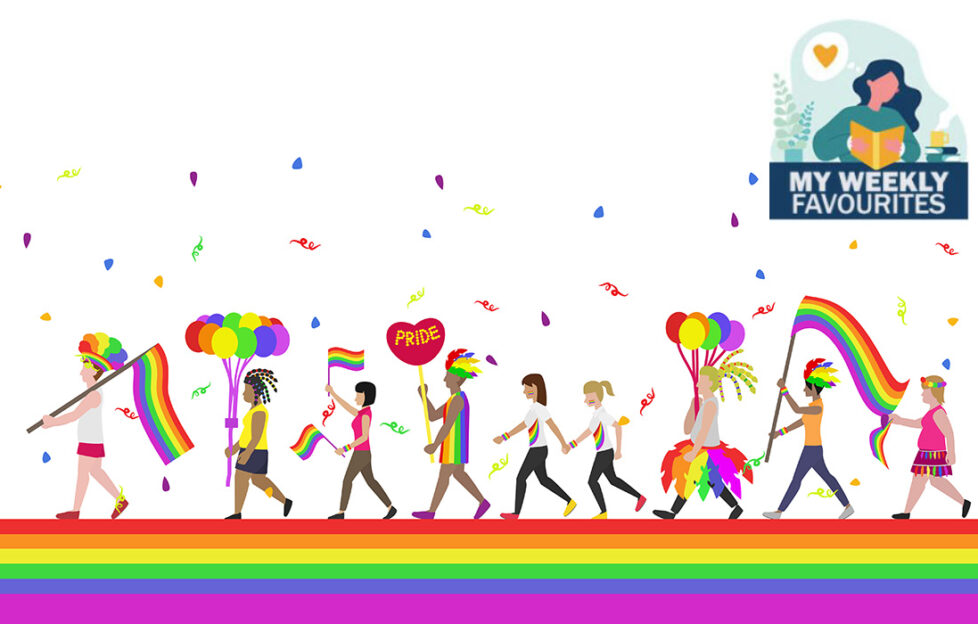 Illustration: Shutterstock
WRITTEN BY FRAN TRACEY
They didn't need the fortune teller on the pier this year…
Lara and her Nan always have a day at the seaside in the summer holidays. Last year the Fortune Teller suggested they might both meet a tall, dark handsome stranger, which they find amusing. Nan has met someone – Sarah, who they meet up with that day at Pride. Lara has met someone too – and he is tall, dark and handsome – she will tell Nan about him on the journey home.
Fish and chips with tons of vinegar and a sprinkling of salt, that's what Lara fancied for her lunch, but she had a feeling she'd have to wait. Maybe have them for tea instead. That would be a break in tradition, but she didn't mind. Today wasn't about tradition. It was about Pride.
They wouldn't be mooching along the Brighton seafront this afternoon, avoiding the diving predatory seagulls. She doubted they'd have time to play the two penny slot machine on the pier, or have their fortunes told, not like last year.
"Imagine," her Nan had giggled afterwards, "Both of us are going to meet a tall, dark, handsome stranger."
Imagine, Lara had thought. She often hoped Nan would meet someone, and fall in love. She deserved happiness.
---
Today they were running late. "We promised we'd be there by half-past eleven," Nan had muttered, her knee jiggling as the train was held at signals just outside East Grinstead.
They finally arrived at Brighton station. The pair of them had been enjoying day trips to the seaside since Lara was so little her Nan held her hand for the whole day, just in case. Those days were in the past and it was more likely to be Lara watching out for Nan who was a magpie, drawn to strange and quirky things in shop windows. It was a fair walk to the sea, past Lara's favourite music shop.
Last year it had rained non-stop. This year the weather was perfect. In the distance she could hear a heavy bass, ready and waiting for them.
"You're not persuading me you need a banjolele," Nan said, when Lara pressed her face up against the music shop window like a five-year-old at a sweet shop, rather than the sixteen-year-old young woman she was. The window fogged as she breathed. "No matter how good you are."
Her Nan had been the only one standing and cheering when Lara had given her solo rendition of Stand by Me at the end of term school concert a few weeks before.
"Sorry," Lara's mum said as they mingled at the end. "I tried to stop her, but she put up too much resistance."
"I think that boy's coming over to see us," Nan had said, nodding to a tall young man who was gazing in their direction.
"It's time to go, I'm tired," Lara had replied, leading them both to the school hall exit to avoid further embarrassment.
"I'm proud of you, Lara," Nan had said when they'd dropped her home later.
---
"How are we going to find anyone in this crowd?" Lara gasped as they inched their way closer to the sea. Usually they visited just after school broke up, when it wasn't so busy. This year they'd decided to go later.
"I've met someone," Nan had told Lara a few weeks ago while they were out walking Pedro, Lara's dog.
"You have?" That was wonderful. Lara was delighted. They lived in a village so meeting someone, anyone, wasn't easy, and there was the question of acceptance.
"Her name's Sarah," Nan walked round a lamppost with Pedro.
"That's a nice name," Lara had replied. "When do we get to meet her?"
You're not surprised?
"Would you like me to be?"
Her Nan had laughed, offering Pedro a treat. "Soon. In Brighton," she'd said.
"Is that her?" Lara spotted a woman waving wildly in their direction. She was mouthing something they couldn't hear over the cacophony of sound.
"It is, follow me," said Nan, and Lara did, thrilled to be drawn into the heart of things and to meet Sarah.
---
"I'm dead proud of you, Nan," Lara said as they peeled off from the parade a couple of hours later. "And it's been lovely to meet you, Sarah."
Sarah was fun and outrageous and meeting her had been lovely. Lara kissed both women on the cheek. Neither was tall and dark, they were both petite and grey-blonde, but they both looked handsome, especially with arms wrapped around each other, clutching a rainbow flag as they posed while Lara took their photo. The music, love and hope were deafening. Drag queens twirled, pulling Lara into a dance. It was utterly fabulous.
Finally, it was chip shop time. There'd been no need to see the fortune teller, what with Nan and Sarah, and her and, well, Spencer. She'd tell Nan on the journey home that she had met and fallen for a tall, dark, handsome stranger – the boy Nan had spotted heading towards them at the school concert. As Lara sprinkled vinegar onto her chips she decided today had been a perfect day.
---
Our My Weekly Favourites series of feel-good fiction from our archives continues on Mondays and Thursdays. Look out for the next one.
Don't forget – you can find brand new, uplifting short stories every week in My Weekly! Subscribe now for a great saving on the weekly magazine, the monthly My Weekly Special… or our fortnightly thrilling, romantic Pocket Novels. Click on the boxes below for more information.