Benjamina's Strawberry Prosecco White Choc Pavlovas
Preparation Time:

20min (plus 3 hours soaking)

Cooking Time:

2 hours

Serves:

8-10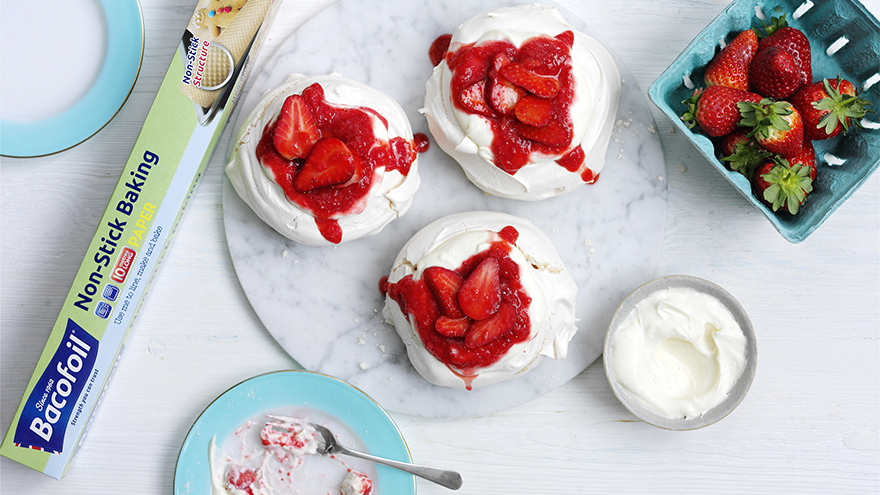 Crunchy, creamy and sweet, these delicious mini pavlovas are an irresistible dessert to wow friends and family. The Prosecco adds a special twist, giving the dessert a flavour of indulgence.
Method:
Place the strawberries in a jug and pour over the Prosecco. Allow them to soak for at least 3-6 hours.
Line a baking tray with Bacofoil Non-Stick Structured Baking Paper and preheat the oven to Gas Mark 1/Fan 140C.
Now it's time to make the meringues. When doing this, it's important that you ensure your bowl and whisk are completely grease free – any traces of fat will stop your whites whipping up properly. Place the egg whites in the bowl of a stand mixer and whisk on medium speed until stiff peaks form. Whisk in the sugar a tablespoon at a time, and keep whisking on high speed until the meringue is glossy with stiff peaks.
Turn off the mixer and fold in the cornflour and vinegar.
Once you're happy with the consistency, spoon eight dollops of meringue onto the baking paper, and with the back of the spoon make a dip in the centre of each one.
Bake in the oven for 1 hour, then switch off the oven off and leave meringues in there to cool completely
Drain the strawberries and transfer half to a separate bowl. Crush this half roughly with a fork, and add in the icing sugar, mixing until it has all dissolved
Melt the white chocolate in a microwave and let it cool slightly before stirring in 100ml of the double cream. Whisk the remaining cream to soft peaks before folding through the white chocolate mixture. Chill until you're ready to assemble the mini pavlovas.
Once it's time to serve up, spoon some of the white chocolate cream into the middle of each meringue. Top with the crushed strawberry mixture, and decorate with the remaining strawberries cut in half, plus a sprinkle of white chocolate shavings. Enjoy! Have you tried our Salted Caramel Cupcakes?