Blackberry Caramel Blondies
Preparation Time:

10min

Cooking Time:

35min

Serves:

Makes 12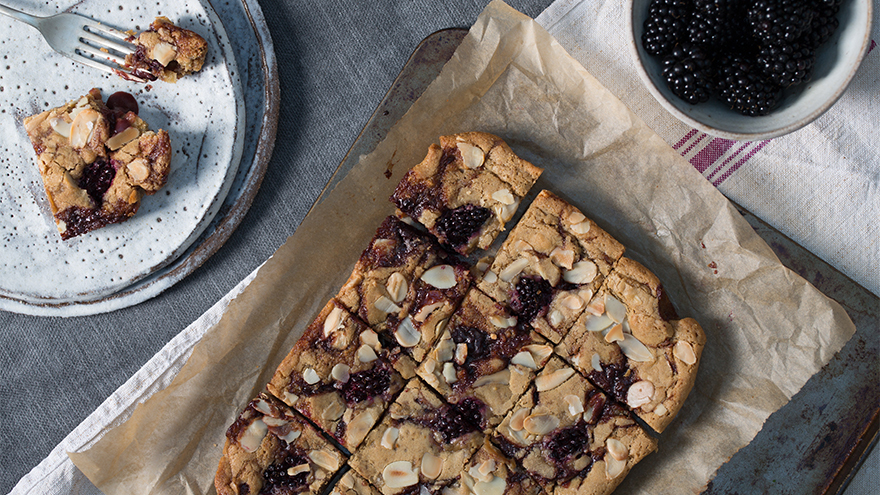 A fruity caramel sauce makes these deliciously summery traybake blondies totally unique! Elegant enough for the book group, yet yummy enough for a picnic.
Method:
Preheat the oven to 180 degrees C. Line a high sided, 18cm x 25cm high sided metal baking tin with greaseproof baking paper.
To make the blackberry caramel, put the blackberries in a non-stick, non-reactive pan and heat over a medium to high heat with two tablespoons of water and a pinch of salt. Cook for a few minutes, until the blackberries change colour and start to release their liquid and become squishy.
Remove to a bowl and squash with the back of a fork. Wipe out the pan and melt the sugar slowly. Add the butter and crème fraiche and cook for 3-5min until you have a smooth caramel sauce.
Add in the blackberries and their juice and cook, stirring into the caramel. You should have a lovely, slightly purple fruity caramel. Season with salt to balance and bring out the flavours.
To make the blondies, in a medium bowl, stir melted butter and brown sugar until smooth. Add the egg, vanilla, salt and stir vigorously until smooth.
Add the flour and half the almonds and stir until no streaks remain.
Spread half the blondies batter across the baking tin, top with the blackberry caramel, spreading it out as evenly as you can. Top with the rest of the batter and spread out over the caramel, using a toothpick to marble. Press in the remaining blackberries and scatter over the flaked almonds.
Bake for 20-25min until a toothpick inserted into the middle comes out relatively clean. Transfer quickly onto a wire rack to cool, then cut into squares.