Butterbean Stew With Poached Egg & Soft Goats' Cheese
Preparation Time:

10min

Cooking Time:

35min

Serves:

4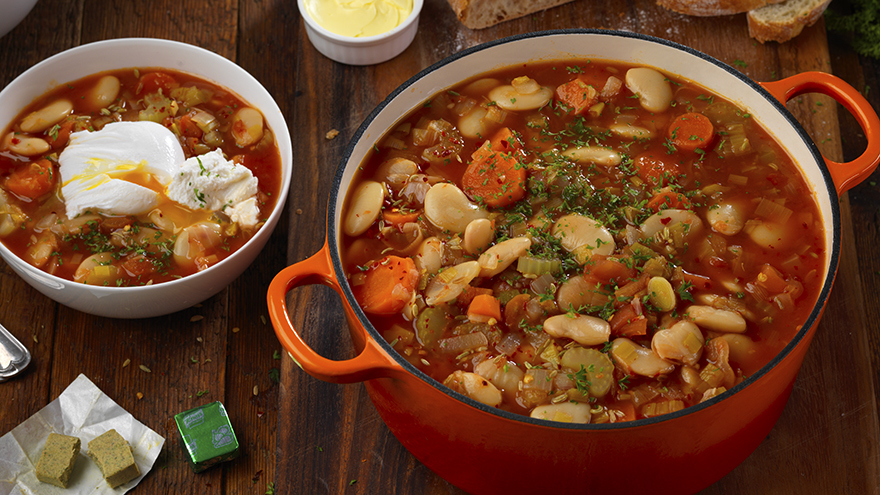 In a bid to raise awareness of the growing issue of food poverty in the UK, Knorr has launched Flavour For All – a new project which aims to give more than one million people easier access to nutritious flavoursome meals by 2020. This recipe comes from Olivia and Haydn, Volunteer chefs at Shelter from the Storm in Kings Cross, one of Knorr's charity partners.
Method:
Slice the celery, leek, onion and carrots, heat the oil in a medium sized saucepan and gently fry until soft.
Add the fennel seeds and chilli flakes. Crush the garlic and add to the pan. When the garlic and fennel seeds begin to brown, add the beans, followed by the tomatoes and the stock. Simmer until the stew begins to thicken. This should take about 20min.
About 5min before the end of cooking time bring a medium sized pan of water to the boil. Break the eggs into cups. When large bubbles are breaking on the surface of the water, turn off the heat, lower the eggs into the pan and cover. Let the eggs sit for 3min in the covered pan. This will give you firm whites but runny yokes.
To serve, divide the stew between four bowls. Remove the eggs from the pan with a slotted spoon. Drain off any excess water. Place an egg on each of the bowls. Finish with a dollop of soft goats' cheese and a sprinkling of fresh parsley.