Camembert "Scotch Eggs" with Honey and Mustard Dip
Preparation Time:

20min

Cooking Time:

20min

Serves:

6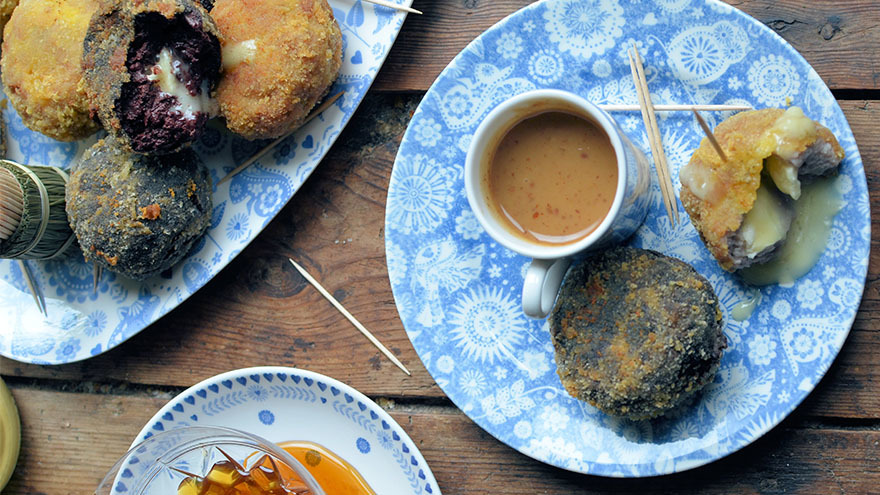 These delicious "Scotch eggs" hide a cheesy secret inside! Two delicious flavours, herby pork sausage meat and black pudding, each wrapped around a cube of Le Rustique Camembert which after being deep-fried ooze seductively. Dunk these into a tangy, sweet honey and mustard dip for a truly cheesy treat.
Method:
To make the Scotch eggs, take each sausage or black pudding and flatten them out into a large thin round. Place a cube of Le Rustique Camembert into the middle and bring the sides up to completely cover the cheese, making sure there are no gaps or holes in the sausage or black pudding. Gently shape them into an egg shape in the palm of your hand.
Dip the Scotch egg into the beaten egg and then cover it with the breadcrumbs. Set to one side on a plate while you make the rest.
Fill a wok or a deep-frying pan to about 10cm depth with vegetable oil and heat it until smoking hot. Add 3 to 4 Scotch eggs but do not overcrowd the pan. Cook over a medium heat for about 4min, turning them over half way through cooking. If they start to brown too quickly, turn the heat down slightly.
Once they are cooked, drain and keep them warm while you cook the remaining ones.
Whisk the honey, mustard and olive oil together to form an emulsified dip.
Serve immediately with the honey and mustard dip.