Hallowe'en Monster Cupcakes
Preparation Time:

1 hour plus cooling

Cooking Time:

20 minutes

Serves:

12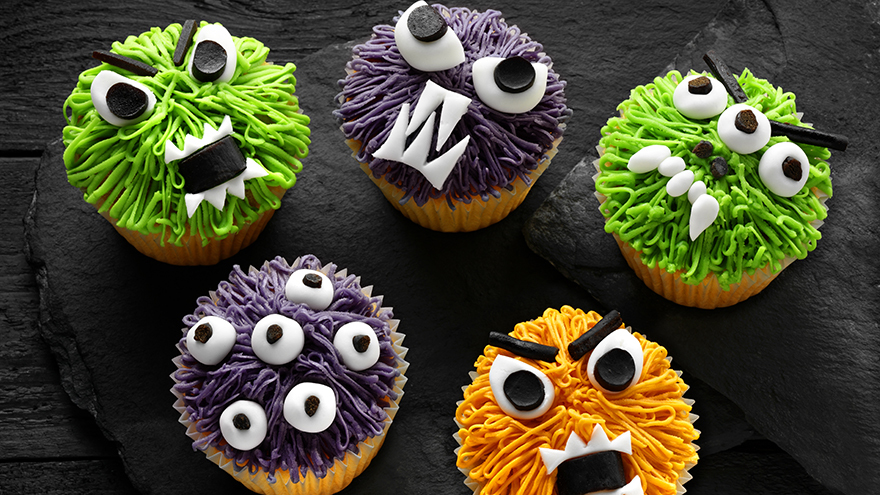 Monster fun for Hallowe'en from Dr Oetker
Method:
Preheat the oven to 180°C, Fan Oven 160°C, Gas Mark 4. Put the muffin cases in 12 cupcake or muffin tins.  Put the margarine in a bowl with the caster sugar, eggs and vanilla extract. Sift the flour on top. Using an electric whisk, gently mix the ingredients together until well blended.
Divide the mixture equally between the muffin cases. Smooth the tops and bake for about 20min until risen, and lightly golden. Transfer to a wire rack to cool completely.
To decorate, put the butter in a bowl and beat until smooth. Gradually sieve and mix in the icing sugar to make a smooth, creamy icing. Stir in the vanilla extract. Divide into 3 equal portions and colour each with ½ tsp of a different colour gel, and mix well.
Spoon the icing into 3 uncut small piping bags or small, clean, sturdy plastic food bags. Snip a tiny corner from the bags. Working on one colour at a time, pipe thin strands of icing, in short lines, back and forth, working your way round the top of the cake, from the centre to the edge. Continue piping strands on top, in layers, to build up a "hairy" look.
When all the cakes are iced, knead the regal ice to soften it and then form into various sized eye shapes and teeth – use a little icing sugar to stop the icing sticking. Cut up small pieces of liquorice and push into the eye balls, and use some for open mouths, nostrils and eye brows. Arrange all the pieces on top of the cakes to make monster faces. Your cakes are now ready to serve, scare and enjoy!
Tips:
If you don't have piping bags, choose a small plastic bag that is made from quite thick polythene.
Trim away the tiniest piece of the bag corner to pipe through in order to achieve the thinnest of piping; this way you will achieve the best "hairy" effect for your monsters.
If you're not a fan of liquorice, check out the range of Dr Oetker Extra Strong Food Colour Gels which includes Black, so you can colour up your own regal ice to make it black.
Also, Dr Oetker Ready to Roll Icing packs contain readymade packs of Black Icing as well as bright Green, Yellow, Blue and Red colours, so you can make up even more "monsterous" designs!