Red Velvet Heart Pancakes
Preparation Time:

10min

Cooking Time:

20min

Serves:

4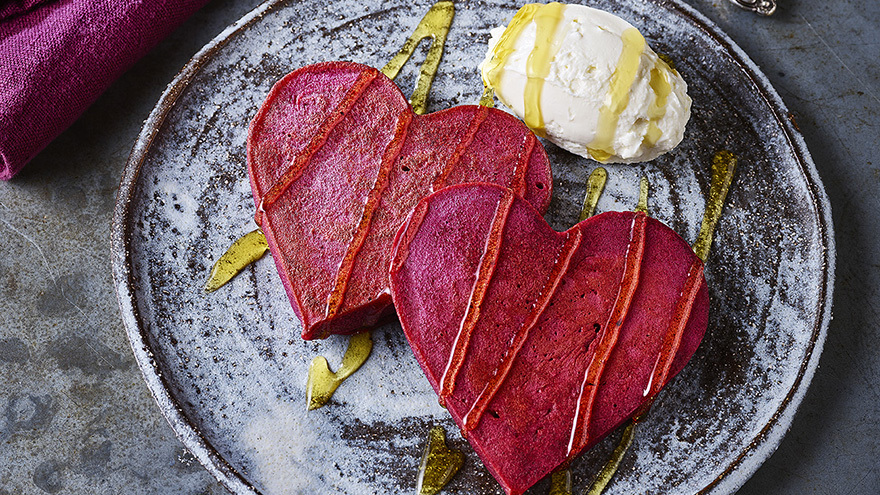 Deliciously fluffy American style pancakes get the Red Velvet treatment with the addition of sweetcooked beetroot. Just perfect for sharing with that special someone on the week of Shrove Tuesday and Valentine's Day…
Method:
Place the beetroot in a bowl along with the milk and blend with a hand blender until perfectly smooth. Alternatively, you could do this in a blender for a smooth result. Once blended add the Golden Syrup, beaten eggs and whisk. Sieve in flour and baking powder and whisk well.
Oil your heart shaped rings and add a little oil to a heated frying pan. Place the rings in the pan and spoon some of the mixture in. Nudge the batter around to fill in all of the ring and don't be tempted to overfill.
Gently cook for 3-4min until just set, then carefully remove the rings, turn the pancakes over and cook for another 2-3min or until cooked through. Keep warm whilst you cook the remaining pancakes.
Meanwhile, combine the cream cheese with the vanilla extract and 1tbsp of the Golden Syrup and beat well.
To serve, place two hearts on each warmed plate, add a spoonful of the cream cheese mixture and then drizzle with the remaining Golden Syrup.
Cook's Tip: You can use ready cooked fresh, vac-packed beetroot in natural juices for this dish if you don't have the time to roast your own beetroot. The resulting colour will be a little less vibrant but the flavour will still be great.
Check out a video of this recipe: