Reduced Sugar Skinny Blueberry Muffins
Preparation Time:

15min

Cooking Time:

30min

Serves:

10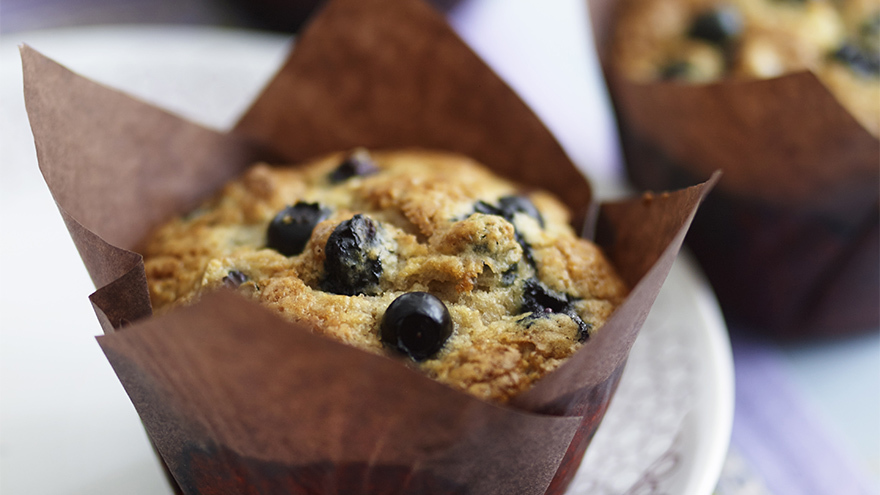 Whether you're deciding to change your lifestyle or simply wanting to switch to reduced sugar options, the Whole Earth Sweetener Co has products perfect for all sweet occasions.
Using half the quantity of ordinary sugar, the Whole Earth Sweetener Co's Brown Cane Sugar with Stevia (RRP £2.50 from Sainsbury's) offers the same sweetness but with half the calories. It complements the sweetness of Stevia leaf extract with cane sugar creating crunchy crystals that bring a rich sweetness to all baked goods.
With this delicious, simple Skinny Blueberry Muffin recipe, you can enjoy the sweeter things in life… guilt-free!
Get the lowdown on sugar substitutes from Dr Marilyn Glenville
Method:
You will need a 12-hole muffin tin, with 10 paper muffin cases.
Preheat the oven to gas mark 6/ 200C (180C in a fan oven). Mix together the flour, baking powder, bicarbonate of soda and add the Brown Cane Sugar and Stevia blend.
Beat in the oil, eggs and soya milk then stir in the grated apple and a third of the blueberries.
Spoon the mixture evenly between the paper cases, then top each one with remaining blueberries, pushing them slightly into the mixture.
Put in the oven and bake for about 25-30min until risen and golden.
Each serving contains 70 calories less than a traditional recipe.
Whole Earth Sweetener Co products are available from Sainsbury's and Waitrose stores.